Thessaloniki, or often called "Salonika", is the second largest city in Greece, after Athens. As we have written already many times about Athens, it is now time to introduce you to some secrets of Thessaloniki!
The Thessaloniki Song!
Let's get in the right mood first and listen to the song every Greek knows and can sing along: "Thessaloniki mou! – Θεσσαλονίκη μου!"
(if you want to follow the Greek lyrics and English translation, you can find them at the bottom of this article)
Some facts about Thessaloniki
• Thessaloniki was founded in 315 BC by King Cassander of Macedon
• The city is named after the wife of King Cassander of Macedon, Thessalonike
• Thessaloniki is located in the North of Greece, in the province of Macedonia
• After Athens, it is the second largest city of Greece.
• Thessaloniki plays an important role in Greece on economic, industrial and political level.
• The White Tower (a replacement of an old Byzantine fortification and located at the seaside) became the symbol of the city.
For your information, every year some students participating in our Greek courses on the island of Lefkada, book a flight to Thessaloniki and then drive to Lefkada. An interesting journey through Northern Greece and an idea to add to your "holiday list"!
Archaeological sites
As most big cities in Greece, of course also Thessaloniki has several archaeological sites, of which the Paleo Christian and Byzantine Monuments are recognized by the UNESCO World Heritage (LINK http://whc.unesco.org/en/list/456).
If you want to plan a tour through the city, you can find an overview and explanation of the sites on the following websites:
http://www.enjoythessaloniki.com/visit/ancient-monuments/http://www.visitgreece.gr/en/main_cities/thessaloniki
Contemporary Thessaloniki
A. Museums

Thessaloniki has several museums that focus on the history of the city, but what is remarkable, is the presence of a large number of museums presenting visual and contemporary art. Here our selection of 5 museums:
1. Cinematography Museum | http://www.cinemuseum.gr/
This museum was founded in 1997, when Thessaloniki was the European Cultural Capital. The aim of the museum is to give an overview of the life of cinema in Greece. The museum gives you a lot of information: from cinema equipment and film posters to biographical data on directors and actors. Organized tours are being provided.
2. Design Museum
The Design Museum was founded in 1993 as a result of Stergios Delialis' (Greek designer) love of industrial design and useful objects with a unique design (about 2000 objects and 5000 books and magazines have been collected by him). Until 1997 the collection was housed in the ground floor premises on Mitropoleos Street. As from 1997 it is searching for a permanent home. Even so it remains active with exhibitions abroad, film shows and lectures.
3. National Museum of Contemporary Art | http://www.greekstatemuseum.com/kmst/index.html
Being founded in 1997, the museum is hosting modern and contemporary art from Greece and abroad. Next to its collections and exhibitions, the museum is also organizing the Thessaloniki Biennale of contemporary art.
4. Macedonian Museum of Contemporary art | http://www.mmca.org.gr/mmst/en/home.htm
The "Macedonian Centre for Contemporary Art" was established in 1979 and ever since, it has been growing (with ups and downs). Today the museum hosts works from Greek and foreign artists. Furthermore, educational programs, lectures and discussions, a library and art shop are part of their organization.
5. The Photography Museum | http://www.thmphoto.gr/?lang=EN
The Museum of Photography (under supervision of the Hellenic Ministry of Culture, Education and Religious Affairs) is not only a museum, but also a center and festival organizer. Photography in all its applications is presented : photojournalism, art, advertising, industrial photography etc.
B. Thessaloniki Boardwalk – seafront
The beautiful seafront of Thessaloniki is the part every tourist discovers first. It has been realized with the help of EU funding in the period between 2007 and 2013 with the aim to create a relationship between the city and the seaside. The reconstruction of the area is a project that has as a goal to create jobs, attract more visitors and increase the 'green zone' in Thessaloniki.
Through an architectural competition, the assignment to reconstruct this area was given to the Hellenic Institute of Architecture. The whole concept is based on the esplanade along the seaside (about 4 km long), giving space to pedestrians and bikers. The area has been made greener and sports courts, refreshment facilities, an outdoor amphitheatre, sculptures, water features and playgrounds have been installed.
When visiting the city, you can make this walk along the seaside a day-activity. The walk itself is about an hour, but you might want to have several stops on the way for all the museums, monuments and views you will discover.
Walking 4 km from the Photography museum till the Megaro Mousikis (concert hall)
At the 'Warehouses' where the photography museum is located, you can also find the Cinema museum. When you
continue your walk (see red line on both maps), you will notice the very pleasant atmosphere of the lively Thessaloniki: bars and restaurants will guide you on your way. You will pass by Aristotelous square, the famous white tower, sculptures and several gardens until you arrive at Megaron Moussikis. The most popular spot at the seafront to take photos is at the "Umbrellas"-sculpture of known artist Giorgos Zogolopoulos. You can find it near the Makedonia Palace Hotel.
C. Megaron Moussikis ("Music Hall")
At the very end of the seafront, the building that stands out due to contemporary architecture is the "Megaron Moussikis". The Concert Hall of Thessaloniki exists of 2 main buildings: M1 and M2. M1 has been built by Scholidis N. – Kourousopoulos K. & Associate Architects (based in Athens) and M2 was designed by the Japanese architect Arata Isozaki in a more contemporary style. Since its opening in 2000, it is home to concerts, theater plays, operas, lectures and many more… Whenever you are in the neighborhood, don't forget to check their program. http://www.tch.gr/
D. Rent bikes

Maybe even more than Athens, Thessaloniki is a city you can easily explore by bike. When you are tired of walking, you can rent a bike and have a ride along the seaside, as well as in the city center. It is also possible to join a group tour, organized by one of the many organizations. http://www.thessbike.gr/en/
In the mood to rent a bike and explore the city by yourself? Click here to find all the Greek vocabulary you will need to make sure you can rent the most appropriate bike and enjoy your day!
E. Going out
Being a University City, with plenty of students from all over Greece, it will not surprise you that Thessaloniki is known for its nightlife. Bars, clubs and live scenes can be found all over the city. Most of the places are gathered in 3 districts: the Valaoritou neighborhood, Ladadika /Port, White Tower/Seafront.
F. Events
Last but not least, many events are hosted every year in this dynamic city. Some examples are the Thessaloniki International Fair (every September), the International Thessaloniki Film Festival (every November) the International Book Fair (every May), the International Contemporary Art Fair (end of October, beginning of November) and the Biennale of Thessaloniki. (June to September).
Around Thessaloniki
Most students or tourists that plan to visit Thessaloniki, fly  to Thessaloniki with direct flights from abroad, or with a stop-over from Athens.
From Thessaliniki you can also rent a car, and explore Northern Western Greece. Click here for some more tips about Ioannina and the Zagoria area. 
Mount Olympus
If you like climbing mountains, then for sure climbing the Mount Olympus, should be added to your "to-do-list". It is the highest mountain in Greece (a bit shorter than 3000 meters) and only one hour drive from Thessaloniki, to arrive in the village of Litohoro, where most climbers stay overnight. Here you can equip yourself with maps, guides and any other equipment you may have forgotten to bring with you.
And for the Greek Mythology lovers, Mount Olympus was the home of the 12 Ancient Greek Gods. 🙂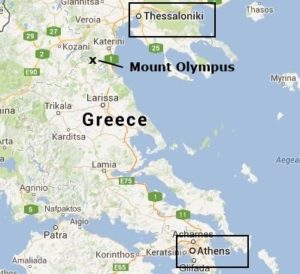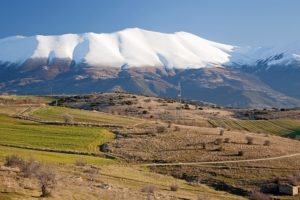 Interested to read a story about Mount Olympus, while improving your Greek listening skills? Then listen to the Podcast No. 14,
of the Easy Greek Story Podcast 🙂
We hope you are now in the mood to visit Thessaloniki and surroundings…
Just listen to one more  beautiful song about this interesting city first,  and you are ready to go!
"Θεσσαλονίκη"
Lyrics: Ηλίας Ηλιόπουλος, Music: Γιώργος Ζαμπέτας

---
(*) Below you find the Greek Lyrics of the song "Thessaloniki mou" (beginning of the article).
as well as the English translation below.
Στίχοι: Χρήστος Κολοκοτρώνης, Θεσσαλός Μουσική: Μανώλης Χιώτης
Θεσσαλονίκη μου
Στίχοι/Lyrics: Χρήστος Κολοκοτρώνης, Θεσσαλός
Μουσική/Music: Μανώλης Χιώτης
Μετάφραση/Translation: Coby Lubliner
Θεσσαλονίκη μου μεγάλη φτωχομάνα,
εσύ που βγάζεις τα καλύτερα παιδιά.
Θεσσαλονίκη μου μεγάλη φτωχομάνα,
όπου κι αν πάω σ' έχω πάντα στη καρδιά.
Ρεφραίν:
Θεσσαλονίκη μου ποτέ δεν σ' απαρνιέμαι,
είσαι η πατρίδα μου το λέω και καυχιέμαι,
είσαι η πατρίδα μου το λέω και καυχιέμαι,
Θεσσαλονίκη μου ποτέ δεν σ' απαρνιέμαι.
Θεσσαλονίκη μου κι αν είμαι μακριά σου
πάντα θυμάμαι τ' όνομα σου το γλυκό,
αχ πως νοστάλγησα να ξαναρθώ κοντά σου
κι άς ξεψυχήσω μπρος τον Πύργο τον Λευκό.
– Ρεφραίν –
Θεσσαλονίκη με τα τόσα σου μεράκια
βγάζεις τα πιο όμορφα κορίτσια στο ντουνιά,
βράδια μποέμικα, τραγούδια στα σοκάκια,
ξενύχτια, γλέντια μες στην κάθε γειτονιά.
– Ρεφραίν –

Translation
Thessaloniki, you great mother to the needy!
You are the one who gives the finest kids their start.
Thessaloniki, you great mother to the needy!
No matter where I go you're always in my heart.
Refrain:
Thessaloniki, I will never be without you,
You are my home, I say it and I brag about you!
You are my home, I say it and I brag about you,
Thessaloniki, I will never be without you!
Thessaloniki, oh, however far I wander,
I always keep your sweet name in my memory.
Oh, how I've longed to come back close to you from yonder,
To die in front of that White Tower by the sea.
– Refrain –
Thessaloniki, you're a town that's full of feeling.
You raise the girls who are the loveliest in sight.
Bohemian evenings, in the alleys songs are pealing,
In every neighborhood the parties go all night.
– Refrain –
https://omilo.com/wp-content/uploads/2016/12/omilo-blog-thessaloniki-001.jpg
500
980
Omilo
https://omilo.com/wp-content/uploads/2018/07/omilo-logo-new-300x138.png
Omilo
2019-12-01 14:47:38
2023-07-29 19:41:12
Thessaloniki – More Than Just A Greek City