The Athens Festivals are something all Athenians are looking forward to !
In summer, everybody gets into a great mood and tries to enjoy the nice things of life.
The cultural life in Athens is just amazing: exhibitions, concerts, music bands, street dancing, theater performances,
book fairs, nights of open air cinema, bike rides and festivals for every taste.
They are also a great asset to those that can't afford to go on holidays "out of Athens".

The Athens and Epidaurus Festival.
The festival began in 1995. The highlights of this first festival were the great New York Philharmonic Orchestra, conducted by Dimitris Mitropoulos at the Odeon of Herodotus Atticus and the performance of "Electra" in the theatre of Epidaurus. Since then, there have been a lot of ups and downs in the story of the festival.
However, since 2006, there has been a significant effort to present world-class projects and to emerge local talents. Apart from the Odeon of Herodes and the Epidaurus theatre, today the festival takes place in a variety of areas: e.g. the Athens Concert Hall, Technopolis, the Onassis foundation etc.
If you would like to visit the Epidaurus Theatre and see a performance there, then read more info about Epidaurus here
For more info and tickets see here: https://aefestival.gr/
Irodeon Theatre.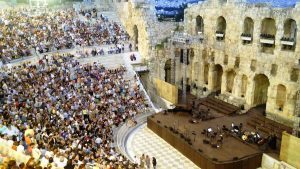 Take a look at the video to get an impression of the beautiful Theatre, full of people
or
Take a look at the Theatre, while you are visiting the Acropolis, and you can peek into the theatre !
A Theatre where the Omilo students sometimes can see performances during an Athens course (between May and October)
More options during summer in Athens
The Dora Stratou Dance Theatre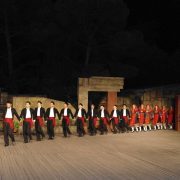 This theatre has performances of Greek Traditional Dances and life music at Philopappou Hill (opposite to the Acropolis), 5 days per week.
Click here for more information.
OR
Join our programs in Athens, while discovering the capital of Greece. You will not regret!
Planning to soon visit Athens?
Then download your FREE TIMELESS ATHENS eBOOK,
and embark on an amazing journey in Athens –  Greek Heritage & Modern Charms for Cultural travelers.
https://omilo.com/wp-content/uploads/2016/12/omilo-blog-athens-festival-001.jpg
600
900
Omilo
https://omilo.com/wp-content/uploads/2018/07/omilo-logo-new-300x138.png
Omilo
2016-10-25 16:27:24
2023-08-19 13:15:27
The Athens Festival : June till September