When visiting Greece, it is not just about eating delicious food in taverns and going to the beach, but most travelers, including our Omilo students, also love to visit ancient Greek sites, attend Greek concerts or theatre or learn more about Greek culture and history. Well, by visiting the beautiful site of Epidaurus, you can combine it all!

Epidaurus
Epidaurus was the main sanctuary of Asklepios in Greece, originally a "sacred forest", an enclosed territory dedicated to Asklepios. On the site, many of the buildings mentioned by Pausanias (read below more about Pausanias) are still visible today, like the temple and the 'sacred sleeping place' (enkoimeterion), a race course, but also a hotel (with four courtyards surrounded by Doric columns containing a total of 160 rooms) for visiting pilgrims. The impressive amphitheater was built in the 4th century BC, lying, as do most Greek theatres, against a slope.
The Epidaurus Amphitheatre
This theatre is by far the best-preserved theatre in Greece and has magnificent acoustics. The first row was reserved for dignitaries; their seats have backs, making them into regular chairs. The complex had two entrances; the western has been restored to give an impression of the original theatre. The skènè (stage) in its oldest phase had been a simple tent, but was later made of wood. Nowadays, during performances, a new stage building is erected on the site.
Take a small look at our video below.
The magnificently built venue is dedicated to ancient Greek drama, hosting tragedies and comedies performed by Greek and international theatre groups alike, with English subtitles for international visitors. Capacity: 14,000
The theatre also hosts part of the important "Athens and Epidaurus festival", which is usually staged in the summer, bringing ancient and modern plays, musical performances etc.
Read here for more information about this festival.
Asclepius (or Asklepios)
Asklepios is the Greek god of healing. In mythology, he was the son of Apollo and the Thessalian princess Koronis, who died at childbirth. Asklepios himself was rescued and suckled by a goat. He was brought up by the centaur Cheiron, who instructed him in the art of healing, becoming so successful, that he even cured death. Of course, the god of death complained and Asklepios was killed by a thunderbolt hurled by Zeus, the king of the gods. His cult was immensely popular in the 4th century B.C. From all over the Hellenistic and Roman world the suffering came to his sanctuary for a cure. After the perquisite rites, they would go to sleep in the "enkoimeterion" close to the temple, in the hope that they would be visited by the god himself who would show them a cure or perform an operation himself. (As you might know, κοιμάμαι means 'to sleep', so a κοιμητήριον is 'a place to sleep', although most suffering would gladly escape the English derivative, a 'Cemetery'). All around the temple buildings were erected for these pilgrims and many votive gifts testify to the gratitude of the cured.
From Epidaurus, the cult of Asklepios spread over the ancient World. In his sanctuary at the Greek island of Kos medicine developed into a science. Later his cult was also brought to Rome where Asklepios would be revered as Aesculapius. His staff with holy snakes has become a symbol of medicine.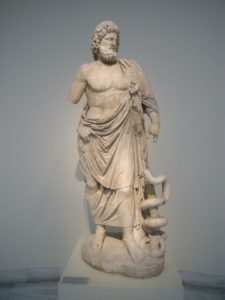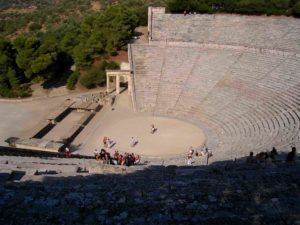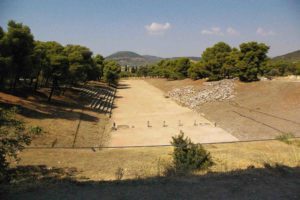 Museum
The museum next to the theatre houses numerous objects from the sanctuary, like a collection of medical instruments made of bronze and inscriptions referring to numerous diseases (tapeworm, eye-, kidney and bladder diseases), images of Asklepios and his daughter Hygeia and large parts of the sculptures of the temple of Asklepios.
Who is Pausanias?
Pausanias was a Greek-speaking "travel writer" from the second century AD. He describes a journey in ten chapters along with the known and lesser-known places on the Greek mainland in Roman times, taking his audience from the Acropolis in Athens and its rich art treasures by way of Corinth, Nafplion, Sparta and Messenia, to ancient Olympia. From Olympia, his journey goes on to Achaia, Arcadia, Boiotia and finally to Delphi. Central to his work is the description of temples and their art treasures, interspersed with hundreds of anecdotes about artists, the winners in festivals such as the Olympic or Nemean Games, but also relating episodes from Greek history and a description about Epidaurus.
++++++++++++++++++++++++
Plan your trip and visit
In case you did not visit the Epidaurus or the broader area yet, we suggest to add it to your "to-do list"!
You could start by visiting the beautiful seaside town of Nafplion, a two-hour' drive from Athens or easily accessible by public bus from Athens.
From Nafplion you need a 45 minutes drive till Epidaurus (you can also take a taxi from Nafplion). If you have a car, worth visiting is also the Little Theatre of Ancient Epidaurus: Located at the port of Ancient Epidaurus, this 4th century B.C. theatre was built in honor of god Dionysus to host religious/worship ceremonies. Nowadays, it mainly hosts performances by emerging Greek and international artists with a more alternative take on ancient Greek drama. Capacity: 2,000. This Theatre is close to the beach, so it can be combined with swimming and a tavern meal next to the sea!
+++++++++++++++++++++++
PS. For anyone interested in antiquity,  the website www.pausanias-footsteps.nl has a lot of information.   The website is owned by a Dutch Omilo student and has 2500 photos and maps with descriptions of ancient Greece. The site contains a lot of information about the Peloponnesus, in Dutch and English, and gives an overall picture of Greece after Pausanias, as well as introducing many Greek museums.
https://omilo.com/wp-content/uploads/2018/06/omilo-blog-epidaurus-001.jpg
650
2048
Omilo
https://omilo.com/wp-content/uploads/2018/07/omilo-logo-new-300x138.png
Omilo
2018-06-20 12:05:11
2021-01-15 16:24:04
The Epidaurus Amphitheatre in Greece