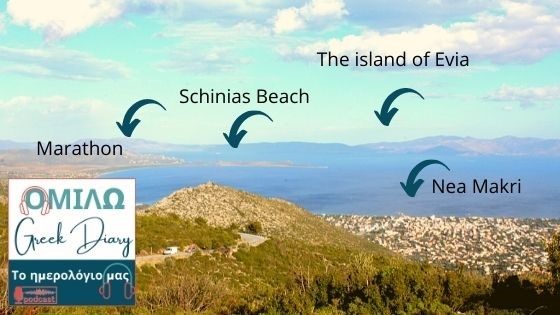 In 2021 Omilo celebrates 25 years! However, a celebration in corona times is no fun, so we are waiting for a better moment 🙂
In the meantime, Maya and Dimitris (founders of Omilo) as well as several teachers will participate in interviews, videos and podcasts.
If you want to listen to more interviews in this chapter, click here.
Below is the first introduction by Maya (sorry for the bad quality of the recording! The next videos will be much of better quality)
Maya explains;
a. how Omilo came to life in 1996,
b. how and where the very first Greek Language and Culture course was organized in 1997,
c. how much fun we had…in times the internet did not exist yet 🙂
Below you find the transcript of what Maya tells you in the video.
If you would like to practice your Greek, then
Hello!  Geia sas – γεια σας!
I'm Maya, one of the co-founders of Omilo Greek Language and Culture. 25 years ago, we, my husband Dimitris and I, founded Omilo.
This anniversary should have been celebrated with a huge party, where we could invite our students, our staff, our teachers, teachers that have been/worked with us over the years, and many more. A huge celebration because twenty-five years is…25 years. And we are so proud that we're still going.
Then, why am I sitting here all by myself? Well, we are in the corona times.  At this moment, we are the beginning of 2021 and we are not allowed to have a celebration or a big party.
What should we do then? Well, we have to stay at home because of the lockdown in Greece. We hope, of course, that in a few months' time, we'll finally be able to start teaching Greek courses in Greece.  In the meantime, is there a better opportunity to go back in time and tell our story? So many students have asked us how it all started.
So, are you ready to hear our story?  Here we go!
First of all, I will share my computer screen now, where you can see the website of Omilo. (omilo.com). I'm not going to talk about our website, because I'm talking about the beginning of Omilo, and when we started in 1996, there were no websites. There was almost no Internet. Google didn't exist yet. Nothing.
We relied on brochures and we had to be creative with our marketing. This is something that probably people that are starting out now cannot even imagine.
But why am I starting from the website then?  Because everything is mentioned on the website, even the photos from the first years of Omilo. Let us go to Flickr, which you can access through the Omilo website, and you will now see what I mean.
On Flickr, we have uploaded photo albums of our first courses. There is, of course, a 1997 photo album.
In that period, there were no digital photos or cameras, so we still had a camera with a film roll, and we had to develop the photos afterward. Back then, we didn't have the luxury of taking hundreds of photos; there were 10-15 photos for each course, and this was it.
These 1997 photos are actually all scanned and uploaded to the Flickr albums, so you can get an idea of how everything started.
On Flickr, there are albums from 1997 till 2002, and on Facebook we have more albums from 2009 until today. At the moment, there is a small gap in between, but we're working on more Albums.
It takes a lot of time and effort to scan all these photos, but it gives me so much pleasure. The photos help us keep the memories intact and it's so great to look at them again and again. It's a celebration for us. We hope that by hearing the story and how it all started, it will feel like this for you, too!
When we say that we started in 1996, it means that this is when we came up with the whole concept.
Here you can see our first brochure. We didn't have any course photos to include at the time, but the brochure was created.
A cover with a blue sea, a very bright Greek sun, and our brand new Omilo logo.
Of course, in 1996, we also thought about the name Omilo. This was a name that we liked as it means " I speak", but I will not say more about it because there are many blog articles on the website that explain more about our name. (https://omilo.com/greek-etymology/)
But just shortly, Omilo means "I speak" and it's actually the same as "milao – μιλάω".
In 1996 the Omilo logo was created, the name was found, and the first Omilo brochure was there,
so we could start with our marketing – marketing without Internet!
How did it all start? Well, I was a frequent visitor at the post office, here in Athens. They knew me very, very well.  I was sending brochures about Greek Language and Culture all over the world.
Why all over the world? Because from the very beginning, we decided that we wanted to work with a clientele that is international, not clients only from Belgium or from Holland or from Germany, not clients only from France. There are many schools concentrating on a certain native language or clientele from a specific country, which is totally fine, but in our case, we decided that Omilo would be international and that it would bring together people from all over the world. People who are interested in the Greek language and culture.
Where did the first Omilo courses take place?
We started in the village of Nea Makri.  Nea Makri belongs to the region of Attica and is about 30 kilometers from the center of Athens.
In the album you can see pictures of Nea Makri, and you can actually see the sea, as well as Marathon.
The village of Marathon is where the entire story of the 'marathon' started, more or less 2500 years ago. It's 42 kilometers from the village of Marathon to the center of Athens, which is also why, of course, the marathon, as of today, is 42 kilometers.
So from Marathon, 8 kilometers further away is Nea Makri and a little bit further is Rafina. From the Rafina harbor, you can take ferries to the islands.  One of them is the second biggest island in Greece, and it's called Evia.
Another island, you can visit by taking a boat from Rafina, is the island of Andros.
For five years, we used to organize/organized courses on Andros as well. More about this period later. 😊
The first courses started in Nea Makri, Attiki
In this picture, you can see a close-up of Nea Makri and you see the highest building, exactly next to the sea. This was the Marathon Beach Hotel.  A hotel with its huge swimming pool. The swimming pool was 25 meters long, ideal for morning exercise.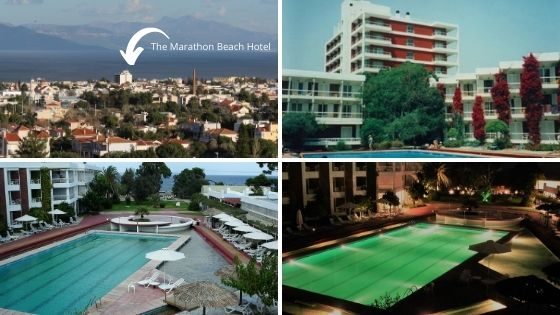 Students really loved that swimming pool, and the hotel had a huge garden, which meant that we could teach outside.  Christina was working at the reception of the Marathon Beach Hotel, and when the hotel closed down in 2005, Christina started working for Omilo.  As the Omilo story continues, you will hear more about Christina.
In this photo, you see Maya and Dimitris, so 25 years younger!  OMG 🙂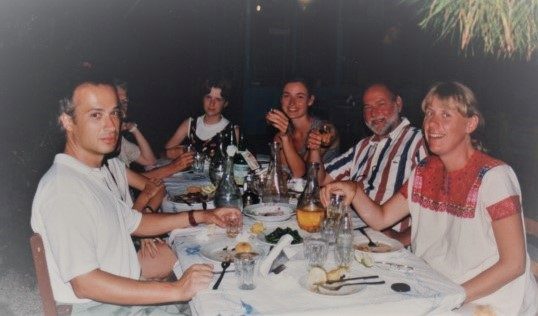 In the album you can also see photos of evenings spent at one of the local taverns. From the very first year that we started with our first course in 1997, we organized Greek lessons in the morning followed by cultural activities in the afternoon, something that we keep doing till today.
Omilo was founded in 1996
When we say that Omilo was founded in 1996, it means it was the year everything was organized, the whole plan was put together, the brochure, the logo, the name, our dreams, what we wanted to achieve.
Then, came the time for marketing – for making brochures and sending them all over the world to communicate our idea and our dream.
Still no internet in sight at that time, especially for private use.
The first Omilo course took place in July 1997
In July 1997, we were extremely happy to welcome our very first participants, who came from all over the world.
In this photo, you can see all of them! We had students from Finland, Belgium, Austria, Holland, and Canada.  A beautiful group, and we still keep in touch with most of them.  Many of them kept coming to our Greek courses year after year. You never, ever forget your very first group of students.  It would be really great to see this group here again, after 25 years.
Back then, our courses lasted for 3 weeks. Our first course was a 3-week-course. We, Maya and Dimitris, stayed in the same hotel as the students, ate together with them every morning, every evening, and they really became a family.
The teachers were commuting between Athens and Nea Makri and teaching every morning for 4 hours.
Teachers
Our first teacher at Omilo was Sophia. We still have a lot of contact with Sophia. She started teaching for Omilo, as an experienced teacher, since she had experience teaching Greek to Americans in the USA, as well as to foreigners living in Athens.
After Sophia returned from USA to Greece, she started teaching Greek in Athens, and in 1997 she started teaching for Omilo in Nea Makri.
You can listen to Sophia in the next videos, together with Dimitris.
But because students learning Greek are never at the same level, it was clear from the very beginning that we already needed more than one teacher. Omilo is known of really taking care of the different language levels. Students have to be at the correct language level or they cannot  learn properly.  If it's too difficult, you cannot keep up. If it's too easy, you get bored. We have to make sure we have enough teachers for the exact levels.
Even with such a small group, we had two teachers.
The second teacher was Dina.
Dina and Sophia were teaching every morning, either in the garden next to the swimming pool or inside in different places within the hotel.
Maya and Dimitris
In the meantime Maya and Dimitris took care of the general organization, making sure all the classrooms and language materials were in order, checking during the breaks if all was going well and the language levels were correct, teaching Greek at the breakfast table in the hotel as well as during the evening meals, organizing all the afternoon excursions as well as evening get-togethers.
We had a lot of fun, we spent so much time together as a small family, and, of course, we also did excursions.
Excursions
In the album you can see pictures of the group in Epidavros (Epidaurus Theatre). We took a day trip there – going from Nea Makri to Epidavros, to Corinth, to Naflion town, Mycene.
Another day excursion was visiting the Temple of Afaia. The Temple of Afaia is located on the island of Aegina.
And then we have a photo with bicycles – what's that about? It was a cycling trip, on the coastline of Attiki, from Nea Makri towards the beach of Schinias and Marathon.  You can see a photo taken when we arrived at the beach of Schinias.
You can also see Maya with her bike and with a big belly. Because I, Maya, was seven months pregnant!
Our Omilo story is also a little bit of a family story!
Our son was born two months later!
It's easy to remember his age or the opposite, it is easy to remember for how long we have been organizing Greek courses, because the two stories unfold in parallel, Omilo and our children. First, our son Iason (Yason / Ιάσων ) was born in 1997, and then our daughter Afaia in 1999. Like the temple of Afaia, our daughter is also called Afaia (Afea / Aphaia / Αφαία) 🙂
So now you know all about our very first Greek Language and Culture course!
Cancelations?
The second Omilo course was planned for September 1997. We already had registrations and were looking forward to it.
But because I was pregnant and our son was born on the 6th of September, until recently it was actually the only course that we had to cancel! So that September course didn't take place.
The second time we had to cancel courses was last year, 2020, due to the coronavirus pandemic – 24 years later.
This was the story of 1996-1997, a year full of great memories.
Stay around for our next video/blog post, where I'll tell you more about 1998.
You will soon also find more stories and memories told by Dimitris and the teachers.
Greetings from Athens,
Maya
https://omilo.com/wp-content/uploads/2021/03/Omilo-25-years-maya.jpg
315
560
Omilo
https://omilo.com/wp-content/uploads/2018/07/omilo-logo-new-300x138.png
Omilo
2021-03-18 18:01:16
2021-11-14 21:19:52
The Omilo Greek Diary | How it all started in 1996 – Maya tells her story