First time on Lefkada island: (at least) 5 places to visit
Lefkada City
The principal town and capital of the island has the same name as the island, Lefkada, and is a lively town full of cafes, taverns and shops.
Agios Nikitas
The traditional village of Agios Nikitas (where the Omilo courses take place) is a small, picturesque and friendly village. Agios Nikitas has a very nice beach with clear turquoise water, a few taverns, cafes and mini markets along the main street. Most of the village is accessible only on foot. Due to its beauty, it has been characterized by the Ministry of the Environment as an example of a traditional community.
Beaches
Lefkada is mostly known for its stunning nature and beaches. A world-famous beach, is Porto Katsiki, but it is definitely not the only one worth spending an afternoon. The best way to discover the island's beaches is by car. Other names of beautiful beaches are Egremni, Kathisma, Kalamitsi, Mylos.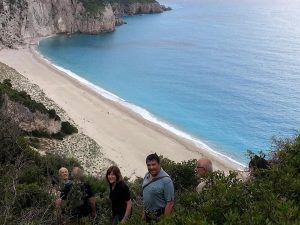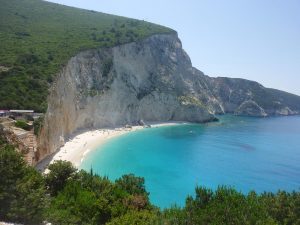 Waterfall
There is a beautiful waterfall on Lefkada island called the Dimossari Waterfall (Nydri). As soon as it is warm enough, you can not only visit to see its beauty, but also have a refreshing dip in the lake created by the waterfall.
The natural beauty of the island
The landscape of the island has it all: mountains, forests, gorges, lagoons, whitewashed beaches and turquoise sea. The island has rugged regions but also idyllically scenic ones, covered by lush vegetation, olive groves, cypresses and pine forests.
Click here to watch a small video while Omilo students enjoy a Boat trip around Lefkada
For more information about Lefkada, including several video links, click here to read our article
Gallery
Click to enlarge photos
Please remember!
When booking a course, you are expected to make your own travel arrangements to Lefkada and to the Omilo school in Agios Nikitas
It is necessary to arrange for a valid passport and an insurance covering "your stay in Greece". The Omilo course fees do NOT include medical coverage.
Making your holiday arrangements is exciting, but is often a lot of work. That's why we are happy to give you information on how you can plan your trip. . We do not accept responsibility for any errors or changes.
Once you have registered, Omilo will send you an info letter three weeks before the start of your course with the latest details about the course and practical information.
Omilo understands that your accommodation plays a major role in enjoying your holiday in Greece. If you want to learn more, please visit the accommodation page.
From Athens to Lefkada by bus
Since Lefkada has a bridge connected to the mainland, it is possible to travel by bus or car. If you want to reach Lefkada island by public transport from Athens, you have to go to the Bus station "Terminal Kifissos" in Athens. Busses from Athens to Lefkada depart 4 times a day. In order to reach the Kifissos Bus station from the Athens Airport, you can take a taxi or public bus, which takes about 50 minutes.
An updated bus schedule will be sent to those registered 3 weeks prior to the course. The bus ride takes about 5 hours. (+/-€ 45,00 for a one-way ticket). Tickets can be bought directly in the bus station.
When you reach Lefkada bus station in Lefkada town, you can get a taxi that will take you within 15 minutes to Agios Nikitas (11 km away from the town of Lefkada, approximate cost €  €25,00). The taxi will stop on the main road, next to the hotel Agios Nikitas, from which point there is direct access to the Agatha Hotel.
From Athens airport to Kifissos bus station
By taxi
The trip takes about 45 minutes. (+/- € 40,00 – 50,00).
By express bus
Bus X93 . The trip takes about 55 minutes. (+/-€ 9,00)
For the bus routes and time schedules from Athens airport to the bus station Kifissos, please visit their website.
You can then click on the Bus number you need. For Lefkada, click on BUS X93.
From Lefkada Town to Agios Nikitas
The new bus station in Lefkada Town is located to the South of the Marina, approximately 1 kilometer from the town center. Upon your arrival in Lefkada Town, you can reach Agios Nikitas as follows:
By taxi
the easiest and fastest way to get from Lefkada town to Agios Nikitas. You will find taxis at the bus station. The taxi fare from Lefkada town to Agios Nikitas is approximately € 25,00 Euros.
Both taxis and buses will stop on the main road, as there are no cars allowed in the village centre. From the main road you start walking towards the village centre, towards the sea, in order to find your hotel. (+/- 5 minutes).
By bus
although not very convenient, because there are only two buses per day. You take the bus to Kalamitsi and get off in Agios Nikitas.
By plane from outside Greece
You can fly from abroad to Aktion National Airport (sometimes also called Preveza National Airport).
From Aktion National Airport you can come either by taxi or by rental car to the course location in the village of Agios Nikitas (Lefkada island).
Aktion National Airport (International airport codes: IATA: PVK, ICAO: LGPZ) is an airport serving Preveza , Parga and Lefkada in Greece. There are direct international (charter) flights between May and October. The distance between the airport and Agios Nikitas is 36 km and the drive will take you about 45 minutes. You have the option of taking a taxi (at an average cost of € 60,00) or renting a car.
By car to Lefkada island
Since Lefkada has a bridge to the mainland, you can easily reach the island by car. For those coming from Italy or willing to drive to Italy first, there are boat connections between "Venice or Ancona" in Italy with" Igoumenitsa or Patras" in Greece. From Igoumenitsa or Patras you will need another 2 hours by car to reach Lefkada.
If you rent a car in Athens, you will need a minimum of 5 hours to reach Lefkada. There are different ways to reach the island, depending on which areas in Greece you would like to visit on your way!
In the airport of Aktio it is easy to rent a car, and maybe a good solution. Car rental for a week might be not so much more expensive than paying a taxi to and from the airport to Agios Nikitas (one way is around € 60,00)