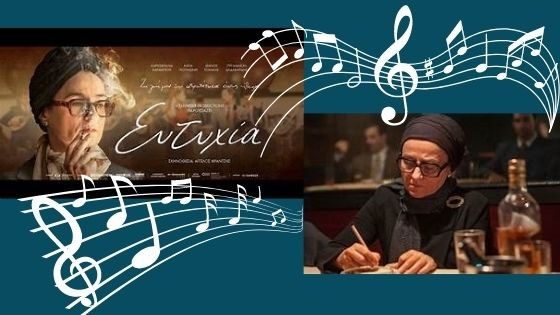 A Greek Movie About Eftihia Papagianopoulou – The Greek Female Lyricist , was very welcome.
Eftihia Papagianopoulou was potentially the most important female lyricist of the Greek music scene. She penned countless "laika and rembetika"(*) songs, many of which became Greek song hits and are sung and danced to even nowadays.
Papagiannopoulou was born in Aydin near Smyrna (now Izmir) in Asia Minor in 1893, which she had to abandon due to the Greco-Turkish War (1919-22) and the Great Fire of Smyrna in 1922. She emigrated to Greece and arrived by boat to Athens with her two daughters.
Initially, she was married to Kostis Nikolaidis; it was an arranged marriage with a man 20 years her senior. Papagiannopoulou divorced him shortly after arriving in Greece. She got married again in 1932 to Yorgos Pappagiannopoulos, who was the only man she really loved in her life.
She penned the lyrics to many popular rembetika songs, working together with many well-known composers of her time like Vassilis Tsitsanis, Apostolos Kaldaras and Manos Hadjidakis. However, her significant contribution to Greek music was not recognized until her death in 1972.
The extensive, (but unrecognized volume of work) by Eftichia Papagianopoulou
Papagiannopoulou was a prolific writer as she wrote the lyrics to more than 200 songs. We'll never be sure about the exact number of songs she wrote since she used to 'sell' her songs for as much money as she could get straight away instead of waiting to cash in the royalties, which would have amounted to much more money in the end. As a result, a lot of artists or songwriters will buy her songs and record them as if they were their own.
As she said in an interview with the Greek newspaper Akropolis, "I write songs and I sell them. From that point onwards, I do not care whether they will be a hit or not, if they will be recorded or not. When I submit them, I sign a form to renounce any rights to royalties; let's say that I 'disown' my brainchildren".
Why would she do this though?
Papagiannopoulou was infamous in the Athenian music scene for her addiction to playing cards and gambling. She would play poker until she would lose all her money, then write a new song, sell it and start anew.
Some of the most popular ones include Ta kavourakia (The little crabs), Dio portes echi i zoi (Life has two doors), Ta alania (The scallies), Ime aetos horis ftera (I am an eagle without wings), An mou spasoun to bouzouki (If they break my bouzouki), Pira apo ti nioti hromata (I took colours from the youth), Malamo, Ise i zoi mou (You are my life), Oniro apatilo (Deceptive dream) and many more.
Her granddaughter Rea Maneli wrote her biography I yaya mou i Eftihia (My grandma Eftihia), which shed light on her personal life and was turned into a theatre monologue with the same name. It was performed by well-known actress Nena Mendi.
The Movie Eftihia
In 2019, her life was turned into a movie with the title Eftihia, where the lyricist was portrayed by two different acclaimed Greek actresses: Katia Goulioni and Karyofilia Katabeti. The cast included Ntina Michailidou (as Eftihia's mother), Pygmalionas Dadakaridis (as Yorgos Pappagiannopoulos) and Thanos Tokakis (as Loukas, her protegee and gay best friend), and the soundtrack was composed by Minos Matsas. Click here to watch the trailer!
We hope you will be able to see this movie by yourself, or who knows,  during an intensive Greek course at Omilo, or at an outdoor cinema in Greece…
++++++++++++++++++++++++++++++
(*) In the mood to learn more about Greek Rebetika or Laika Songs, while improving your Greek?
LAIKA SONGS
By listening to Greek music, you not only improve your Greek, but you also get more insight into the Greek culture, mentality, society and history. You will also learn extra Greek vocabulary while listening to the songs and the included exercises. Laiko (derived from the word 'λαός' = 'people') is a style of popular Greek music and predominated in the 50's and 60's. The main music instrument connected with Laiko is the bouzouki.
The eBook includes:
• a short overview of how Laiko music developed
• which instruments are used
• which composers and singers have had an important influence in the Laiko music
• short exercises to improve your Greek (including an answer key)
• links so that you can listen to the songs while reading the Greek lyrics (or English translations)
Printable eBook, PDF format, 29 pages (A4)
REBETIKA SONGS
Greece's most traditional and distinctive music style is the "rebetiko", also known as Greek blues.
Characterized by the sounds of the bouzouki and baglamas, the Greek rembetika are simple songs that express the daily concerns of ordinary people experiencing difficult and often unconventional situations. Most are about such things as love; heartbreak; the struggles involved in living and working in foreign lands; poverty; hashish; etc…
WIth this Omilo eBook (printable version), you will learn more about rembetiko music through listening to a couple of rembetika songs as well as through doing some listening and vocabulary exercises.  The eBook is written in English and Greek, and all 6 songs are translated into English. You will also learn some Greek vocabulary while listening to the songs and the included exercises.
The eBook includes:
• a short overview of how the Rembetiko music developed
• which instruments are used
• which composers have had an important influence on Rembetiko.
• short exercises to improve your Greek (including an answer key)
• 6 songs, with English translations,  and youtube links so that you can listen to the songs while reading the eBook
Printable eBook, PDF format, 24 pages (A4)
https://omilo.com/wp-content/uploads/2021/06/eftichia-blog.jpg
315
560
Omilo
https://omilo.com/wp-content/uploads/2018/07/omilo-logo-new-300x138.png
Omilo
2021-06-10 17:16:58
2023-01-23 19:09:39
A Greek Movie About Eftihia Papagianopoulou – The Greek Female Lyricist