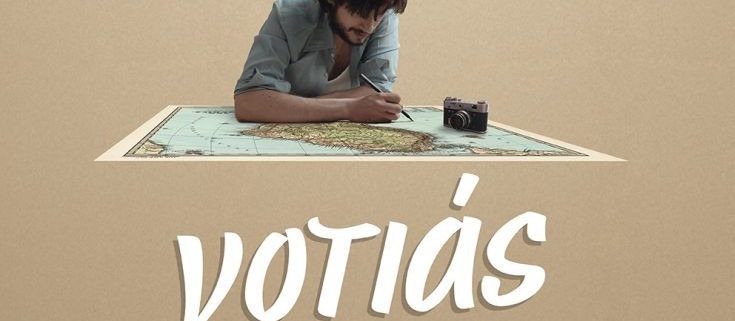 The Greek movie  "Notias" (Greek for "southern wind") , by Tassos Boulmetis, was released in 2016. A beautiful movie, filmed mostly in "Athens of the sixties" and for sure liked by our students learning Greek!  Below two trailers of the movie with Greek dialogues. We translated the dialogues for you in English, so you can improve your Greek listening skills, while also reading the Greek text or English translation.


Tassos Boulmetis is also the director of the great and very successful movie "Politiki Kouzina" ("a touch of spice"), which was released 14 years ago. As also in "Politiki Kouzina", Evanthia Reboutsika is again the music producer.
Greek movie Notias – Synopsis
Since the day that the first feelings of love manifest themselves for Stavros, his desire to tell stories in his own way, also fires up. The turbulent decades of the 60s, 70s and 80s constantly stimulate his imagination. During his journey from adolescence to adulthood, he will come up with stories for ancient myths, long voyages and beautiful women. And confronted with reality, he will turn his stories into images and discover himself in the process.
The Greek dialogues in the video are translated here below.

Tassos Boulmetis (director): Notias is a movie following the coming-of-age for a boy.
Giannis Niaros (actor): It's about Stavros, a boy who grows up in '70, he is sensitive and he wants to combine whatever happens to him to myths. The girls he likes are for him Eleni, Penelope.
Hara-Mata Gianatou (actress): I am Aliki. I am also fond of cinema, highly educated. On the other side I work at my uncle's taverna as a waitress and I desperately want to get rid of that.
Melissanthi Mahout (actress): The character is called Betty. She is a girl who wants to be an actress and this is one of the reasons that she approaches Stavros at first.
Giannis Niaros (actor): A lot of bad things happen to him, but through them he discovers his relation with the women for the rest of his life. Every woman gives him a story, something to narrate, something to go on with.
Maria Kallimani (actress): I worry when he is young, but also now that he is a grown up man, because I cannot control him.
Tassos Boulmetis (director): We watch the way he tries to handle his relations with women and his social surroundings, watching at the same time some situations of the social and political life of this period.
The  trailer with more words about the Director.
The translations of the Greek dialogues are written underneath.

Tassos Boulmetis (director): 3,2,1 off we go, Gianni!
Phoivos Tarabikos (actor): Mr Tassos is a very good director, I like him because he is fan of AEK, like me, he is a real "Constantinople" (Greek person that grew up in Constantinople) and I love him very much.
Giannis Niaros (actor): He knows how to say stories, so he can inspire you.
Tassos Boulmetis (director): Notias is a wind symbol, it is a wind, it's a feeling, it has to do with ourselves, and it's the movie's title.
Zozo Sapountzaki (actress): He made miracles and when I went to "Attiko" to watch the movie "Politiki Kouzina", I was surprised. You thought that you could touch the minaret.
Themis Panou (actor): His idea about cinematography is a big chapter for every domestic cinema production.
Tassos Boulmetis (director): It is a story that narrates the coming-of-age for a boy, during the difficult decades of the sixties and seventies.
Eva Nathena (costume designer): For me – working in theatre-, the collaboration with Tassos, who is a man who loves arts, theatre and cinema, is very nice and special because we speak the same language.
Simos Sakertzis (cinematographer): I like him very much, because he is a director who didn't graduate yesterday and he is not 20 years old, but he likes to experiment himself.
Spiros Laskaris (decoration manager): We have worked a lot of years together in the sector of advertisement and we had exceptional results.
Maria Kallimani (actress): I feel his support. He is there for us.
Argyris Xaphis (actor): I don't know if what he narrates is his own experience, but the way he does it, it's like he has lived those events and he persuades you to live in them as well.
We hope you will soon be able to watch the movie yourself, or during an Omilo course 🙂
++++++++++++++++
In the mood to read more interesting texts about Greek Culture, together with Audio-files to improve your listening skills?
Then you are welcome to download our FREE eBOOK below.
https://omilo.com/wp-content/uploads/2016/12/omilo-blog-notias-001.jpg
459
735
Omilo
https://omilo.com/wp-content/uploads/2018/07/omilo-logo-new-300x138.png
Omilo
2020-08-05 13:28:05
2023-05-15 20:04:35
Greek Μovie "Notias" by Tassos Boulmetis