For Intermediate 2 and Advanced ; Greek To My Ears – Free eBook + Audio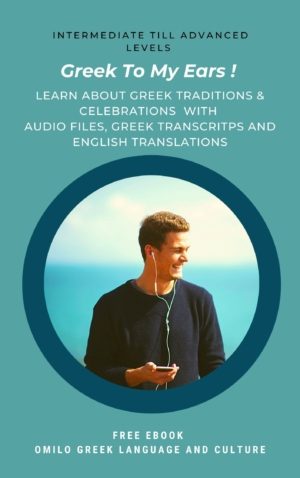 For Intermediate 2 and Advanced levels in Greek ; Improve your listening and reading comprehension skills
Improve your Greek listening skills and reading comprehension, with this eBook. You will be able to listen to the audio files, as well as read the various texts about different subjects related to Greece and Greek culture.
Ideal to listen to Greek, while traveling, walking, working in your garden….
You may use this eBook for:
Reading comprehension
Listening comprehension
Learning more about Greek culture and the "real Greece"
How can I listen to the audio files?
By downloading the eBook, the links to the audio files are included, through Soundcloud. You can listen to the texts online, from any device.
For  the Intermediate and Advanced Language Levels in Greek
The audio texts are narrated by native Greek speakers and Omilo teachers. The text and audio might contain difficult grammar and vocabulary for the Intermediate level. However, the English translations are included, so it is still useful to practice your listening skills, even if you are at the Intermediate level.
If you are at the beginner's stages of learning Greek, but you would like to learn more about Greek Traditions and important celebrations, of course you are welcome to read the English translations, which are included for every text. A way to learn more about Greece, and get motivated to start learning Greek 🙂
Is this really free? Absolutely!
We love to share with you free materials, that we hope you'll find useful and that give you the motivation to improve your Greek Language Skills.
We hope you will enjoy this free eBook, and keep us in mind next time you need more Greek language learning support!
Are you at an Intermediate or Advanced level in Greek, and ready to improve your Greek, by reading interesting texts about Greece, as well as listening to them? Then this eBook is perfect for you.
By downloading this free ebook, you also agree to receive regularly valuable tips & tricks related to learning Greek. You can unsubscribe anytime .