Greek To My Ears – Free eBook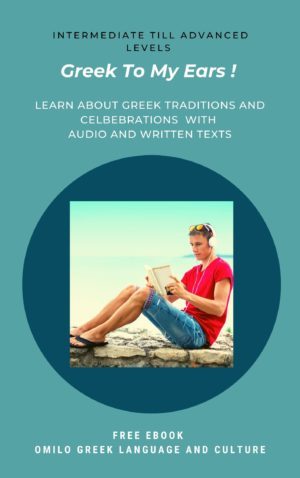 Improve your Greek listening skills and reading comprehension, with this eBook. You will be able to listen to the audio files, as well as read the various texts about different subjects related to Greece and Greek culture.(For Intermediate and Advanced students)
If you are at the beginner's stages of learning Greek, but you would like to learn more about Greek Traditions and important celebrations, then you are welcome to read the English translations, which are included for every text. A way to learn more about Greece, and get motivated to start learning Greek 🙂
The audio-files are included via a Soundcloud link and also downloadable as MP3 formats. Ideal to listen to Greek, while traveling, walking, working in your garden….
You may use this eBook for:
Reading comprehension
Listening comprehension
Learning more about Greek culture and the "real Greece"
Are you at an Intermediate or Advanced level in Greek, and ready to improve your Greek, by reading interesting texts about Greece, as well as listening to them? Then this eBook is perfect for you.
If you are at the Beginner's stages of learning Greek, then you can learn more about Greece and Greek Culture, by reading the English texts, while listening to the Audios and getting used to hearing Greek.
By asking for the free ebook, you also agree that regularly will be receiving valuable tips & tricks related to learning Greek. You can unsubscribe anytime you wish.