25 Years Omilo – The Founders' Story!
Omilo was founded by Maya and Dimitris Andreadis, in 1996
Over the last 26 years, Omilo has expanded from a dream into a successful Greek language school, offering Greek language and culture courses to adult students from all over the world.
It all started in 1996, when Omilo was founded by Dimitris and Maya Andreadis.
In addition to being one of the Omilo teachers himself, Dimitris is in charge of the eachers, organizational and financial aspects of the business, while Maya oversees the cultural activities, administration, marketing, social media, website as well as writing blog articles, creating eBooks, Podcasts and writing the Monthly Dose of Sunshine!
With their background of university studies in Greece, Belgium and the USA along with their international experience, Maya and Dimitris are well equipped to be at the helm of this exciting educational endeavor.
Omilo offers a unique approach to teaching Modern Greek, backed by a select team of Greek teachers and staff members. The informal and relaxed atmosphere of Omilo's classes makes learning Greek an enjoyable and successful experience for all.
Our priority is providing top-quality teaching, but at the same time, Omilo also aims to bring its students into direct contact with local customs, history and culture through various excursions and activities.
From 1997 to the present, the Omilo team has been offering courses in such places as Athens, Nea Makri (Attiki), Limni (Evia), and Nafplion as well as the islands of Hydra, Syros, Andros and Lefkada. Omilo never stopped expanding: in fact, we are constantly looking for new locations.
Last but not least, since 2013 Omilo also publishes language books and materials, free eBooks, and offers several options to learn Greek online
A question we are asked often;

"Maya and Dimitris, how have you managed to stay so enthusiastic and energetic for so many years?" is a question our returning students often ask us!
Well, all this energy is there, because we:
a. work together with a fantastic team of teachers;
b. regularly receive "thank you mails;"
c. see the many smiles on our students' faces;
d. welcome so many new and returning students every year;
e. enjoy the beautiful natural surroundings and cultural events in Greece while the courses are running;
f. meet extraordinary people from all over the world;
g. and enjoy reading our "testimonials", and watch what our students say on video 
All these are a great source of inspiration and energy, making us look forward to the next 20 years! We are very proud of our accomplishments and consider Omilo "one of our children". We love our job! Our number one priority is to offer top-quality Greek language courses and cultural experiences to all our students during their stay in Greece.
Maya and Dimitris Andreadis
Note; The covid years were challenging, but we managed to teach many students online, and started creating a lot of online materials.  Click here to listen to a Valentine Message on video, during Covid.
Σας αγαπάμε!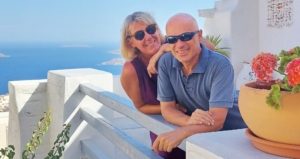 Take a look at our Flickr Photo Album to see various photo albums and memories of the very first courses between 1997 and 2002. For the courses that took place after 2009, you can take a look at our Facebook Albums.