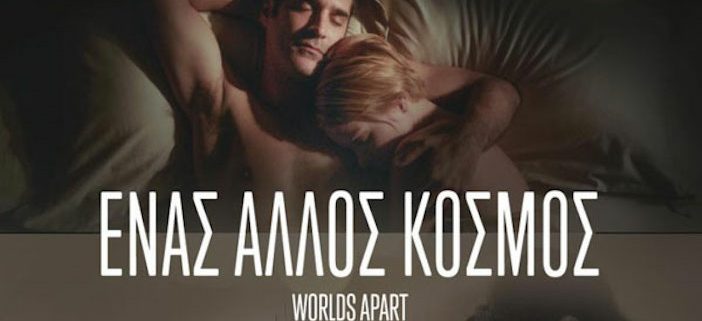 If you are looking for a contemporary Greek movie, then Worlds Apart is a movie we can recommend.
Watching films in Greek is a fun way to spend an evening at home and improve your Greek listening skills at the same time.
At Omilo, we often organise film nights during the 1- and 2-week Greek language and culture courses – because learning does not have to stop in the classroom! Watching a movie under the stars, while sipping a glass of wine, definitely feels like holidaying in Greece!
When learning a foreign language, films are great for practising your existing comprehension skills, picking up new vocabulary, including slang and expressions or words that are more common in oral speech. If the film has been filmed in Greece, then even better – you get to see Greece through the eyes of a local, and usually you also learn more about Greek culture or the contemporary life in Greece.
Greek movie  Ένας Άλλος Κόσμος (Worlds Apart)
A great example of a film set in Greece is the 2015 drama Worlds Apart (gr. Ένας Άλλος Κόσμος), which was directed by Christoforos Papakaliatis, a Greek actor, director, and screenwriter.
The film consists of three separate narratives that take place in Athens. Each of them follows a love story between a foreigner and a Greek falling in love during a time of socio-economic turmoil, i.e. the Greek financial crisis and the peak of racism and violence incidents due to the influx of refugees and immigrants from the Middle East.
The three couples represent three different generations:
The teenage Daphne meets a Syrian refugee, Farris, falls in love with him and through their relationship she gets to see how it feels to always be on the run.
Yorgos, a 40-year-old man, has a one night stand with a beautiful Swedish woman and starts developing feelings about her, only to find out that she has arrived in Athens to fire the majority of the personnel at the company where he works.
Maria, a mom and grandmother nearing 60, meets a German tourist at the supermarket. Despite the language barrier and the stereotypes that each country has for each other, she feels that he is the first person who truly listens and pays attention to her.
All three couples are trying to navigate the challenges of their relationship and the socio-economic conditions around them, without knowing that a dark twist at the end of the film will bring their fates together.
The foreigners are played by the American actor J. K. Simmons, the Hungarian actress Andrea Osvárt, and the Palestinian actor Tawfeek Barhom. Papakaliatis did not only direct the film, he also produced, wrote the script and starred in it alongside well-known Greek actors Maria Kavoyianni, Minas Hatzisavvas, Niki Vakali and Odysseas Papaspiliopoulos.
The film premiered in the US, where it received mixed critiques, whereas it was a big commercial success in Greece. Parts of it are in English because of the international cast, which helps with comprehension (and will give your brain a little break if you are new to learning Greek!)
But do not worry, you can also watch it with subtitles of course, and read along.
Click here if you would like to watch the trailer with English subtitles
Or even better, you can order the DVD yourself, and watch the movie at home, any time, any day.
Greek Series Maestro in Blue
The same Greek actor, screenwriter and director Christoforos Papakaliatis, also is known for the Maestro in Blue,  a Greek drama series that was released on Netflix in late 2022.  To date, the series consists of one season of nine episodes.
Read more about those series here.
Are you looking for more Greek movies?
When you are in Greece over summer, it is always a nice experience to watch a movie in an outdoor cinema.
Many times the movies of the last 2-3 years are then showed again, so an ideal opportunity to catch up with movies you could not see during the two corona years!
Not planning to visit Greece, but looking for movies online?
If you want to discover more Greek movies, filmed in Greece, then you can find more info at;
https://omilo.com/greek-movie-mikra-anglia/
https://omilo.com/greek-movie-notias/
+++++++++++++++++++++++++++++++++++++
If you would like to  read more interesting texts related to Greece,
including English Translations and
Greek audio, to improve your listening skills, then

the eBook "Greece; The Ultimate Listening and Reading Comprehension eBook is exactly what you are looking for.
https://omilo.com/wp-content/uploads/2022/06/alloskosmos_855435663.jpg
336
702
Omilo
https://omilo.com/wp-content/uploads/2018/07/omilo-logo-new-300x138.png
Omilo
2022-06-18 14:00:19
2023-05-15 19:57:10
A Contemporary Greek Movie: Worlds Apart | Omilo