Timeless Athens – Free Ebook – for Cultural Travelers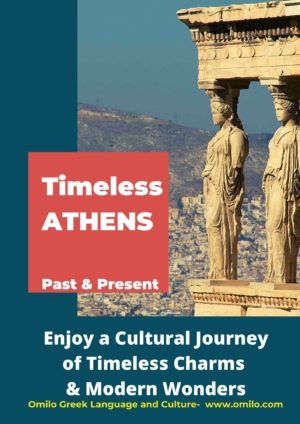 Embark on an amazing journey in Athens with our eBook "Timeless Athens: Past and Present –  Greek Heritage & Modern Charms for Cultural travelers.
This eBook is only in ENGLISH. However, it also has many links to Greek articles, as well as tips how you start your Greek Language Journey

About this Athens eBook
This eBook is specifically written for our Omilo students, who are mostly mature travelers between the ages of 30 and 70. It is designed to help you explore Athens, its culture, and its language. Of course, even if you do not plan to learn Greek, this eBook will be very helpful for anybody interested in exploring cultural Athens.
Unlike typical guidebooks, this eBook does NOT provide a list of specific bars, restaurants, clubs, or hotels. Instead, it focuses on giving you the tools to be an independent traveler, allowing you to discover how to move around by yourself, and discover landmarks related to contemporary Athens and Greek culture, in different neighborhoods.
Whether you're participating in a 1– or 2-week course in Athens or simply fascinated by Greek culture, you can uncover the city's treasures. With helpful tips and cultural insights, this eBook will be your best friend as you experience the magic of Athens.
Get ready to learn, explore, and fall in love with our home city!
Maya and Dimitris Andreadis
Is this really free? Absolutely!
We love to share with you free materials, that we hope you'll find useful and that give you the motivation to visit Greece and  improve your Greek Language Skills.
We hope you will enjoy this free eBook, and keep us in mind next time you need more Greek language learning support!
PDF File, Downloadable and Printable, 50 pages
Ready to explore Timeless Athens, and not just for 1 or 2 days?
What are you waiting for?
Click on the link below to download your printable eBook, including interesting articles, useful links, travel tips, and information beyond the average "tourist guide or centre city".  And not only… because Omilo is a Greek Language and Culture School, this eBook also has information about how you could start, or improve, your Greek Language Journey.
By asking for the free ebook, you also agree that you will be receiving from time to time valuable tips & tricks related to learning Greek . Of course, you can unsubscribe anytime you wish, with a simple unsubscribe link.