In May 2019 the Greek Easy Reader was published at Omilo, and since then proved to have made Greek language learners very happy!
The  'Λυδία: Ένα καλοκαίρι στην Ελλάδα!' (Lydia: A summer in Greece!) is written for students at the Beginner levels in Greek.
Do you feel like having a break from studying Greek formally with lessons or grammar books? Then here is the book you are looking for!
A real story, which will give you the opportunity to learn or revise Greek in a relaxing and pleasant way.
You can read it or listen to it, or both!
About the authors, Terpsi and Konstantinos


Τέρψη Γαβαλά is from Athens and Κωνσταντίνος Οικονόμου is from the island of Crete, but now he also lives in Athens. They are both qualified Greek teachers and for several years they have been teaching at Omilo Greek Language and Culture (Konstantinos is also co-author of the language book 'Φύγαμε για ελληνικά!', intended for Intermediate 2 level Greek learners).
How the story of Lydia was born

Many Omilo students at the Beginner levels in Greek are eager to start reading in Greek, rather than just learning vocabulary and doing grammar exercises. These students often ask which books they can read at their level, while also repeating the vocabulary and grammar they already have learned. There are not actually very many books for this language level, so Terpsi and Konstantinos decided to write a pleasant story themselves, with a hint of mystery and the vocabulary to cover various everyday life topics.
The story
Lydia is Greek-American. On a trip to Greece, she meets a man, Orestis. They become friends. However, there are hidden secrets… The story is set in Athens and on the island of Syros, both locations where Omilo has been offering Greek courses for many years. Since Terpsi and Konstantinos have been teaching Greek there for so many summers, it was no surprise they got inspired by this beautiful island!
 Audio-book included
The entire book is also recorded. When you buy the easy reader, you receive the accompanying MP3 audio files with a download link. Listen to the story, recorded by native Greek speakers, and improve your listening skills.
For those knowing the Omilo-team, the voice of Lydia is acted/recorded by teacher Eva, and the voice of Orestis is acted/recorded by Konstantinos

Useful Info
If you wish to buy the book in Greece, this is possible during any Omilo course, where also the authors are teaching.
Otherwise, the book is available online at : https://masaresi.com
Hard copy : 15 euro + shipping costs
Info at : https://masaresi.com/product/lydia/
E Book version : 13 euro
https://masaresi.com/product/lydia-easy-reader-audio/


If you would like to download a free sample unit, then click here—>
Supplementary material, also available online .

1. Translated vocabulary.
The book includes the basic vocabulary of the story translated into English. In addition, you can download the vocabulary in French, German and Turkish at extra charge.
https://masaresi.com/product-category/ebooksgreek/easy-readers-in-greek/

2. Learn "71 Greek Everyday Verbs"
You probably agree that verbs in Greek can be sometimes a little tricky. Therefore the authors created a supplementary book with the verbs used in the Lydia story, conjugated in the Present, Future, and Past Tenses.
https://masaresi.com/product/71-everyday-greek-verbs-lydia/
3. The companion Workbook
The workbook, exactly like the easy reader, consists of 12 units. Each unit has 6 exercises
Working with the Companion Workbook will help you to improve your Greek skills and make you have more confidence in them.
Click here for all the information : https://masaresi.com/product/lydia-workbook/
Credits
Illustrations – Book Design
David Hitch, an experienced English illustrator, with an excellent understanding of the Greek language and culture, created the illustrations and designed the book.
Music
Original melodies for the story were composed by talented musician Issidoros Papadakis. In addition, two great musicians, the bouzouki master Petros Kapellas and Yannis Varthalitis (guitar), played a taqsim (a piece of improvised folk music) that was recorded on the island of Syros – right next to the sea – and then included in the story.
What students and Greek teachers write: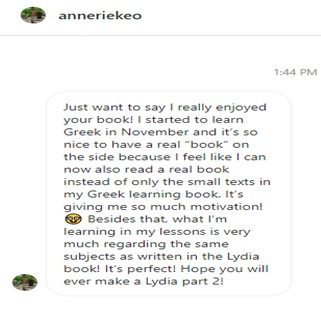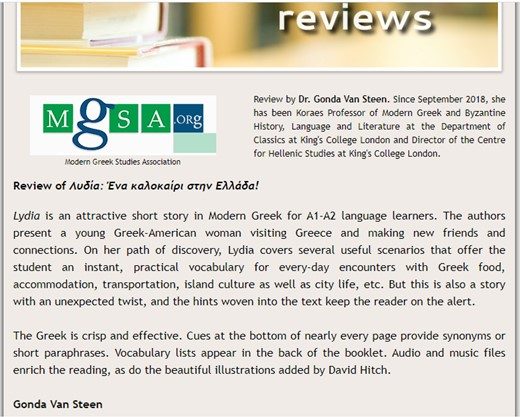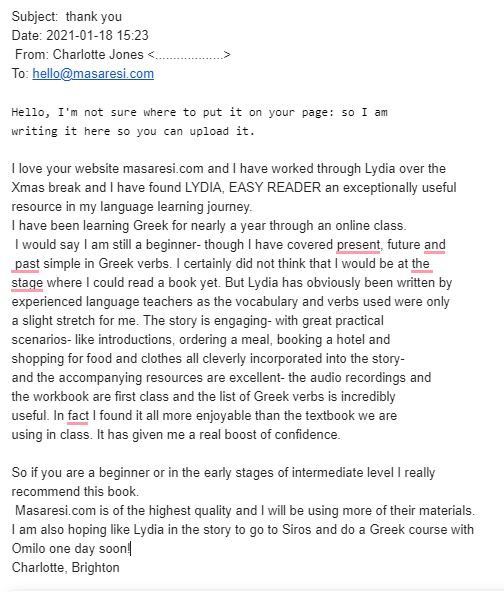 https://omilo.com/wp-content/uploads/2021/01/lydia-book-5-scaled.jpg
1564
2560
Terpsi Gavala
https://omilo.com/wp-content/uploads/2018/07/omilo-logo-new-300x138.png
Terpsi Gavala
2023-07-10 17:40:43
2023-07-25 23:05:03
Easy Reader in Greek + Audiobook – "Lydia: A summer in Greece!"