Free Unit of Easy Reader: "Lydia, A Summer in Greece"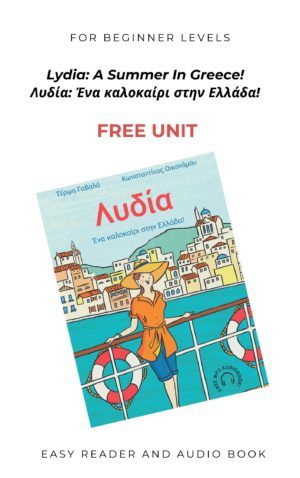 Download a Free Unit of Lydia: A summer in Greece!
Read & listen to the first chapter of the short story: 
This Easy Reader for the Beginners levels will help you learn Greek and :
Improve your Greek reading and listening skills (Audio links included)

Build or revise your Greek vocabulary gradually and in a natural way

The book features:
plenty of dialogues covering a great variety of everyday topics, such as: Introducing myself / Talking about my family / Ordering in a coffee–shop or a tavern / Arranging a meeting / Asking for or Giving directions / Hobbies / Shopping / Traveling / Describing a city
short, easily–manageable chapters
illustrations that show the reader clearly the essential elements of the story
footnotes with explanations of words in Greek
footnotes with synonyms of words
footnotes with the present tense of verbs found in the text
an Audio with all of the story, recorded by native Greek speakers
a selected vocabulary from each chapter translated into English (included in the book)
If you would like to order the Easy Reader, then 
Click here for the HARD COPY, which will be shipped to you 
Click here for the eBOOK VERSION (not possible to print)

The book comes with an English vocabulary list (included)

However, the vocabulary is also available in French, German and Turkish ( 5 euro) :
Click here for the French Vocabulary
Click here for the German Vocabulary
Click here for the Turkish Vocabulary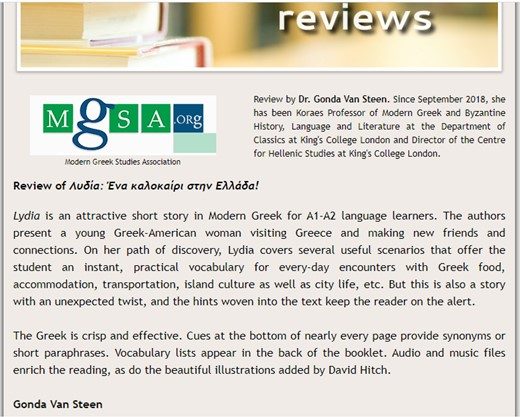 Download here your free Unit, of the story Lydia: A summer in Greece!  and start reading in Greek.
This easy Reader is written especially for Beginner learners of Modern Greek (at Α1 / early stages of A2 level)


By asking for the free unit of language book, you also agree that regularly will be receiving valuable tips & tricks related to learning Greek. You can unsubscribe anytime you wish.