Mikis Theodorakis (1925-2021), is one of the most important Greek composers known abroad.
He has composed thousands of Greek songs, (mostly Laika and Entechno style),  symphonic music, music for operas, ballet, and chamber music, etc..
To read more about his life and career, click here.
What is Greek Laika music ?
Laiko, is an offshoot of rebetiko, was popular during the 1950s and 60s.
Laika, derived from the word 'λαός' = 'people', is a style of popular Greek music and predominated in the
50's and 60's. The main musical instrument connected with Laiko is the bouzouki.
Το  λαϊκό: επικρατεί τις δεκαετίες του 1950-'60. Είναι η εξέλιξη του Ρεμπέτικου
τραγουδιού.αϊκό τραγούδι (από τη λέξη 'λαός' = 'people') ξεκίνησε να αναπτύσσεται τις δεκαετίες του ´50 και του ´60, ως εξέλιξη του ρεμπέτικου τραγουδιού. Το κύριο μουσικό όργανο που αντιπροσωπεύει αυτό το είδος μουσικής είναι το μπουζούκι
(For more info and songs about this musical genre, you can also learn more with its eBook. Click here.)
What is Greek Entechno music ?
The early 1960s is the official starting point of a new genre of music. This genre combines orchestral music with poetry for the first time and is called Entechno, in Greek. The composers Mikis Theodorakis and Manos Hatzidakis were the first ones who combined
elements of Greek Laika songs with poetry, making Greek poetry accessible to all social classes.
The impact of Entechno music and especially the music of Hatzidakis and Theodorakis was felt on an international level as well because a plethora of songs were translated into several languages and were sung worldwide
Στις αρχές του 1960 βρίσκεται η επίσημη αφετηρία ενός νέου μουσικού είδους και, συγκεκριμένα, ενός είδους που συνδυάζει για πρώτη φορά την ορχηστρική μουσική με την ποίηση. Το τραγούδι αυτό ονομάζεται έντεχνο. Οι πρωτεργάτες του έντεχνου, Μίκης Θεοδωράκης και Μάνος Χατζιδάκις, συνδυάζουν για πρώτη φορά στοιχεία του λαϊκού τραγουδιού με την ποίηση, φέρνοντας την τελευταία κοντά στον λαό.
 GREEK SONG ; Η Μαργαρίτα η Μαργαρώ/ Margarita Margaro
Theodorakis' songs are performed by many singers, and appear in many concerts.
Also this summer, we saw several concerts, referring to Theodorakis' songs.
Theodorakis wrote the Lyrics of this song himself, while singer Grigoris Bithikotsis first performed the song in 1960. (Margarita / Margaret is Theodorakis' daughter)
—
Σε αυτό το τραγούδι τους στίχους έχει γράψει ο ίδιος ο Μίκης Θεοδωράκης, ενώ στην πρώτη εκτέλεση τραγούδησε ο Γρηγόρης Μπιθικώτσης το 1960
Click here to listen to the first edition of the song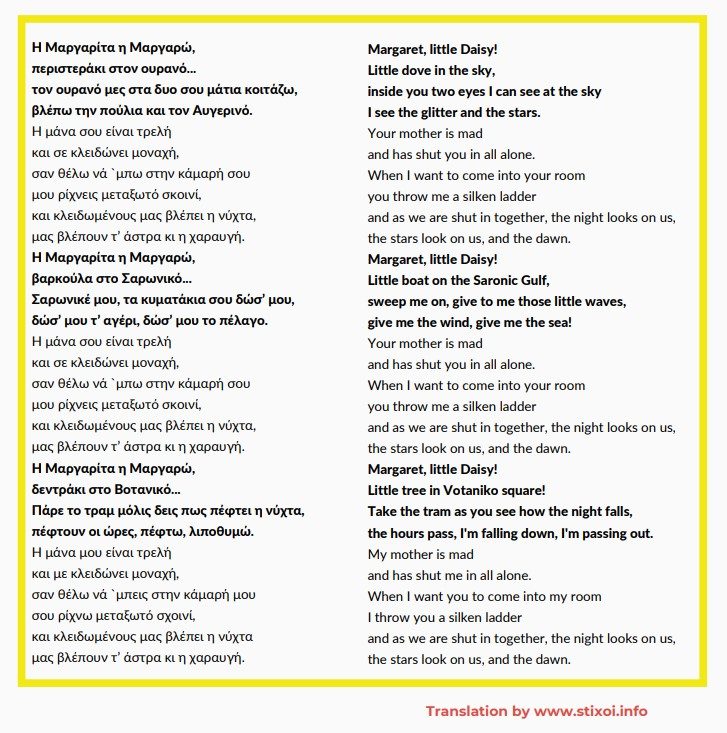 Stavros Ksarchakos (*), a very known Greek composer himself,  performed a concert on the island of Syros, with several of his known compositions, as well as a small tribute to late composers
Hatzidakis,
Theodorakis and
M. Vamvakaris.
In the video below you can listen to the song "Margarita Margaro", during the concert of Xarchakos. The song is performed  by his wife and singer Iroo Saia. At the end of the video you see the song again, in another concert, related to Greek Film Music.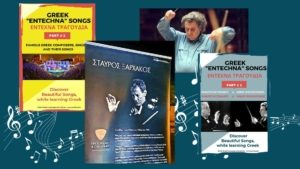 ++++++++++++++++++++++++++++++
Stavros Ksarchakos is a very important Greek composer. After studying in Athens, Paris and New York and being influenced by Theodorakis and Hatzidakis, he created a kind of "bridge" connecting the previous phase of Entechno and the phase that followed.
Ο Σταύρος Ξαρχάκος είναι ένας πολύ σημαντικός Έλληνας συνθέτης. Έπειτα από σπουδές σε Αθήνα, Παρίσι και Νέα Υόρκη και έχοντας αναφορές από τους Θεοδωράκη και Χατζιδάκι δημιούργησε μια γέφυρα ανάμεσα στην προγενέστερη φάση του έντεχνου και στη φάση που
ακολουθούσε.
He has written songs for more than 42 albums, 21 film scores and music for 15 TV productions. He mainly composed in the style of Greek Popular music Laïká but also classical music and music for ancient tragedies. He got internationally famous for composing the "Rembetiko" (1983) film score directed by Kostas Ferris. He has received many awards at film and music festivals and has served as director of the National Orchestra of Greek Music.
+++++++++++++++++++++++++++++++
Do you want to learn more about Mikis Theodorakis,  Manos Hadzidakis, Stavros Ksarhakos,
as well as other Greek composers?

With the Omilo eBooks, you will be introduced to several well-known Greek composers,
singers and beautiful "entechno music".
The eBooks (PDF file, which you can download and print as well) are in English and Greek,
full of useful information, lyrics of the songs, links to the songs,
and extra exercises to improve your Greek.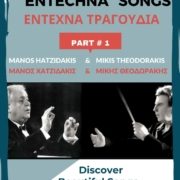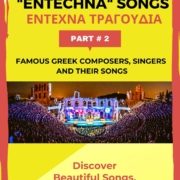 +++++++++++++++++++
Special Offer ; 1+1
Entechna Music composers, singers, Greek songs with English translations,
and extra Greek exercises to improve your Greek?
Watch the video below to get a better idea, or click on the button
https://omilo.com/wp-content/uploads/2022/09/ksarhakos-concert.jpg
630
1120
Omilo
https://omilo.com/wp-content/uploads/2018/07/omilo-logo-new-300x138.png
Omilo
2022-09-14 18:53:26
2022-10-14 19:14:11
Greek Song by Mikis Theodorakis