It feels like yesterday, but already two years have passed…Manos Eleftheriou (1938-2018), a famous Greek writer of poems, short stories and songs, died at age of 80 on July 22, 2018. Since he was born and raised in Syros, our Omilo students often hear his name while attending a course on the island. Manos Eleftheriou loved Syros and edited books about his island, specifically about Markos Vamvakaris and Syros society, about theater in Ermoupolis in the 20th century, and about Ermoupolis in Greek literature.
Some facts about his life:

Born in 1938 in Ermoupolis, the capital of Syros island, he studied theater in Athens and began writing plays and poems during his military service. As a lyricist of more than 400 songs he collaborated with many important Greek music composers, including Manos Hadjidakis, Mikis Theodorakis, Giannis Markopoulos, Giorgos Zambetas. His songs were performed by famous singers like Dimitris Mitropanos, Giorgos Dalaras, Haris Alexiou and Alkistis Protopsalti. He published short stories, illustrated children's books and worked as a radio producer. In 2013 the Academy of Athens presented him with an award for his immense body of work and his lifetime contribution to the Greek Letters.
His novel "The Time of the Chrysanthemums"

In 2005 he won the State Literature Award for his novel "The Time of the Chrysanthemums". Chrysanthemum is a type of flower deriving its name from Ancient Greek: χρυσό chryso = 'golden' + άνθεμον/άνθος anthemon = 'flower'. The book transfers the readers to a time of the past that is never coming back.
The story: In 1896 the theater company of the great leading actress of the time Evaggelia Paraskevopoulou arrives in Ermoupolis to stage a performance at the Apollon Theater. The farewell dinner in honor of the theater company was given at the mansion of the local Pina family. On that dinner a series of paradoxical events will bring a new beginning for the main characters of the book. True love will thrive over dark secrets and hidden passions.
On July 28, 2018 Omilo students in Syros enjoyed a concert of Alkistis Protopsalti and Stavros Xarchakos. In memory of Manos Eleftheriou they performed his song "Tha se xanávro stous baxédes" (music by Ilias Andriopoulos).
Below, you can take a look at the video, taken during the concert, and you can find the lyrics of the song under the video.
Μόνο να γράφεις τ' όνομά σου,

κι εκείνο το 'μαθες μισό,

μα συλλαβίζεις τα όνειρά σου

στο Άργος και στον Ιλισό.

 

Θα σε ξανάβρω στους μπαξέδες

τρεις του Σεπτέμβρη να περνάς

και τσικουδιά στους καφενέδες

τα παλληκάρια να κερνάς.

 

Του κόσμου το στενό γεφύρι

θα το περάσουμε μαζί,

θα 'ναι η καρδιά σου παραθύρι,

τα λόγια σου παλιό κρασί.

Just to write your name,

even that you have partly learned

but you are spelling out your dreams

in Argos and in Ilissos

 

I will meet you again in the gardens

you will be passing by on the 3rd of September

and raki in coffee shops

you will be offering to brave young men

 

The narrow bridge of the world

we will be crossing together,

your heart will be a window

your words (will be) an old wine.
In another famous song of Manos Eleftheriou, "Allos gia Chio travikse" (1972), his beloved homeland Syros is also mentioned.
Στίχοι: Μάνος Ελευθερίου

Μουσική: Δήμος Μούτσης

Πρώτη εκτέλεση: Δημήτρης Μητροπάνος

Στα καλντερίμια συζητούν

ως το πρωί γειτόνοι

μα σκοτεινιάζει ο καιρός

και στις καρδιές νυχτώνει

 

Άλλος για Χίο τράβηξε πήγε

κι άλλος για Μυτιλήνη

κι άλλος στης Σύρας τα στενά

αίμα και δάκρυα πίνει

 

Σε πανηγύρι και γιορτή

απ' την Αγιά Μαρκέλλα

σ' αγόρασα χρυσή κλώστη

και κόκκινη κορδέλα

Lyrics: Manos Eleftheriou

Music: Dimos Moutsis

First version: Dimitris Mitropanos

In the cobbled streets they discuss

The neighbors till the morning

But the weather is getting darker

And in the hearts night is coming

 

One pulled and went to Chios

another to Mitilini

Another one in Syros' narrow streets

Drinks blood and teardrops

 

In festival and fest

From Saint Markella

I bought you golden thread

and a red ribbon
In the mood to read more interesting text about Greek Culture, together with the Audio for improving your listening skills?
Then you are welcome to download our FREE eBOOK here
In the mood to read more interesting texts about Greek Culture, together with Audio-files to improving your listening skills?
Then you are welcome to download our FREE eBOOK here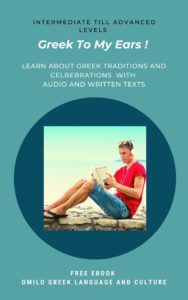 https://omilo.com/wp-content/uploads/2018/08/omilo-blog-eleftheriou-002.jpg
400
1500
Terpsi Gavala
https://omilo.com/wp-content/uploads/2018/07/omilo-logo-new-300x138.png
Terpsi Gavala
2020-08-02 15:18:36
2021-01-15 16:23:49
Manos Eleftheriou: Greek Author and Songwriter