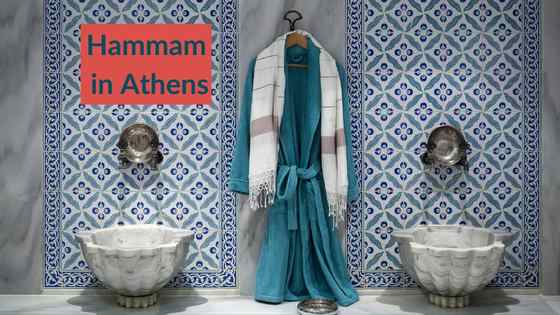 What about going to a Hammam in Athens? You will combine elements from classical antiquity, the Ottoman past and a modern city. Since it was under Ottoman occupation between 1458 and 1833, it also had public baths called hammams. When you come to Athens today, you can visit the Bath of the Winds or experience spa services at one of the modern hammams of the city.
Hammams and their history


Hammams are public baths, typical buildings in Ottoman cities and in the Islamic world. The word comes from Arabic, but they are also called Turkish Baths because they are associated with the Ottoman Empire. Hammams continue a centuries-old tradition: from the ancient Greek balaneîon to the Roman thermae and the Byzantine baths. Unlike the sauna, in hammams the air is not dry, but there is steam and moisture.
Ottoman hammams were important for both personal hygiene and social life. Women would take care of their body and hair, and paint their hands and feet with henna. They would meet their friends, exchange news and gossip and do matchmaking. Men would discuss social, financial and political issues and reach trade agreements. Massage, exfoliation and rubbing for treatment were performed there. After the bath, they used to relax, have fun, drink coffee, tea or refreshments, eat food and sweets, smoke, listen to music and chat. At important life events (e.g. childbirth, circumcision, wedding), Ottoman Muslims went to the hammam for a feast with food, music, and dance.
How is a hammam structured?

A traditional hammam is divided into three parts: a) in the cold room customers change their clothes, leave their stuff and relax after the bath; b) in the intermediate lukewarm area they prepare their body for the high temperature; c) in the hot room they sweat by the steam at 40 degrees Celsius. They sit on a marble bench next to fountains pouring hot and cold water into basins and throw water on them with copper bowls. In the center they lie on a warm polygonal marble slab. There, or on marble beds in individual rooms, they receive a massage with a body wash from olive oil soap or an exfoliation with a scrub glove. The space is illuminated by small holes on the dome, covered with glass. Gentle oriental music is to be heard.
The Bath of the Winds


'Loutró ton Aéridon' near the Roman Agora is the only Ottoman Turkish bath of Athens surviving to this day. It was built between 1430 and 1669 and was called the "Abid Efendi's Hammam'. Originally, men and women used to visit it at different times but in 1870 separate premises were built. It operated as a hammam till 1965. Today it is a museum with an interactive exhibition about traditional hammams.
Info at : http://www.melt.gr/en/visit/the-bath-house-of-the-winds/the-monument/
Old hammams still exist and operate outside Athens, in Patras and in northern Greece.
What are the benefits of hammams?

The hammam revitalizes body and spirit. It detoxes the body and leaves the skin smooth and clear of dead cells. It softens the muscles, activates the metabolism and strengthens the immune system and it reduces tension and leads to calmness and relaxation.
When you come for an Omilo Greek Language and Culture course in Athens you can have the authentic hammam experience in your free time. All you have to do is choose one of the four modern hammams operating in Athens and book one of the many services they offer. It will surely be a unique relaxing experience which will give you more energy to learn Greek!
Al Hammam (Centre of Athens): https://alhammam.gr/
Hammam Baths (Centre of Athens): http://www.hammam.gr/el/home
Le Hammam (Northern suburb of Athens): https://www.lehammam.gr/
Polis Hammam (Centre of Athens): https://www.polis-hammam.gr/
++++++++++++++++++++++++
Curious to explore Athens even more?
Then download your FREE TIMELESS ATHENS eBOOK,
and embark on an amazing journey in Athens 
Greek Heritage & Modern Charms for Cultural travelers.
https://omilo.com/wp-content/uploads/2022/11/hammam-in-athens.jpg
315
560
Terpsi Gavala
https://omilo.com/wp-content/uploads/2018/07/omilo-logo-new-300x138.png
Terpsi Gavala
2022-11-24 14:22:47
2023-07-18 19:03:19
Hammam : an Oriental experience in Athens