Where to stay in North Athens?  – Close to the Green Metro Line 1
Omilo students booking a Greek course in Athens stay all over the city and commute by public transport to Marousi (North Athens) where the Omilo Greek Language school is located. For directions to the Omilo, please click here
Athens is a very big city, and every neighborhood has its own advantages and disadvantages. Many students like to stay close to the Omilo school in Maroussi (located at about 200 meters from the Marousi metro station), and ask us in which areas it is best to book a hotel or Airbnb.
Therefore, we wrote these articles for you, so you get a better idea where you can stay, close to the Green Metro Line 1  in North Athens, and close to School.
If you would like more recommendations about other residential areas, closer to the city centre and Monastiraki, click here to read our "part 1"!
Here below we will write about the neighborhoods in north Athens, all next to the Green metro line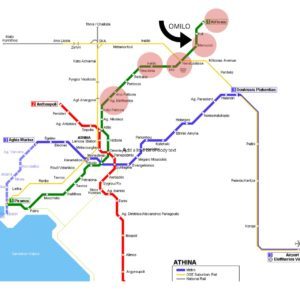 MAROUSI

Marousi, where the Omilo school is located, is a residential area with a "neighborhood" feel. It belongs to the Northern Suburbs, 15 km north of the Acropolis, and very close to Kiffisia (see below). It might feel a bit far from the historic centre of Athens, but, luckily, it's well connected. From the centre it usually takes around 25 minutes using the green metro line 1, bringing you straight to the metro stations Omonia, Monasteraki and Thisseion, in centre Athens. For more information about those areas, click here.
Marousi is a quiet and family-oriented neighbourhood, a little suburban "village". The flats and houses tend to be big, modern and relatively new. Marousi has plenty of green spaces as it's full of trees, small parks, squares, picnic areas, etc. Some areas close to the station are pedestrianized so people can move around more freely when doing their shopping, having a walk or visiting the open street market on Saturday morning.
One of the biggest parks in the Attiki area, also is located between Marousi and Kifissia, and called "Syngrou Park". For more info about this park, click here.
The Marousi metro station is 1 stop away from metro station Neratziotissa, which is conveniently located next to the Mall (a big shopping mall, also with bars, restaurants and cinema), and 2 stops away from metro station Irini, which is also the entrance to the Olympic facilities (O. A. K. A. stadium) – another must see if you're visiting Athens. In these Olympic facilities, also the Olympic Games of 2004 took place.
All those metro stations are both on the green metro line, so easily accessible if you're traveling to Marousi, either to go to the Omilo school or to get back to your accommodation.
Access: green metro line 1 :
metro station Maroussi (200 meters till the Omilo school)
metro station Neratziotissa ( next to the shopping Mall, and connection with surburbian train to the airport)
metro station Irini (next to the Olympic Stadium)
KIFISSIA
Kifissia (or Kifisia) is also located in the northern suburbs of Athens. It has traditionally been home to the Athenian upper class, including major Greek political families, artists, writers and academics.
Even though it started as a strongly residential area, Kifissia has developed its own character with plenty of restaurants, cafés, stores and bars – a little city centre away from Athens' city centre! If you fancy an escape from the city, we would recommend taking a walk from Kifissia centre till Kefalari square, as well as strolling through Alsos Ktimatos Siggrou (Syngrou Park )
Otherwise, both Goulandris Natural History Museum and Υiannis Tsarouchis Foundation Museum are well worth a visit. The first one was created to promote interest in the natural sciences and to raise public awareness regarding the need to protect Greece's natural wildlife and endangered species. On the other hand, the second museum used to be the home and studio of the famous Greek painter Yiannis Tsarouchis and features a selection of finished work, draft illustrations and his photo archive.
Access: green metro line 1 :
metro station Kifissia (terminal metro station of green line Piraeus-Kifissa)
IRAKLEIO
Funnily enough, Irakleio used to be a Bavarian "colony", since this is where the German court officials who followed the young Bavarian prince Otto to Greece, decided to settle down. Otto became the first king of Greece in 1832.
As a result, it is no surprise that the first and one of the most popular Greek beer brands, Fix, started off here in the 1860s. The brewery is no longer in the same location as it used to be, but you're very likely to encounter the brand either when shopping for groceries at the supermarket or when dining out in Greece.
Nowadays, Irakleio a quiet and quaint neighbourhood with wide streets that are lined up with trees, and large squares where youngsters meet up. Even though it's a mainly residential area, there are plenty of tavernas, cafes and bars. Locals rarely feel the need to go to the city centre if they want to go out.
Access: metro station Irakleio, 3 stops from Maroussi (green line 1)
PATISSIA
Patissia is a lovely residential area full of contrasts. Beautiful neoclassical buildings from the time when Athens' upper middle class used to live back in the 50s co-exist with imposing but charmless blocks of flats from the second half of the 20th century.
Now, Patissia is increasingly popular for visitors who want to find affordable Airbnb accommodation in a quiet, safe setting and with good connection to the city centre. If you choose to stay there, you'll be surrounded mainly by locals as it is yet to be discovered by tourists.
In terms of food, you're sure to come across simple, traditional Greek tavernas and ouzeries, whereas for a night out you can check Gagarin, which is a concert venue that hosts both local and international artists, or – if you feel confident about your Greek skills – give the old cinema Oscar a try.
As you might have already noticed, Greeks like to split areas into "ano" (upper) and "kato" (lower), which is why there are two metro stations for this neighbourhood – Ano Patissia and Kato Patissia. "Ano" is mainly used for the northerner location so if you choose Ano Patissia you'll be a couple stops closer to Marousi.
Access: metro station Ano Patissia or Kato Patissia (green line)
+++++++++++++++++++++++++++
Last but not least, if you want to get to know better the many different faces of Athens, we would recommend having a go at Petros Markaris' book
'Η Αθήνα της Μιας Διαδρομής" (literally "The Athens of One Journey"
It shows Athens from a local's point of view and witnesses first-hand the effect of the financial crisis.
The "journey" refers to the route of the electric railway, also known as the green metro line 1, from one end to another – from Piraeus to Kifissia.
ready to visit Athens and booking a trip?
Then take a look and plan your city-trip
Not feeling confident to travel by yourself in Athens, during the first days?
Then pre-book your transfer from Athens airport.
We selected a trustworthy and convenient 5-star airport taxi company for your airport transfer based on student's experiences and user reviews Welcome Pickups offers a great experience and safety to its travellers.
– Local Greek-English-speaking drivers
– Flat, pre-paid fee
– Flight monitoring for delays
– 24/7 Customer support
https://omilo.com/wp-content/uploads/2019/11/maroussi-train_Easy-Resize.com_.jpg
840
1280
Terpsi Gavala
https://omilo.com/wp-content/uploads/2018/07/omilo-logo-new-300x138.png
Terpsi Gavala
2019-11-07 10:48:36
2023-07-18 19:18:18
Where To Stay In North Athens ?[Maroussi, Kifissia,..]