Where to stay on Syros island
If you only intend to visit Syros for just a night or two, we'd suggest choosing a hotel in Ermoupoli, the island's beautiful capital. You'd want to spend at least a day in Ermoupoli, doing sightseeing, and exploring this fascinating city. Also, Ano Syros is a great location to spend two days, but far from beaches, and be prepared to walk a lot of steps.
However, since Omilo organizes
1- and 2-week courses on Syros island,
we, therefore, suggest mostly accommodation close to the course location in the village of Azolimnos.
Accommodation options in Azolimnos 
Students usually do not have or rent a car, so we suggest accommodation at about 500 meters from the course location, and easy to walk to from the bus station or course location.
The suggested accommodation below are places where students stay regularly every year, and are at easy walking distance from the course location.
1. When you are registered for a Greek course with Omilo in Syros (village of Azolimnos), we can book a room for you in the Family pension "Galaksi".

The Galaksi pension is located on a small hill and has a beautiful sea view and a common garden/terrace. The hotel owners are also living there, so you will have a lot of contact. The owners do not speak foreign languages, so you will have the chance to use and practice your Greek!
Since the hotel owners are used to local Greek tourism and do not have a website, we can book the room for you and take care of the reservation. You find the prices on our website, and you can indicate your arrival and departure dates on the registration form. Info
https://www.omilo.com/course-locations/accommodation-in-greece/#syros
However, there are only 6 rooms, so rooms are usually quickly fully booked.
2. Of course, there are many other options as well, for every taste and budget.
Accommodation in Azolimnos, which you can book yourself online
If you prefer to book your own accommodation in Syros, you are very welcome to do so.
Here below you will find an easy search tool to see what is available in the village of Azolimnos and go ahead with booking your accommodation
Note: You'll find that hotels sometimes remove their listings in the off-season. There will be more complete listings of hotels in Syros between April and October.
Below are some extra links and suggestions for accommodation in the village of Azolimnos, all at walking distance (between 5 and 10 minutes) from the beach and the Echo House, where the course takes place. So for all the options below, you do not need a car. You can walk to the course location, and use public transport to visit Hermoupolis and other villages/beaches.
Many Omilo students have stayed in those places during previous years and were all happy.
Convenient studios or rooms, all close to the beach, and easy walking distance to the course location.
(we only mention some hotel below, which our students have stayed often, and from which it is possible to walk without traffic or on small roads to the beach, bus stop and course location. you do not need to walk on the main road)
Pension Cohili
studios with separate bedroom – behind a tavern and mini market, 100 meters from sea and bus stop, bus sea view for rooms on 1st floor
Pension Kois
studios with separate bedroom – and exactly next to Cohili, see above
Aegean Paradiso
In case you prefer a bigger and more luxurious hotel, with a swimming pool , reception desk and breakfast buffet, then this is a good option. They are located about 150 meters from the beach and behind a minimarket and some houses. It is about 500 meters away from Echo House (where the lessons take place). Rooms are all different, with garden view, or swimming pool view and some with sea views. Note from our students; Very nice hotel, but during July and August, the swimming pool is also often visited by guests and children not staying in the hotel, so it can get sometimes crowded and noisy.
Vivianna's view
Recently renovated hotels, with luxurious studios, at a quiet location in front of the sea. 500 meters walking distance to the Omilo school,  along the sea-side road.
Aegean View Studio 1 and Studio 2
Convenient studios, exactly opposite to the bus stop, beach, and above the mini-market. Balcony overlooking the sea and seaside road. During summer it could be noisy, since it is in the heart of the village, and the bus stops in front, but convenient since you have everything you need within 100 meters, with a beautiful view.
Villa Anemona
4 studios with separate bedroom and kitchenette – quiet, at the end of the road, so no traffic and in front of the sea. The Greek owners are also living there, so you can practice your Greek.
Hotel Oasis
rooms, in different sizes. Some are with kitchenette and others without. Some rooms have a sea view, others do not…so make sure you know which room you book. Located at 300 meters from the beach and course location, on a hill, next to the Galaksi pension. beautiful sea view from the terrace, open for all guests.
map of Azolimnos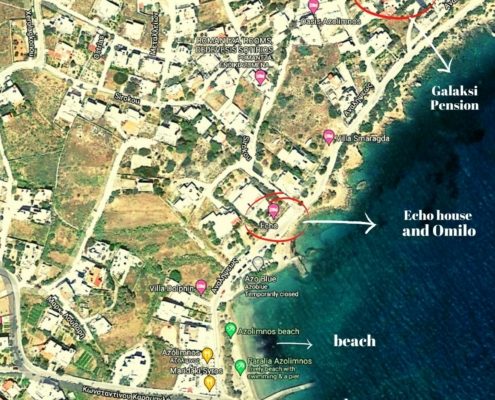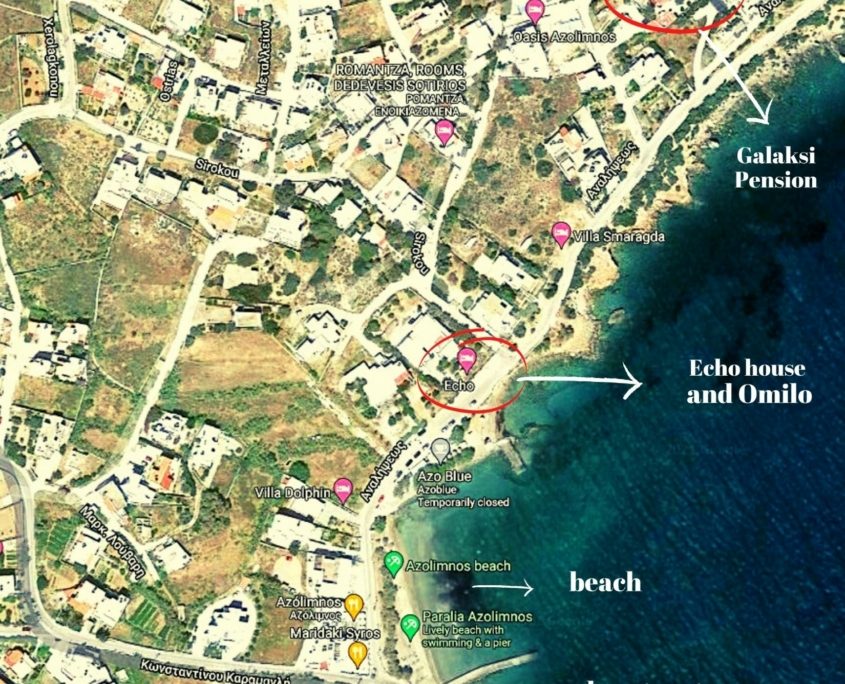 Hermoupolis
Hermoupolis is a great location to stay some days before or after your Greek course.
The beautiful town of Ermoupoli is not only the capital of Syros, but also the administrative capital of all the Cycladic islands.
Founded during the Greek Revolution in the 1820s, it was for a time the main industrial and commercial center of the fledgling Greek state.
As Greece developed, Ermoupoli's importance declined, but not before numerous neoclassical buildings were designed and built.
Today, visitors marvel at the town's buildings and aesthetics as they walk the streets. It has a very different look and feel to other towns in the Cyclades. Take your time wandering around the main square and streets, you'll enjoy it!
Ready to travel to Syros island, and book your Greek course?
Then you might also be interested to read;
ferries from Syros to other islands – CLICK HERE
Syros island, its culture and music – CLICK HERE
Visiting Mykonos and Delos for a day trip – CLICK HERE
https://omilo.com/wp-content/uploads/2022/01/ACCOMMODATION-SYROS-island.jpg
472
840
Omilo
https://omilo.com/wp-content/uploads/2018/07/omilo-logo-new-300x138.png
Omilo
2022-01-16 20:57:20
2022-01-19 18:26:01
Accommodation On Syros Island, While Learning Greek