Μαγικά Χριστούγεννα –

A Magical Greek Christmas
Get into the Christmas atmosphere and listen to

this Greek Christmas Story, (or podcast no. 7),

 on various Podcast channels listed below, as well as on YouTube.

Teacher Eva reads for you the story about the magical Christmas of her friend Amalia in the beautiful city of Nafplion.
(This story is written by Omilo, and is part of the monthly Easy Greek Podcasts Stories, recorded in the Omilo-school in Athens )
on YouTube
watch the video on Youtube,  while listening and reading subtitles at the same time.
If this is still too difficult for you in Greek, you are welcome to read the English translation under the video
The English translation of the Christmas Story
A Magical Christmas: From Sweden to Nafplion
Amalia is a student. She graduated from Law School in Athens and is now pursuing a Master's degree in Stockholm, in Sweden. She is from Greece, from Nafplion, which is a beautiful town in the Peloponnese, in Argolida (province). (*)  It has more or less 14,000 inhabitants and has a castle, the "Palamidi castle".
She likes Sweden a lot, but now that Christmas is nearly there, she wants to see her family and friends. However, it is difficult. The airline tickets are very expensive, and Amalia saves money so as to be able to move to a better house.
Of course, she regrets it a lot that she will not see her family over the Christmas holidays. She wants to decorate the tree together, to make melomakarona and kourabiedes cookies, to go for walks, to laugh… It is a pity, but what can we do? That's life.
On Christmas Eve, Amalia's family in Nafplion prepares the food and sets the table. Pork with celery! "It smells great," says Athena, Amalia's sister, as she enters the kitchen. Athena is younger than Amalia, 13 years old. That morning, she had gone in the neighborhood to sing (say) Christmas carols with her friends.
Suddenly, somebody rings the bell (In Greek; the door knocks). Amalia's mom opens the door and goes crazy! What a surprise! It is Amalia! They all hug and kiss. At that moment, Amalia says "I love you very much. I decided that I will not move house yet, because I wanted to be here with you. That's why I got the first plane and came!
They immediately go to the table and eat the pork with celery. "How delicious! You are an amazing cook (*), mom! "How much I missed the Greek food", says Amalia.
They have a wonderful time and in the afternoon, Amalia goes for a walk with her little sister in the center of Nafplion. First, they walk by the sea and Amalia enjoys the beautiful view of the Bourtzi. She takes one photo after another like tourists do. Then they meet some friends and go for coffee on the main square. Amalia orders a hot rakomelo and her sister a hot chocolate. They all talk and have a good time together.
Suddenly, Amalia's mobile phone rings. It's a message coming from a Swedish number. She reads:
===============
Dear Mrs. Papadaki,
We are pleased to announce that the University of Stockholm is offering you a scholarship for € 5,000, for your research during the previous semester.
===============
Amalia reads it over and over again. Her little sister is worried and says: Come on, what happened to you? Why you became red (did you blush)? Did Agios Vassilis (*) write to you?
Amalia starts crying from joy and answers her sister: "Yes, it seems so. But he is a Swedish Agios Vassilis. She shows the message to her friends and orders some extra rakomelo drinks for everyone. Cheers and Merry Christmas!
When they return home, Amalia immediately tells the news to her parents and adds: My Christmas present is an invitation for all of you to come to Sweden this summer! Now I have money to pay the rent for a better house and I'm ready to show you Stockholm. "Perfect" shouts Athena "And my gift is to pay for the airplane tickets to Stockholm. I think I gathered a lot of money with the carols this morning, but I will count tomorrow "
Their parents laugh and are very proud of their daughters.
Wonderful Christmas! Happy Holidays!
+++++++++++++++++++++++++++++++++++++++++
NOTES
(*) Curious about Nafplion?
Omilo organizes a Greek Language and Culture course in Nafplion, during Greek Easter, from 17/4/2022 till 24/4/2022.
Learn Greek, while enjoying Nafplion and experiencing Greek Easter with Omilo. Click here for more info.
(*) Γεια στα χέρια σου; literally in Greek, "bless your hands"; congratulating somebody on good work, usually related to cooking.
(*) Agios Vassilis ; The Greek version of Santa Claus is Agios Vasilis (Αγιος Βασίλης). He brings presents on New Year's Eve, and not on Christmas!
++++++++++++++++++++++++++++++++++++++++++
You can also just listen to the Christmas story; narrated at a slow and fast pace.
LISTEN TO THE EPISODE and subscribe to the Spotify channel if you want to listen to the next story as well
Are you also ready for Christmas and in the mood to sing the Greek Christmas carol? Then listen and sing along …
CLICK here to find the Greek lyrics, as well as listening exercise and English translation is included.
ΚΑΛΕΣ ΓΙΟΡΤΕΣ
+++++++++++++++++++++++++++++++++++
Αlsο Good to know: the accompanying Christmas notebook

If you like to improve your Greek even more, then you have the option to purchase the companion notebook.
Every podcast story has a notebook, which means a digital eBook, which you can also print yourself, and take to the beach or cafe 🙂
It includes;
* the Greek transcript,
* English translation,
* vocabulary list,
* exercise to practice grammar + answer key,
* the video link + Greek subtitles, without advertisements.(on Vimeo)
* the podcast links to Soundcloud, Spotify, Google podcast..
* the podcast MP3 file, which you can download to your computer, so you can also listen to it offline
This is a printable Notebook, PDF file
A4 format, 15 pages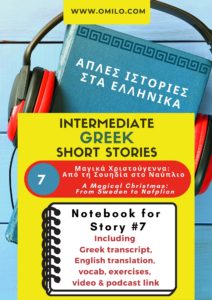 The Podcast Companion Christmas Notebook
https://omilo.com/wp-content/uploads/2017/10/omilo-blog-new-year-banner-001.jpg
400
1500
Omilo
https://omilo.com/wp-content/uploads/2018/07/omilo-logo-new-300x138.png
Omilo
2021-12-22 14:17:16
2021-12-22 17:44:37
A Magical Greek Christmas – listen to the story and watch the video