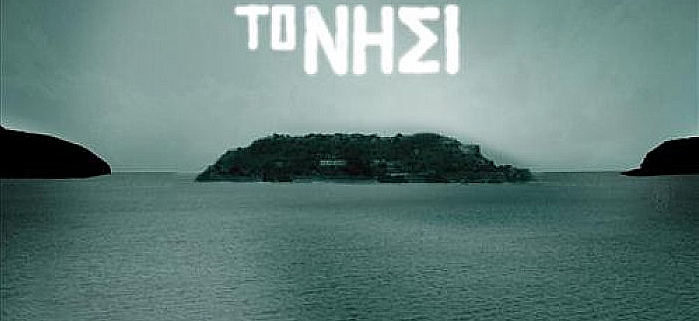 For better or for worse, due to the coronavirus-crisis, nowadays we need to spend more time indoors… #menoumespiti #westayathome
And is there a better way to keep ourselves busy than by watching a good Greek TV series?
"To Nisi" is a Greek period drama series based on the best-selling English novel The Island by Victoria Hislop. Eager to know more?

To Nisi is a story of love, pain, passion, grief and loss, during Greece's leper colony throughout the mid-20th century. It's also a story about dignity as it shows how the residents with leprosy on the little island Spinalonga try to make the most of their situation, even when losing contact with family or friends forever and living in a time-period before the internet. They organize their lives in a way that offers them some structure, a sense of normality and a bit of relief away from their beloved ones.
Leprosy affected humanity for thousands of years; the disease takes its name from the ancient Greek word λέπρα (léprā), from λέπι (lepi; "scale"). Fortunately, nowadays leprosy is curable with multidrug therapy and people with leprosy can live with their families and go to school and work.
Until a year ago most of us would think that "stories" like these belonged to the past, but with covid 19,  it became obvious again how a virus makes it necessary to isolate ourselves from our beloved ones or go into quarantine. We hope that a new vaccine for coronavirus COVID19 will be available soon.
The novel

The Island is a period novel written by Victoria Hislop, inspired by true historical events. It has won several awards including Newcomer of the Year at the 2007 British Book Awards. The novel was first published in June 2005 and has since been translated in multiple languages.
The story in "To Nisi"
To Nisi (Greek word for "island") takes place between 1939 and 1957 in Spinalonga, a tiny island just off the coast of Crete, and opposite the village of Plaka where the story begins. Alexis Fielding, a young woman from the UK, visits her mother's birthplace in search of more information about her family's past, something her mother, Sofia, had always refused to discuss.
At the village Plaka, Alexis seeks and finds one of her mother's childhood friends, who starts unraveling the tragic story of her family – the story of how Eleni, her grandmother, contracts leprosy and has to leave her husband and two young daughters behind and to move to Spinalonga. Now long deserted, the island of Spinalonga was Greece's leper colony throughout the mid – 20th century. As the two motherless sisters, Anna and Maria, grow up, their lives take a turn for the worse: Maria is found sick with leprosy just like her mother and is thus forced to live in Spinalonga. Anna, on the other hand, gets married to a wealthy but hot-headed local, Andreas, who ends up murdering her. They have one child, Alexi's mother Sofia; when she finds out the full truth about her family's past, she leaves Crete for Athens and ultimately moves to London.
The production
The series was filmed entirely on location in Crete to better recreate the natural setting of the story, and includes footage from places like Plaka, Elounda and Agios Nikolaos, as well as of the little island Spinalonga.
The script was adapted by Mirella Papaeconomou, who worked with Hislop to add new characters and flesh out the storylines of existing ones so as to create enough content for a full season. Thodoris Papadoulakis undertook the direction of the series.
To Nisi first aired in October 2010 and was an immediate success both with critics and the public. Up to today, it is considered one of the most expensive Greek television productions ever with a budget of €4 million.
The star-studded cast includes Greek actors Stelios Mainas, Katerina Lehou, Gioulika Skafida, Aimilios Heilakis, Alexandros Logothetis, Giannis Stankoglou, Tasos Nousias, Nikos Orfanos, Thodoros Katsafados, Orfeas Abgoustidis, and many more. Overall, the script included 83 characters to which were added more than 500 supporting actors.
Click here to watch the series trailer with English subtitles.
You can also listen to the series' theme song, Είσαι Εσύ ο Άνθρωπός Μου (Ise Esi o Anthropos Mou), which is a cover of a 1950 song adapted by Minos Matsas and performed by Greek singer Andriana Babali.
+++++++++++++++++++
PS. It is possible to watch the series online, at www.dailymotion.com, but without subtitles making it a good listening exercise for the intermediate and advanced level students.
If you are still in the early stages of learning Greek, do not worry, you can start with easier texts to read in Greek and listen to the audiobook at the same time.
We would suggest Lydia: A summer in Greece! – the accompanying audiobook has been recorded by our Omilo teachers, who speak slow and clearly, making it easier for beginners to follow along. Click here for the Easy reader and audiobook!
https://omilo.com/wp-content/uploads/2020/04/Το_Νησί.png
601
699
Terpsi Gavala
https://omilo.com/wp-content/uploads/2018/07/omilo-logo-new-300x138.png
Terpsi Gavala
2021-01-12 20:35:11
2021-02-02 15:06:27
Learn Greek and 20th century history with TV Series To Nisi (The Island)