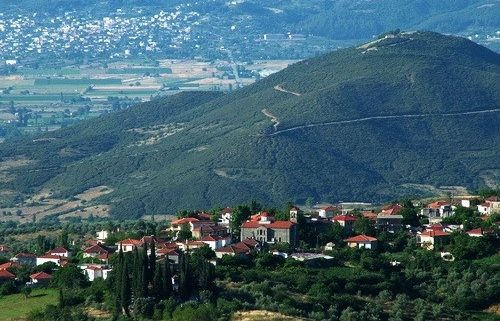 Mainland Greece; Let's Learn About The Region Fthiotida and teacher Myrto!
Ας μάθουμε λίγα πράγματα για την περιοχή της Φθιώτιδας στην Ελλάδα!
We are happy to announce that a new experienced teacher, Myrto Yfanti,  starts working at Omilo.
Myrto already was teaching for Omilo during the September 2020 course on the island of Syros and was very enthusiastic to meet so many interested students, from all over the world.
Με χαρά ανακοινώνουμε ότι μια νέα έμπειρη καθηγήτρια, η Μυρτώ Υφαντή, ξεκινά να εργάζεται στο Ομιλώ. Η Μυρτώ δίδαξε πρώτη φορά στο Ομιλώ τον Σεπτέμβριο του 2020 στο νησί της Σύρου και ενθουσιάστηκε που γνώρισε τόσους ενδιαφέροντες μαθητές από όλον τον κόσμο.
Every teacher at Omilo has a different teaching style, as well as a different background 🙂
Myrto grew up in a small village in the prefecture of Fthiotida, the village of Giannitsou.
Κάθε καθηγητής στο Ομιλώ έχει διαφορετικό στυλ διδασκαλίας, καθώς επίσης και διαφορετικό υπόβαθρο. 🙂 Η Μυρτώ μεγάλωσε σε ένα μικρό χωριό στον νομό Φθιώτιδας, το χωριό «Γιαννιτσού». Όσοι λάβετε μέρος στη Διαδικτυακή Πολιτιστική Εκδήλωσή μας, θα μάθετε περισσότερα κατά τη διάρκεια της διαδικτυακής της παρουσίασης:

Presentation; Τraditional life in the mountainous villages of Fthiotida prefecture Versus city life
Παραδοσιακές συνήθειες και ζωή στα ορεινά χωριά του Νομού Φθιώτιδας – Ζωή στην πόλη

Here already a small introduction.
Phthiotis (Φθιώτιδα, Fthiótida,)  is one of the regional units in Greece. It is part of the administrative region of Central Greece.
The capital is the city of LAMIA. The name dates back to ancient times. It is best known as the home of Achilles.
Η Φθιώτιδα είναι μια Περιφερειακή Ενότητα της Ελλάδας. Ανήκει στη διοικητική περιφέρεια της Στερεάς Ελλάδας.
Η πρωτεύουσα είναι η πόλη της Λαμίας. Το όνομά της προέρχεται από την αρχαιότητα. Είναι κυρίως γνωστή ως το σπίτι του Αχιλλέα.
Map of Fthiotida Greece  | Χάρτης της Φθιώτιδας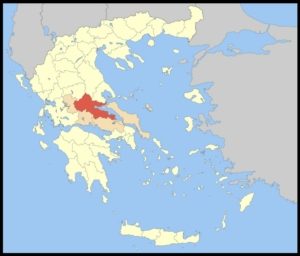 Fthiotida prefecture belongs to the Sterea Ellada county. It is bordering with the prefectures of Fokis and Viotia to the south and with Evia to the East. To the north borders with Larisa and to the west with the prefectures of Evrytania and Karditsa.
Ο νομός Φθιώτιδας ανήκει στη Στερεά Ελλάδα. Συνορεύει με τους νομούς Φωκίδας και Βοιωτίας στα νότια και με την Εύβοια στα ανατολικά. Στα βόρεια συνορεύει με τη Λάρισα και στα δυτικά με τους νομούς Ευρυτανίας και Καρδίτσας.
 Village of Giannitsou | Γιαννιτσού
36 km far from Lamia
36 χιλιόμετρα μακριά από τη Λαμία
Take a look at the YouTube video of  Νέα και Παλαιά Γιαννιτσού (Nea and Palaia Giannitsou)

Ρίξτε μια ματιά στο βίντεο για τη Νέα και την Παλαιά Γιαννιτσού στο YouTube.
Looking forward to seeing you soon online during the cultural week 😉
Ανυπομονούμε να σας δούμε online σύντομα! 😉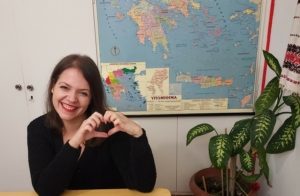 https://omilo.com/wp-content/uploads/2021/04/MYRTO-Ν.Γιαννιτσού-το-κεντρικό-τμήμα-.jpg
375
500
Omilo
https://omilo.com/wp-content/uploads/2018/07/omilo-logo-new-300x138.png
Omilo
2021-04-11 20:24:47
2022-10-19 15:35:43
Mainland Greece; Let's Learn About The Region Fthiotida