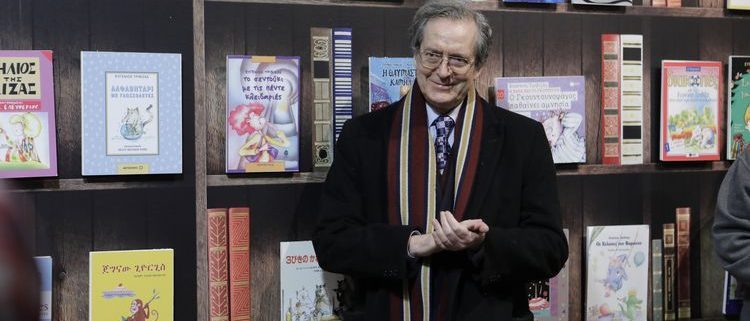 Eugene Trivizas is one of Greece's leading writers for children. Although he studied law and specialises in criminology, he has published more than 120 children's books and has become the most well-known and beloved Greek storyteller (or as we'd say in Greek, "paramithas").
Trivizas' work is characterized by humour, subversives, depth and the unexpected retelling of classic stories, which makes it a pleasure to read for both children and adults at different levels.
For his lasting contribution as a children's writer, he has received more than twenty national and international literary prizes and awards and has also been a finalist for the biennial, international Hans Christian Andersen Award in 2006.
His life
Eugene Trivizas was born in Athens, where he also completed his studies in law before moving to the UK to pursue an academic career in criminology. He has worked with the UK Home Office and Scotland Yard as part of his research and has published almost as many papers on different aspects of criminology as he has children's books. Quite an unexpected background for someone who conjures stories about princesses, pirates, animals who talk, and dragons, and has the ability to narrate them in such a soft-spoken and optimistic manner.
His work
The driving force behind Trivizas stories is the question of what could possibly happen after the classic end line "and they lived happily ever after". He tries to imagine what would happen if the story continued. His aim is to entertain children (and more mature readers) and cultivate their imagination.
Trivizas uses symbols and allegories to talk to young children about serious issues, without traumatizing them. In this way, he also helps parents define their approach to discussing such issues with their children as well, and advocates against parents using physical violence, as you can see in this video commercial that he filmed together with The Greek Ombudsman. (In the video, he says you can hit wood, eggs, etc… but not kids).
Much of Trivizas' work has been adapted for stage, TV and radio, whereas several of his books have been translated in more than fifteen languages.
Below you can read the summaries of three of his books.
The 88 Small Stuffed Vine Leaves
Unlike what the title might be suggesting, this is not another cooking book! It follows a format similar to the Choose Your Own Adventure series as it allows the reader to choose a different turn of events every time they read a story, making the book feel like a magic object that contains 1.000 hidden tales! No matter how many times you go through the book, each time it will tell you a new, slightly different story.
The Last Black Cat
In this book, which is an allegory for racist genocide, we follow the story of a secret society that decides that black cats bring bad luck and thus need to be exterminated. This is supported by businesses that are involved in the trade of cat traps as well as by political leaders who think that black cats are convenient scapegoats for their disastrous policies. The secret society pursues its goal relentlessly until only one black cat remains alive.
The Chest with The Five Locks
This book tells the exciting, hilarious story of a piano tuner in search of a mythical inheritance – a chest with five locks, whose keys are spread around the world. Following the trail of findings carefully, the reader can decipher the code that will eventually lead to the discovery of the real treasure: not the bouzouki that is hidden inside the chest, covered in gold and gemstones but the reunion of five long-lost siblings
Are you ready to embrace your inner child and read one of the above-mentioned books?
Note: if you are at the beginner's stage of learning Greek, and you would like to read your first book in Greek, then we can recommend starting with an Easy Reader "Lydia, a summer in Greece", for the A1-A2 levels, written by Omilo teachers Konstantinos Oikonomou and Terpsi Gavala. For more info, click here.
(For adults it is not always so easy to start reading Children's book in another language since it uses a lot of vocabulary you will never need in the daily language. Therefore an Easy reader, written for adults, might be a better option to start reading Greek.)
++++++++++++++++++++++++
In the mood to learn more about Greece, with interesting texts in Greek and English + Audio, made by our Omilo teachers?
Then the eBook "Greece; The Ultimate Listening and Reading Comprehension eBook is exactly what you are looking for.
https://omilo.com/wp-content/uploads/2019/12/trivizas.jpg
500
750
Terpsi Gavala
https://omilo.com/wp-content/uploads/2018/07/omilo-logo-new-300x138.png
Terpsi Gavala
2019-12-06 15:46:24
2021-01-15 16:23:54
Eugene Trivizas: the Greek storyteller for children of all ages