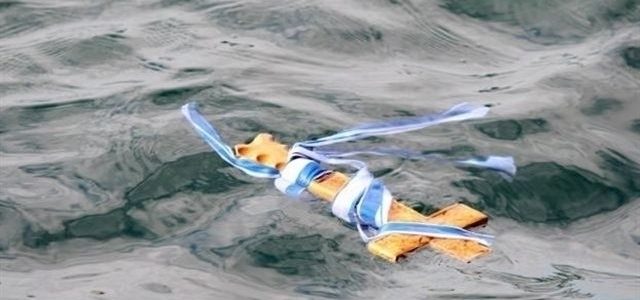 On January 6th, the Greek people celebrate "Ta phota" or "Theofania" or "Epiphania", which stands for the Baptism of Christ in the Jordan River. It is a very important Greek celebration and it is the last one of the 12-day celebration period, which starts on Christmas.

As you can imagine, in Greece there are many traditions to celebrate this day.
On January 5th the children are singing again specific carols, going from door to door.
These carols are not as famous as the Christmas' or the New Years' carols, but also very beautiful.
Click here to listen to the song:
In the morning of January 6th , the priest throws the cross in the water.
Depending of the region, the cross is thrown in the sea, river or lake. In mountainous areas or in Athens, the cross can also be thrown in a fountain.
Young men will dive or jump in the water and try to catch it. The person that will catch it, will have a lot of luck.
Also the water is then believed to be sanctified (the process is called "the sanctification of waters"). The priest often goes to the houses and blesses them with this water.
The Epiphany customs come from ancient Greece, and particularly from a feast in ancient Greece called "Plintiria" (=washing machines). During this feast, the Athenians were carrying the statue of Athena to the coast of Faliro (close to Piraeus) in order to wash it in the sea, to make sure it would keep its magic powers.
Of course on the 6th January, also a lot of people have their name day:
Fotis, Foteini, Theofanis, Theofania, Fani, Ourania, Iordanis. Don't forget to wish them: Xronia Polla! Χρόνια Πολλά!
Do you want to learn other Greek wishes you can use during Name Days, National Holidays or Social Occasions? Then click on this link and DOWNLOAD our FREE eBOOK WITH AUDIO : "Greek Wishes For Social Occasions"
https://omilo.com/wp-content/uploads/2016/11/teofania.jpg
300
640
Omilo
https://omilo.com/wp-content/uploads/2018/07/omilo-logo-new-300x138.png
Omilo
2019-01-02 12:32:20
2021-01-15 16:24:00
The Celebration of Epiphany (of Lights)- Greek National Holiday