Learning Greek is a hobby for life, so from time to time you have to find fun and new ways of learning to keep yourself motivated.
So, for those at an intermediate or advanced level in the Greek language; If you enjoy solving crosswords and get excited about ancient Greek mythology, you're at the right place!
Although those exercises are made for advanced students in Greek, even if you are not at that level yet, you can still give it a try, or just read the myth in English.
Αν σου αρέσει να λύνεις σταυρόλεξα και ενθουσιάζεσαι με τους αρχαίους ελληνικούς μύθους, ρίξε μια ματιά εδώ!
Below you can read Prometheus' myth, the Titan who gave people the gift of fire, helping them to create their civilization as we understand it today! Read the story below and solve the crossword!
Εδώ παρακάτω, θα βρεις ένα μικρό μέρος από τον μύθο για τον Προμηθέα, τον Τιτάνα που έδωσε στους ανθρώπους την φωτιά, προσφέροντάς έτσι την δυνατότητα στην ανθρωπότητα να προοδεύσει και να δημιουργήσει πολιτισμό!
Διάβασέ το και λύσε το σταυρόλεξο!
Do You Know The Greek Myth of Prometheus?
Γνωρίζεις τον μύθο του Προμηθέα;
According to ancient Greek mythology, when humans were created, they were naked, unarmed, and weak. They didn't have any weapons or other ways to protect themselves from their enemies and weather conditions, to hunt and to survive.
As a result, Prometheus who loved them dearly and felt sorry for them stole the fire from the gods and gave it to the humans.
The humans got away with it, but Prometheus received very harsh punishment. He was tied up with chains on the top of a mountain, Caucasus, where an enormous eagle would visit him and gnaw at his liver every day. His liver would regenerate itself and so the torture continued for years and years until a hero learned about Prometheus' situation and saved him by setting him free.
Σύμφωνα με την αρχαία ελληνική μυθολογία, όταν φτιάχτηκε ο άνθρωπος ήταν γυμνός, άοπλος και αδύναμος. Δεν είχε κανένα όπλο ή προσόν για να καταφέρει να επιζήσει, ούτε να κυνηγήσει, ούτε να προστατευτεί από εχθρούς και καιρικές συνθήκες.  Έτσι, ο Προμηθέας που τον αγαπούσε και τον λυπήθηκε, έκλεψε την φωτιά από τους θεούς και του την έδωσε.
Ο άνθρωπος μπόρεσε να επιζήσει, αλλά ο Προμηθέας τιμωρήθηκε αυστηρά. Τον έδεσαν με αλυσίδες ψηλά σε ένα βουνό, τον Καύκασο, όπου ένας τεράστιος αητός ερχόταν και του έτρωγε το συκώτι καθημερινά. Το συκώτι αναγεννιόταν και έτσι το βασανιστήριο συνεχιζόταν για πολλά χρόνια. Ώσπου έφτασε εκεί κάποιος ήρωας που λύτρωσε τον Προμηθέα από το μαρτύριό του.
Do you want to know who saved Prometheus from the punishment that the Olympians inflicted on him after he stole the fire?
Find the following words, fill them in the crossword below, and discover the name of the hero :
Θέλεις να μάθεις ποιος έσωσε τον Προμηθέα από την τιμωρία που του επέβαλαν οι θεοί μετά την κλοπή της φωτιάς;
Βρες τις παρακάτω λέξεις, συμπλήρωσέ τες στο σταυρόλεξο που ακολουθεί κι ανακάλυψέ τον: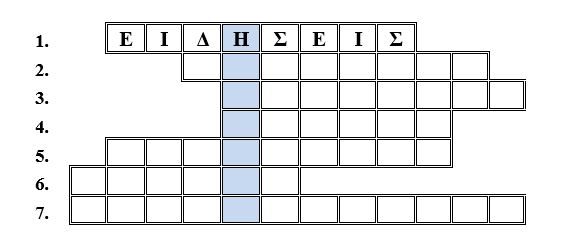 (Find the word whose definition is given in the parenthesis and use it in the sentence, conjugating correctly.
Use the words that you'll find to complete the crossword – you can find the answers at the end of this article):
(Βρες την λέξη της οποίας ο ορισμός δίνεται μέσα στην παρένθεση και χρησιμοποιήσέ την στην πρόταση, βάζοντάς την στο σωστό τύπο.
Τις λέξεις που θα βρεις, τις συμπληρώνεις στο σταυρόλεξο – Δες τις λύσεις στο τέλος του άρθρου):
Example: Κάθε βράδυ παρακολουθεί στην τηλεόραση τις ειδήσεις (τα νέα).
Σε αυτήν την οικογένεια καταναλώνουν μόνο βιολογικά ……….………… (αυτό που παράγεται).
Στη Σύρο, οι πιο πολλές παραλίες είναι ……….………… (από άμμο).
Ο Πέτρος σήμερα το πρωί ……….………… στο ξύρισμα (αόριστος του "κόβομαι").
Κανένας δεν μπορεί να ξέρει τα μυστικά του ……….………… (ο χρόνος που έρχεται, μετά το παρόν).
Η συμπεριφορά της απέναντι στους καλεσμένους της ήταν πολύ ……….………… (το αντίθετο του "ευγενικός").
Ο μισθός των ……….………… υπαλλήλων αυτής της εταιρείας είναι υψηλός (συγκριτικός βαθμός του "πολύς").

+++++++++++++++++++++++++++++++++++++++++++
Did you like this exercise? Do you want to solve more crosswords with the help of text?
Then order one of the Omilo Advanced Workbooks (in total 7)
Διασκέδασες; Θέλεις να λύσεις περισσότερα σταυρόλεξα με τη βοήθεια κάποιου κειμένου; Τότε μπορείς να παραγγείλεις κάποιο από τα «τετράδια εργασίας».
Click on the button below for more info on the 7 eBooks. Πάτησε τον παρακάτω σύνδεσμο για να επιλέξεις.
Have fun! Καλή διασκέδαση!

Note about the Omilo publications:
Authors Marina Braila and Konstantinos Oikonomou, published  7 Greek Advanced Workbooks, printable eBooks with Audio file, for those who would like to improve their Greek at an advanced level, while learning more about Greece, Greek History, Mythology, and not only… The Authors are also the authors of the Intermediate Language Book " Φύγαμε για Ελληνικά", and they have been teaching Greek to foreigners for more than 16 years at  Omilo.
Οι εκδόσεις του Ομιλώ και οι καθηγητές και συγγραφείς Μαρίνα Μπράιλα και Κωνσταντίνος Οικονόμου, δημιούργησαν 7 Τετράδια εργασίας ελληνικών για προχωρημένους με ηχητικό αρχείο που μπορούν  να εκτυπωθούν, για όσους επιθυμούν να συνεχίζουν τα ελληνικά τους μαθαίνοντας περισσότερα για την Ελλάδα, την ελληνική ιστορία, την μυθολογία κι όχι μόνο …
+++++++++++++++++++++++++++++++++++++++++++
Λύση –  Answer Key
Ο ήρωας είναι ο ΗΡΑΚΛΗΣ – The hero is Heracules
Οι λέξεις που έπρεπε να βρεις είναι : The words you needed to find are:
1.ειδήσεις, 2.προϊόντα, 3.αμμώδεις, 4.κόπηκε, 5.μέλλοντος, 6.αγενής, 7.περισσότερων
https://omilo.com/wp-content/uploads/2020/12/MARINA-workbooks-prometheus.jpg
1094
1920
Omilo
https://omilo.com/wp-content/uploads/2018/07/omilo-logo-new-300x138.png
Omilo
2020-12-08 13:11:07
2021-01-15 16:23:43
A Greek Crossword – Discover The Myth Of Prometheus