Winter in Greece is never boring, and for those who thought that Greece is only a summer country, you couldn't be more wrong :-).  Due to its varied nature and culture, Greece has to offer something in any season!
The end of 2022 and beginning of 2023 was a sunny and warm period, but we expect any moment the winter to start…
Better be prepared, and get your warm cloths ready…or start planning your winter trip to Greece!
Below you can also listen to the Greek audio by teacher Marina. For the Greek text, click on the button here above.
Temperatures during a Greek winter

---
During summer the temperatures in Greece can easily reach 35C, but don't be surprised if, in winter, you will need a thick jacket, gloves and scarf. Yes, even in Greece temperatures can go below zero C. Of course these temperatures are rather towards the North and in the mountains. Athens usually stays above the freezing point.
Things to do

---
1. Ski
The first thing we all think about when we hear 'winter' is 'winter sports'. And believe it or not, also this is something you can do in Greece. Thanks to its many mountains, there are several ski resorts where you can enjoy all kinds of winter fun. We hereby give you a shortlist of the highest mountains with great ski-resorts:
Mount Voras Kaimaktsalan: located on the border between Greece and FYROM, well-organized resort with beautiful scenery. Click here for more info.
3 – 5 pigadia: this ski center is situated 100 km from Thessaloniki and 17 km away from Naoussa. Click here for more info.
Parnassos: this mythological place in central Greece offers a great place for your winter holiday. Closeby there is also a National Park where you can enjoy walking. Click here for more info.
Falakro: is a mountain in eastern Greek Macedonia, northern Greece. When there is no snow, you can see the mountains being covered with grasslands and forests, perfect for hiking. During winter, it offers an amazing ski-area. Click here for more info.
Kalavrita can be found in the east-central part of the regional unit of Achaea, Greece. This ski resort is regarded as one of the best in Greece. Click here for more info.
To have an idea of what skiing in Greece looks like, click here or on the photo below and watch the video :

2. Romantic stay
A cold winter night with a fireplace and a magnificent view. Maybe not the first thing that pops into your mind when thinking about Greece, but yet, definitely worth a try. To name only a few of them, we can certainly recommend you the following places:
Arachova
A mountain city in the western part of Viotia, laying at the foot of Mount Parnassos. A cozy but lively village full of possibilities for nice dinners, walks, ski and culture.
Pilio
A mountain with its many villages overlooking the sea. A rare and wonderful combination, ideal for winter…and summer!
Monemvasia
Located on a small island off the east coast of the Peloponnese, but connected to the mainland. An extraordinary place, ideal for romantic walks in the town.
Meteora
Definitely one of the most impressive parts of Greek nature created with high rock pillars. Meteora is also famous for its monasteries.
Nymfaio
Many travel guides include Nymfaio as one of the ten most beautiful villages in Greece. It is a mountain village that has been designated as a"preserved traditional settlement". To learn more about Nymfaio, click here to read our blog article.
Arcadia
This is the prefecture of mountains, meat & fireplaces. You can visit wonderful villages (Vitina, Dimitsana, Stemnitsa,…), monasteries and enjoy great food.
3. City trip
Whereas summer is too hot to stay in the city, winter is a perfect opportunity for a city trip. Both Athens and Thessaloniki (the 2 biggest cities of Greece), offer an almost endless variety of possibilities: museums, theatres, concerts, architecture, ancient sites, nightlife… And all this without waiting lines or too much traffic.
Snow in Athens…
Of course, it is possible you have snow in Athens or Thessaloniki as well…It does not happen so often, but it is also not that strange…
In the case of snow, it usually takes about 2-3 days, and then it melts soon. But for sure, it is a great experience 🙂
For example, in February 2021 as well as on  January 24th 2022, a snow storm hit Athens hard (2 days without a metro, airport, and the 3rd day it started melting slowly…)
Click here to take a look at the video of Athens, in January 2021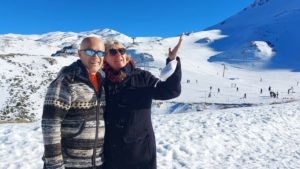 4. Food and Drinks
Greece would not be Greece without food and drinks. As many Greeks still cook in a traditional way, they cook along with the changes of the seasons.
Some typical Greek winter dishes are:
chicken-lemon soup (good against colds ;-)),
giouvarlakia (meatballs in soup),
fasolada (white beans soup),
lachano-dolmades (cabbage stuffed with minced meat)
Some typical Greek winter drinks are:
And after all this delicious food,
you should try the 'rakomelo': a warm alcoholic drink made of (ρακί), honey (μέλι), and usually some cinnamon and cardamom.
If you prefer something non-alcoholic? Then try a Greek Herbal Tea
Enjoy!
True stories, related to skiing or winter in Greece
Are you at an intermediate level, and you like to listen to Greek stories, while improving your listening skills and vocabulary?
Then we can recommend two easy Greek Podcast stories, taking place in Arachova, and Athens, during winter.
Click on the photos below, and you can find all the podcast links, as well as YouTube link with subtitels, companion notebooks, etc..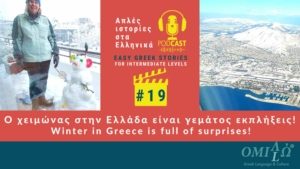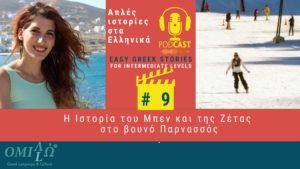 ++++++++++++++++++++
Would you like to combine Greek lessons with skiing in Greece, or just experience a winter in Athens?

Then you are welcome to join one of our 1- and 2-week courses in Athens

or.. you can book some days  of private lessons in Athens, before or after your skiing trip.
https://omilo.com/wp-content/uploads/2022/01/WINTER-scaled.jpg
1440
2560
Omilo
https://omilo.com/wp-content/uploads/2018/07/omilo-logo-new-300x138.png
Omilo
2023-01-10 11:00:44
2023-08-20 15:03:14
Winter in Greece