Athens today, is becoming very popular for short city trips. However, we personally believe that a stay of minimum 7 days is the best option, if you are interested to see more than the Acropolis, the Acropolis Museum, and surrounding streets.
Are you planning a trip to Athens or you would like to stay for some weeks,  and you are looking for the best things to do and see in the Greek capital?
If so, then we, locals living in Athens, are happy to give our feedback.
Embark on an amazing journey in Athens with our eBook "Timeless Athens: Past and Present –  Greek Heritage & Modern Charms for Cultural travelers.
—> Click here and download your FREE Athens eBook

Of course, this is only a tip of the iceberg, so let this be a motivation for you to discover even more. Let's get started!
What you will find in the Free "Timeless Athens eBook"?
Index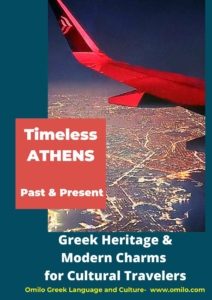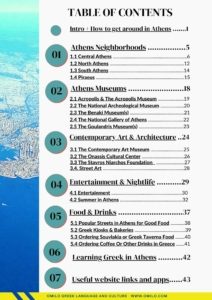 Athens Neighborhoods
Intro; How to get around in Athens
1.A Central Athens
Syntagma
National Gardens & Zappeion
Monastiraki
Psirri
Koukaki / Thisseion
Petralona
1.B North Athens
Marousi
Kifissia
Irakleion
1.C South Athens
Athens Riviera
Piraeus
Athens Museums
The Acropolis & the Acropolis Museum
The National Archeological Museum of Athens
The Benaki Museum(s)
The National Gallery of Athens
The Goulandris Museum
Contemporary Art & Architecture
The Contemporary Art Museum (EMST)
The Onassis Cultural Center (Stegi)
The Stavros Niarchos Foundation Cultural Center (SFNCC)
The Former Public Tobacco Factory
Street Art
Entertainment & Nightlife
Megaro Mousikis
Gazarte
The Stavros Niarchos Cultural Center
Technopolis – Gazi
Summer in Athens
Summer Cinema
Athens Festival – Herod Atticus Odeon
Dora Stratou Greek Traditional Dance Performance
Roofbars & Roofgardens

Greek Food and Drinks
Useful Tips and Apps
—> Click here and download your FREE Athens eBook  (50 pages)
Just in case you prefer not to download the entire eBook,
here "Athens in a nutshell"!
Athens Neighborhoods
Athens is a city of vibrant neighborhoods, each with its own unique charm and character. From the trendy, bohemian vibe of Psirri to the historical and chic Kolonaki, there's a neighborhood to suit every taste. Monastiraki, with its bustling flea market and ancient landmarks, is a must-visit for history buffs and shoppers alike. For a taste of traditional Greek life, head to Plaka, where narrow streets and charming cafes transport you back in time. And for a more alternative scene, the up-and-coming Exarchia neighborhood is the perfect spot to explore street art and underground music venues. Whether you're looking for history, culture, or just a great meal, Athens' neighborhoods have something for everyone.
A. Centre Athens
Syntagma
National Gardens & Zappeion
Monastiraki
Psirri
Koukaki / Thisseion
Petralona
1. SINTAGMA SQUARE (CONSTITUTION SQUARE)
The Greek Parliament is housed in a building with interesting architecture and great history, in one of the most central parts of the city, at the Syntagma square, which literally gave its name to the square.
Maybe you have seen or passed from the building and also watched the changing of the guards, by the Evzones, also known as Tsoliades. They guard the Monument of the Unknown Soldier in front of the Hellenic Parliament.
During a Greek Intensive course in Athens, Omilo students regularly get the opportunity to join a guided tour and visit the interior of the Parliament. The parliament building was originally used as the residence of the royal family. Its construction began in 1863 and ended in 1943. The proposal for the location (in the center of Athens with a view to Acropolis) and the architectural drawings were made by the director of the Munich Academy of Arts and official architect of the Bavarian court, Friedrich von Gaertner.
The first royal family, Otto and Amalia, settled in their new home on 25 July 1843. Queen Amalia took particular care on the formation of the Royal Gardens (now called Ethnikos Kipos in Greek or National Gardens), which were right next to the Palace. In 1862, the palace was inhabited by the new king of Greece, George the First. In 1922, the royal family left the palace and the building was used by government agencies. In 1929, it was converted into the Greek Parliament.
Access: metro station Syntagma (blue & red metro line)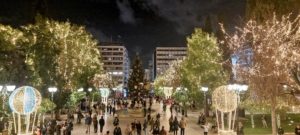 2.    NATIONAL GARDENS & ZAPPEION
The Zappeion Palace or Zappeion is a beautiful and historic building in Athens. It is located near Syntagma square, next to the National Garden. Today it functions as an exhibition and conference center.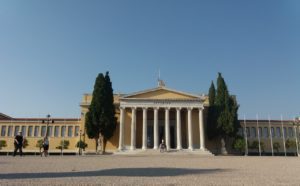 Access: It is 5 minutes' walk from Syntagma square and Sintagma Metro station
3.    MONASTIRAKI
Lively and colorful, Monastiraki is set amidst the historical and commercial centers of Athens. Together with nearby Plaka, they are two picturesque – as well as touristy – areas of the Greek capital. Click here to read more about neighborhoods Psirri, Koukaki, Petralona, Monasteraki
Discover the vibrant heart of Athens at this square, a bustling meeting place beloved by both locals and tourists.  Immerse yourself in the lively atmosphere as street vendors tempt you with their  fresh fruit stands and traditional "koulouri" bread rings. Unwind at charming coffee shops that dot the area, serenaded by talented street musicians.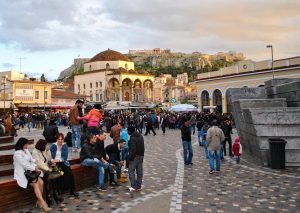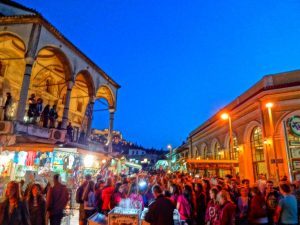 Adjacent to the metro station, you can visit the historic Tzistarakis Mosque. Dating back to the 18th century AD, it now houses a captivating section of the Greek Folk Art Museum's collection. To the right of the mosque, Hadrian's Library stands as a testament to the city's rich past, harking back to the 1st century AD. As you continue your exploration, you can visit he Roman Agora, featuring the majestic Tower of Winds, and the Ancient Agora, the ancient epicenter of Athenian life, where you'll encounter the beautiful Temple of Hephaestus.
When you arrive at Monastiraki metro station, you will also see the sign that reads "Athens Flea Market." Follow its direction to a narrow street teeming with a myriad of charming shops, such as an eclectic collection of beads, souvenirs, vintage vinyl records, CDs, shoes, clothing, and antiques.
Access: metro station Monastiraki (green metro line, and connection to the blue metro line toward the airport)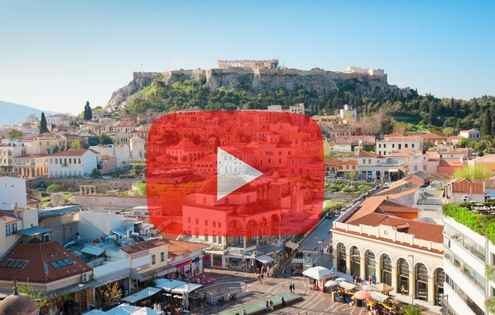 4.    PSIRRI
Psirri might be one of Athens' most popular nightlife districts, but do not let this put you off. Besides an increasing number of Airbnb rentals, the area offers a great range of little independent stores, quaint restaurants, picturesque cafés and bars, which makes getting home after dinner or a couple drinks quick and easy.
Psirri presents a good balance of creativity and old-time charm: right next to little ouzeries, the traditional Greek taverns that serve ouzo and mezedes (Greek tapas) there are art galleries and workshops. This area is close to Monastiraki which allows for easy access to the green metro line whilst being more budget-friendly than its more well-known neighbouring areas.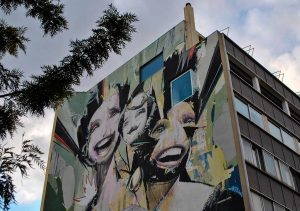 Access: metro station Monastiraki (green metro line, and connection to the blue metro line toward the airport)
5.    KOUKAKI / THISSEION
Thissio and Koukaki are two neighborhoods in the heart of Athens that are full of charm and history. Thissio has an ancient site called the Ancient Agora, surrounded by cozy cafes and restaurants. The streets are made of cobblestones and have a mix of old and new buildings. Koukaki is a trendy and artistic area with colorful street art, cool shops, and great places to eat. You can find traditional tavernas alongside modern cafes and bars. Both neighborhoods offer a wonderful experience of Athens' past and present.
Access: walking distance to Thisseion metro station (green metro line).
It is also possible to walk from the Acropolis Metro Station (red metro line).
Next to the Acropolis station, you will find the Acropolis Museum (https://omilo.com/the-acropolis-museum-in-athens-its-past-and-present/)
6.    PETRALONA
Conveniently close to Thission and the Acropolis but still relatively unknown to the masses to be considered touristy, Petralona is quickly becoming one of Athens' hippest neighbourhoods. It mixes old school charm, different architectural styles, quiet streets lined up with olive and lemon trees and plenty of graffiti. The number of Airbnb places in the area is growing rapidly but since it's still a "hidden gem", the prices remain budget-friendly.
Petralona is divided into two different areas: Ano Petralona (upper) cover the area from the metro tracks to Filopappou Hill, whereas Kato Petralona (lower) runs all the way to Pireos Street.
Initially a simple working-class neighbourhood, Petralona is going through a sort of "Renaissance". Young creatives and entrepreneurs are defying the ongoing financial crisis and have taken advantage of the lower rents to open up alternative businesses, concept stores, bars, bistros, spaces for art enthusiasts and gig-goers right next door to traditional establishments that serve hearty, homestyle Greek food in rustic settings. Petralona might seem a bit chaotic but it makes up for it with its distinct character – it has something for everyone.
Access: Metro Petralona (green metro line)
1.B North Athens
Marousi
Kifissia
Irakleion
The Omilo Greek Language school is located in North Athens, in Marousi, at 300 meters from the metro station Maroussi.
The green line, takes you from Piraeus, to Monasteraki and finally to Maroussi and terminal Kifissia.
MAROUSSI
is a quiet and family-oriented neighbourhood, a little suburban "village". Marousi has plenty of green spaces as it's full of trees, small parks, squares, picnic areas, etc. Some areas close to the station are pedestrianized so people can move around more freely when doing their shopping, having a walk or visiting the open street market on Saturday morning, or listen to some street musicians.
The Marousi metro station is 1 stop away from metro station Neratziotissa, which is conveniently located next to the Mall (a big shopping mall, also with bars, restaurants and cinema), and 2 stops away from metro station Irini, which is also the entrance to the Olympic facilities (O. A. K. A. stadium) – another must see if you're visiting Athens. In these Olympic facilities, also the Olympic Games of 2004 took place.
Good to know! There are not that many parcs in Athens, but the Sygrou Park, which belongs to the suburbs of Maroussi and Kifissia, is for sure a nice place to go for a walk or pick nick.
The park has an area of 950 acres which houses greenhouses, crops, parking, a school for agricultural education, the neoclassical Villa Sygrou and the church of St. Andrew (built by Ernest Schiller, it is the only Orthodox Gothic-style church in Greece). The park has a rich network of dirt roads and different paths, some surfaced, some narrow footpaths, between fruit trees, pine trees, etc.
Today a variety of seminars are taking place in the park: seminars of oinology, floriculture, of horticulture, of gardening, beekeeping etc. It is one of the best places for walking, cycling or even for a picnic in the heart of the city! Syngrou Park is best described as an area of unspoiled countryside where people can forget for a while that they are near the center of the capital city.
Note: during winter sometimes we have some days of snow in Maroussi, and then the park looks even more beautiful 🙂
Click here to take a look at Maroussi center as well as the Singrou Park, covered in snow. (video was recorded in February 2021)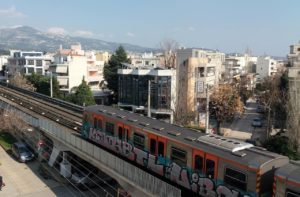 1.C South Athens
ATHENS RIVIERA
The Athens Riviera is a stunning coastal stretch just outside the bustling city of Athens. This picturesque area offers beautiful beaches, clear blue waters, and a laid-back atmosphere, making it a popular escape for both locals and visitors. One of the most breathtaking sights along the Riviera is the Temple of Poseidon in Sounion. Perched on a cliff overlooking the Aegean Sea, this ancient temple is a testament to Greece's rich history and is dedicated to the god of the sea, Poseidon. The sunset views from this historical site are simply awe-inspiring, providing a magical and unforgettable experience for anyone who visits.
Click here and read more about Sounion and the temple of Poseidon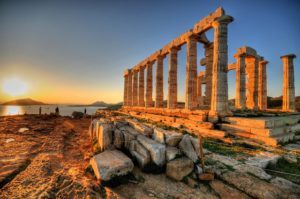 PIRAEUS
Piraeus Harbor is a bustling and vibrant port located near Athens, Greece. As one of the busiest and largest ports in the Mediterranean, it serves as a major gateway to the Greek islands and other international destinations. The harbor area is alive with activity, with ferries, cruise ships, and cargo vessels coming and going, creating a lively and dynamic atmosphere. Stroll along the waterfront promenade, and you'll find a delightful mix of seafood restaurants, cafes, and shops, offering a taste of local flavors and souvenirs. Piraeus Harbor holds historical significance as well, being an ancient port dating back to Classical times. Whether you're a traveler embarking on an island-hopping adventure or simply seeking a glimpse of maritime heritage, Piraeus Harbor is a captivating destination that reflects Greece's maritime spirit and charm.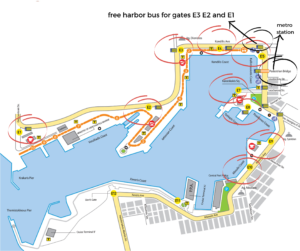 More Neighborhoods
Of course Athens has many more neighborhoods, which we can not cover all. Most visitors stay in centre Athens, but if you want to discover the "real Athens", then we suggest you also try other areas.
A suggestion could be to read Petros Markaris' book, about all the neighborhoods along the green metro line (the oldest metro line), and their history.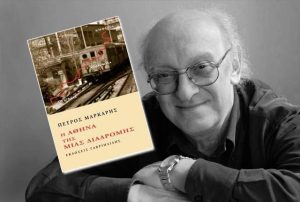 2. Athens Museums
THE ACROPOLIS and THE ACROPOLIS MUSEUM
The Acropolis in Athens and its monuments are very important symbols of the classical times, and modern civilization.
Even if you are not interested in history or philosophy, a visit will give you a much better understanding of Athens, Greece and the Greeks.

A lot is written about the Acropolis, so no need to add even more! Since in 2009 the new Acropolis opened, we decided to write about the museum instead 🙂
Read more about the Acropolis museum, its past and its present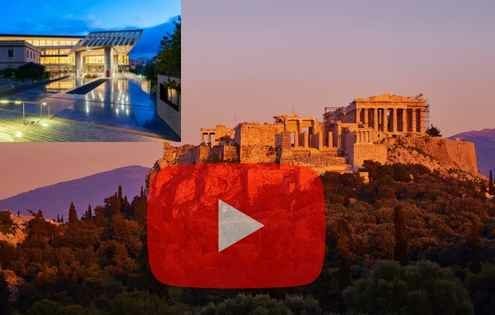 THE NATIONAL ARCHAEOLOGICAL MUSEUM OF ATHENS
This beautiful and important museum in centre Athens, was created with the aim to bring together antiquities from all over Greece, to protect and maintain them. That way visitors get the opportunity to learn more about ancient Greek history and appreciate the historical, cultural and artistic value.
Keep reading to discover more about its history and its rich collection, with this article.

THE BENAKI MUSEUM(s)
is well known for its main building, located very close to the Syntagma Square in centre Athens, which provides a historical overview of the Greek world. But what fewer people know is the Pireos Street Annexe of Benaki, where modern exhibitions and interesting architecture are combined. This museum is not restricted to one kind of art: photography, fashion, paintings, video art, and many other contemporary art forms are represented. Even their museum shop is a real treat!
THE NATIONAL GALLERY IN ATHENS
Founded in 1900, the National Gallery of Athens is home to more than 20,000 artworks by Greek and European artists. The collection follows a chronological order and includes paintings, sculptures, engravings, drawings, and many more, covering a period from the post-Byzantine era until today.  The museum was renovated museum and reopened in 2022, after an almost decade-long expansion and refurbishment . It now became the ideal place to learn about Greek art.
Click here and read more about this renovated museum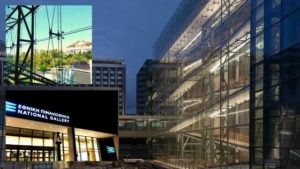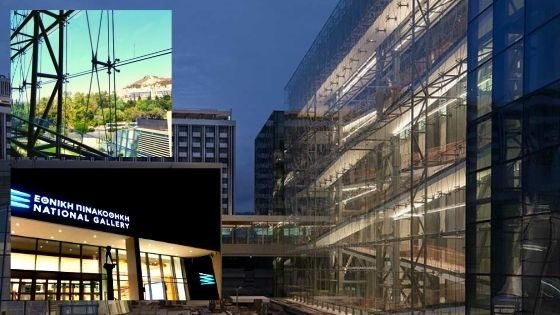 THE MUSEUM OF CONTEMPORARY ART (EMST)
In 2016 the EMST Museum opened its doors in the redesigned Fix building.The museum has eight levels. Three of these are being used to house the permanent collections, while the others will be reserved for the periodical exhibitions. The eighth level has amazing capabilities for outdoor multipurpose use during the summertime.
Click here for more info.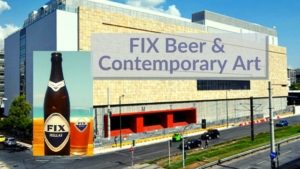 Modern Art & Architecture
Just like most big cities, Athens has several cultural organizations that offer a wide variety of contemporary cultural events.
THE ONASSIS CULTURAL CENTRE (Stegi)
Another example of impressive modern architecture going hand in hand with contemporary art is The Onassis Cultural Centre. Here Greek and foreign artists are bringing performances and exhibitions of all shapes and kinds. Several performances and lectures are also being held in English.
Click here for more info.

THE STAVROS NIARCHOS FOUNDATION CULTURAL CENTRE
Athens keeps amazing every visitor! Apart from beautiful new museums, concert buildings, artistic metro stations and roof gardens, now Athens also has a new spectacular cultural landmark: the Stavros Niarchos Foundation Cultural Centre (SNFCC). Needless to say, a must-see, during your next Athens visit.
Click here for more info.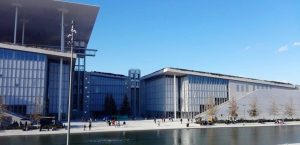 THE FORMER TOBACCO FACTORY

The emblematic building of the former Public Tobacco Factory in Sepolia, Athens, has now opened its doors to the public. From the building's total area of 19,000 sq m, 6,500 sq m that until now remained closed and unused, have been renovated thanks to funding from NEON and are already in use. Besides being a cultural space it's also home to the Hellenic Parliament Library and Printing House.
Click here to read more
STREET ART
When walking in Athens, the big amount of graffiti and street art will quickly draw your attention. The center of Athens, more specifically the area of Psirri and Exarchia, are the perfect places to have a walk and enjoy the Street Art. As is often the case in all kinds of art, the Street Art expresses what is going on in society and in the lives of the artists. Therefore this walk might give you some more understanding of what Athens is going through at the moment.
More info
An example of street art in Athens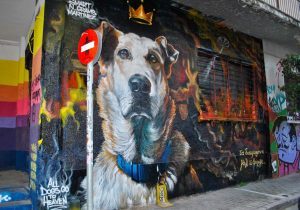 Entertainment and Nightlife
Athens offers incredible possibilities for entertainment and nightlife. Whether it is for a coffee, a cocktail or dancing until the morning, Athens has it all. As usually is the case, the best places are the ones that are hard to find. Here some suggestions you might give a try!
TAF (The Art Foundation)
Somewhere in the chaos of streets around Monasteraki, behind a small wooden door, a beautiful courtyard is hidden. As the name says, TAF found a very nice harmony between bar and art. While the courtyard is an inviting place to relax and have a drink, the first floor has been turned into a space for exhibitions.
More info
Six Dogs
Another well-hidden pearl is Six Dogs, located only a few minutes' walk from Monasteraki, but almost impossible to find without specific instructions. Looking like a dodgy place from the outside, the surprise is even more when you enter the beautiful garden. Especially during summer time, this is a great place to relax and escape from the busy city. Concerts are regularly organized here.  More info
Gazitechnopolis – Gazi
Blending nightlife with an almost endless range of events, the neighborhood of Gazi has become one of the most popular places for locals of all ages in Athens.
The square at the metro station Keramikos is surrounded by bars and restaurants, creating a very lively atmosphere during the night. Right next to this square you can find Technopolis, which used to be The Athens Gasworks factory. Today, Technopolis is a Cultural Centre, welcoming (both out and indoors) exhibitions, performances, festivals and many other. A place to discover!
More info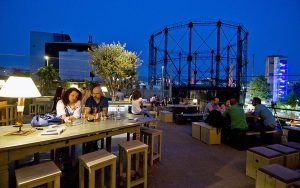 Roofbars and roofgardens
Nowadays, you can find  roofgardens in every Athens neighborhood offering a spectacular view and special atmosphere.  It seems that every month a new place is opening up, and you can get some spectacular and creatives views of the Greek capital
Read this article with 10 suggestions 

Food culture
Going for food in Athens, is the easiest thing to do. You can find thousands of places, from simple souvlaki places,  taverns, to upscale restaurants, etc… It is nearly impossible to list some places, since 85% of all food places you will find in Athens, offer excellent food for a very good value.
Entertainment and evening performances are many times combined with going for dinner. Nothing better than a Greek meal before or after going out in Athens!
Read more about Greek food culture here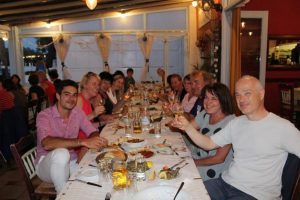 During the summer
You might think it is better to avoid Athens in summer because of the high temperatures?
Actually, summer is great in Athens with all its festivals and fewer tourists! Check it out!
The summer is also ideal to try several of the Roof Bars in Athens, as well as the Outdoor Movie Theatre!
If you like Greek dancing and Traditional Greek Music, then we definitely recommend you to go to the Dora Stratou Performances, in their outdoor theatre, opposite the Acropolis. (from the end of May till mid-September)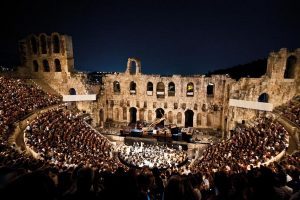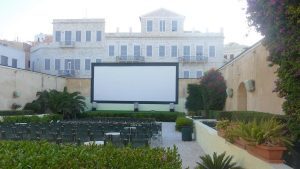 Learning Greek in Athens
Explore Athens with Omilo, while learning Greek
As all our students know, Athens is definitely more than just visiting the Plaka neighborhood and the Acropolis.
Students who attend an intensive Greek Language Course in Athens, are always very enthusiastic and impressed by this lively city, full of surprises.
If you would like to explore Athens together with Omilo, while learning Greek, then you are very welcome to join us.
Read more information about the 1-week intensive courses taking place in Athens.
Accommodation in Athens
Ready to visit Athens and book accommodation?
Then take a look, and start planning your trip
Booking.com
Hammam in Athens
Athens' Marathon
Not feeling confident to travel by yourself in Athens, during the first days?
Then pre-book your transfer from Athens airport.
We selected a trustworthy and convenient 5-star airport taxi company for your airport transfer based on student's experiences and user reviews Welcome Pickups offers a great experience and safety to its travellers.
– Local Greek-English-speaking drivers
– Flat, pre-paid fee
– Flight monitoring for delays
– 24/7 Customer support
+++++++++++++++++++++++++++++++++++++++++++
Ready to visit Athens today? Download your FREE TIMELESS ATHENS eBOOK, which you can also print.

Embark on an amazing journey in Athens –  Greek Heritage & Modern Charms for Cultural travelers.
https://omilo.com/wp-content/uploads/2017/01/omilo-athens-banner-001.jpg
584
2048
Omilo
https://omilo.com/wp-content/uploads/2018/07/omilo-logo-new-300x138.png
Omilo
2019-03-15 20:07:59
2023-07-18 13:58:35
Athens Today – Things To Do In Modern Athens