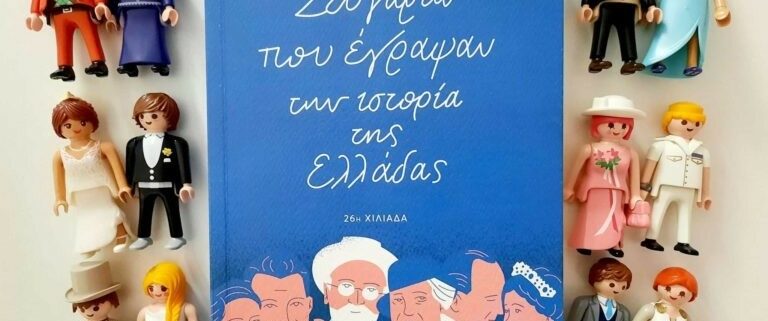 What does modern Greek history look like?
It's easy to get caught up with the exciting and dramatic times of Ancient Greece, but the history of the Greek state and nation ever since the Greek Revolution in 1821 (2021 was the 200th anniversary of Greece's War of Independence from the Ottoman Empire), can be equally fascinating – and stormy!

The book Ζευγάρια που έγραψαν την ιστορία της Ελλάδας (= Couples who wrote the history of Greece) by Lena Divani is a crossroads between history and fiction. In this book, the author sheds light at the relationships between famous and powerful figures of Greek history, examining their personal lives against the context of the social, political and economic circumstances of their times.
Needless to say, since most of these couples lived in the 19th and 20th centuries, their lives were marked by the Greco-Ottoman war, the creation of the Greek state, World Wars I and II, a civil war, and the Balkan Wars.
All of the couples whose stories appear in the book existed and, to a certain extent, the public eye knows about the course of their relationships – how they met, whether they got married, when they had children and how many, if they traveled abroad and when they broke up. Having said that, since we do not know as many details about the personal lives of important figures as we do with politicians, activists or even celebrities today, the author fills in the gaps in our knowledge and embellishes their stories using her own imagination.
Among others, the Greek couples mentioned in the book include;
the politician and prime minister Georgios Papandreou and the famous Greek actress Cybele,
the king and queen of Greece Paul and Frederica,
the Greek resistance leader and leading figure of the Greek Communist Party Nikos Beloyannis and the Greek writer and activist Elli Pappa,
the Greek statesman and former Prime Minister Eleftherios Venizelos and the wealthy British philanthropist Helena Schilizzi,
as well as the heroes of the Greek War of Independence Manto Mavrogenous and Demetrios Ypsilantis.
Author Divani seeks to show how the personal lives of these people, who played a central role in modern Greek history, affected their political activity and vice versa. In other words, how being in the limelight affected what was going on in their families and close relationships. Her reason for doing so is because, as she suggests, it's often easier to understand the decisions a public person takes when we have a better understanding of their background, their needs, fears and traumas.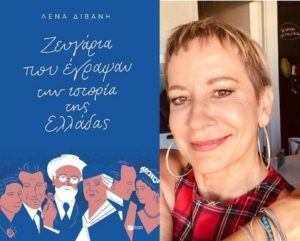 Lena Divani was born in Volos and is a Greek author and professor at the University of Athens, where she teaches 20th century Greek and Balkan history and politics at the Department of Law. She's been a visiting Research Fellow at Harvard, King's College in London and the League of Nations Archives. Divani has published more than twenty books, both novels and non-fiction.
Overall, Ζευγάρια που έγραψαν την ιστορία της Ελλάδας is a beautifully written book which, though, available only in Greek for the time being and thus a great reading exercise for more advanced Greek students.
To discover more literature about Greece and Greek culture, both in English and Greek, have a look at our blog as well as Omilo's own publications where you will find options for all levels of Greek learners.
Have you read books by Greek authors?
If yes, we would love to hear which has been your favorite and which is next on your list!
Since Omilo students often like to read books, related to Greek history, important events and culture, we are planning to make a list of Greek books to be shared with our Omilo students.
It is known that non-Greeks often look for different kinds of books to read than Greeks born in Greece, so therefore your input would be very helpful to us.
Feel free to send your suggestions to info@omilo.com
https://omilo.com/wp-content/uploads/2021/11/lena-divani.jpg
593
768
Omilo
https://omilo.com/wp-content/uploads/2018/07/omilo-logo-new-300x138.png
Omilo
2021-11-03 18:43:53
2021-11-03 19:07:34
Learning About Modern Greece Through The Stories Of Its 'Power Couples'!