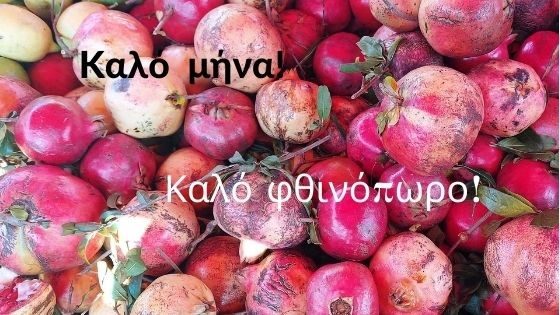 Τι κάνετε; 'Oλα καλά;
We hope you are fine, healthy, and safe, after nearly  2 "corona years". But even in those difficult years, time flew…
We also would like to wish you a nice month of November and a beautiful Autumn.
Ελπίζουμε να είστε καλά, υγιείς και ασφαλείς μετά από σχεδόν 2 «χρόνια κορωνοϊού». Ωστόσο, ακόμα και σε αυτά τα δύσκολα χρόνια, ο καιρός πέρασε πολύ γρήγορα… Θα θέλαμε επίσης να σας ευχηθούμε να έχετε έναν καλό Νοέμβριο και ένα όμορφο φθινόπωρο.
καλό μήνα! – καλό  Φθινόπωρο!
Greece celebrated its National Holiday and Oxi day celebration on October 28th, the time changed again to wintertime, we used our heating at home for the first time in 6 months, all the fruits on the weekly markets look very different from the summer (no melons or figs anymore, but now pomegranates, oranges, lemons, apples, mandarins…),  so we now realized we are in the full Autumn season.;-)
Η Ελλάδα γιόρτασε την εθνική της επέτειο και την ημέρα του Όχι στις 28 Οκτωβρίου, η ώρα άλλαξε πάλι σε χειμερινή, ανάψαμε τη θέρμανση στο σπίτι μας για πρώτη φορά μετά από 6 μήνες, όλα τα φρούτα στις λαϊκές είναι πολύ διαφορετικά από το καλοκαίρι (δεν υπάρχουν πεπόνια ή σύκα πια, αλλά τώρα έχουμε ρόδια, πορτοκάλια, λεμόνια, μήλα, μανταρίνια…), οπότε τώρα συνειδητοποιήσαμε ότι είμαστε στην καρδιά του φθινοπώρου! 😉
Because also for Omilo a new season starts again, in Athens, we just wanted to give you a small update.Our last "general corona update #6" was written in April 2021, announcing that we finally were allowed to start the 2021 intensive courses in Greece, from May onward.
And indeed, that is what happened…
Επειδή και για το Ομιλώ ξεκινά μια νέα σεζόν πάλι στην Αθήνα, θέλαμε να σας κάνουμε μια μικρή ενημέρωση. Η τελευταία μας «γενική ενημέρωση για τον κορωνοϊό #6» γράφτηκε τον Απρίλιο του 2021 και σε αυτή ανακοινώσαμε ότι μπορούσαμε πλέον να αρχίσουμε τα εντατικά μαθήματα για το 2021 στην Ελλάδα, από τον Μάιο κι εξής.  Έτσι κι έγινε!
Of course, if you are subscribed to our 'MONTHLY DOSE OF SUNSHINE', you are updated about everything we have done over the summer, and probably also saw many pictures.
But just in case you do not really know what the Omilo-team was doing recently, here below is a summary of the last 6 months.
Φυσικά, αν είστε εγγεγραμμένοι στο 'MONTHLY DOSE OF SUNSHINE', έχετε ενημερωθεί για όλα όσα έχουμε κάνει το καλοκαίρι και ίσως έχετε δει πολλές φωτογραφίες. Ωστόσο, σε περίπτωση που δεν ξέρετε τι έκανε η ομάδα του Ομιλώ πρόσφατα, παρακάτω θα βρείτε μια σύνοψη των τελευταίων 6 μηνών.
How did we spend the last 6 months?
Some recent Omilo history from May till November 2021.
Πώς περάσαμε τους τελευταίους 6 μήνες; Μερικά πρόσφατα νέα του Ομιλώ από τον Μάιο έως τον Νοέμβριο του 2021.
'Omilo Greek Language and Culture courses' took place in Lefkada and Syros,
between May 30th and September 27th, 2021
Students were welcomed on the island of Lefkada on May 30th, followed by courses on the island of Syros between June 20th and September 27th.
For Omilo, the 2021 summer was very similar to the 2020 summer, with the difference that most students now were vaccinated and everybody needed to be updated about all the travel regulations and needed papers for the covid certificates or covid tests. The needed paperwork for traveling was actually more difficult than in 2020, but once going through this and arriving at their destination in Greece, students quickly got into the Greek atmosphere and could have a close to worry less holiday, on a Greek island.
The Omilo-team was very happy to be able to welcome one group after the other, and most importantly, we, as well as the students,  had fun…Once arriving on Syros or Lefkada island, things looked very close to normal, and the sun accompanied us  all day. This year, it seemed the sun was even more shining than normal, and it was a really hot Greek summer!  Fortunately, our course locations are always next to the beach and sea,  so after a refreshing dive before or after the lessons, students were able to deal with the heatwaves.
If you have never been to an Omilo course in Greece, it is difficult to describe what exactly you can expect, but videos might give a better idea. Therefore, two videos below, giving you a better idea.
Lefkada 2021 – an impression of a student
and the video of the
Syros island  2021 –  video of June- July courses

After the July courses, we continued with the August and September groups in Syros, and all went fine.
We thank all the participants that joined us this year, and this gave us so much joy and energy. ευχαριστούμε πολύ!
If you also want to hear or read the various video or email testimonials of students during the last summer, then click below
++++++++++++++++++++++++++++++++++++++++++++++++++++++++++++

So now that you got an idea how an Omilo summer looked like,  here is an overview of the other projects we are working on;
Online private lessons by Skype or Zoom
Since two weeks, all Omilo teachers have returned to Athens, teaching online again. After 2 years of experience, this is now a piece of cake, and lessons are going very well.
As mentioned many times since the first lockdown,  you can continue learning Greek with our teachers, online, and get help with your Greek Language Journey, on every language level.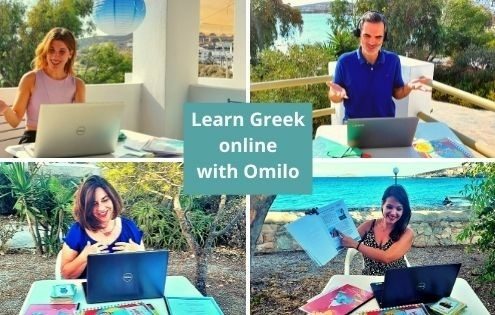 ++++++++++++++++++++++++++++++++++++++++++++++++++++++++++++
When 2022 courses will take place again in Greece?
 Because of the ongoing corona infections,  and for the safety of our teachers and students, Omilo cannot organize courses in the Athens school during the Autumn and Winter months. We hope to be able to start again in March, but it is still not in our hands.  It became obvious that online courses can also work fine, so teachers continue online, while we will be patiently waiting till the weather becomes warmer again, and we are sure we can teach with all windows wide open.
Just in case you are impatient and want to plan your next trip already, the 2022 course dates will be announced in December.
++++++++++++++++++++++++++++++++++++++++++++++++++++++++++++
Publications – eBooks – Langauge books, available online
We never stop working on creating more publications, and Greek language materials, for all language levels.
FOR YOUR INFO; apart from the Lydia Easy Read and the Fygame Language Book, which are also available in hard copy, and can be sent by postal mail,
all other Omilo publications are 'eBooks'.
An eBook is sent to you with a download link, to a PDF file. This PDF file (A4 format) you can download to your computer or another device or you can also print it yourself.
In the video below you can see how two ebooks (Greek entechna songs) were printed, something you can also do yourself or give the PDF file to a local copy story, and they can do it for you.
That way you have a digital version on your computer, or a printed version to take with you any place you are.
++++++++++++++++++++++++++++++++++++++++++++++++++++++++++++



FOR YOUR INFO, BELOW ARE THE NEW ARRIVALS SINCE MAY 2021

for the «Intermediate Learners»: 
THE EASY GREEK STORIES PODCAST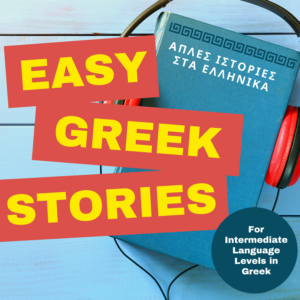 Are you at an intermediate level and searching for fun materials to improve your Greek? This monthly podcast, and video, will help you to boost your listening skills and build your vocabulary in Greek. Listen to easy Greek stories, narrated by teachers Eva and Myrto, and taking place in Greece. (Digital notebooks with the text in Greek and English + extra exercises are also available)
+++++++++++++++++++++++++++++++++++++++++++++



for the «Advanced Learners»:
Greek Travel Diaries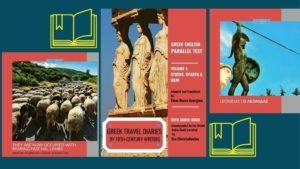 Improve your Greek listening skills and reading comprehension, with this eBook + Audio-book.
Greek Travel Diaries by 19th-century Writers – Volume 1: Athens, Sparta & Mani |  Greek-English Parallel Text
For Advanced levels in Greek.  The full Greek texts and English translations are also included.
++++++++++++++++++++++++++++++++++++++++++++++++++++++++++++

Greek songs for  «All levels»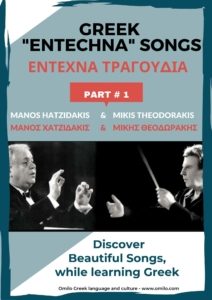 Greek songs are always a nice way to learn Greek, even if it might be too difficult to understand the words, the grammar used, etc… However, with the English translations of the lyrics, it is always a good way to keep you motivated to learn Greek and stay in a good mood.
September 2nd, Greece was in the international news, with the announcement that Greek Composer Mikis Theodorakis passed away in Athens, at age 96.
Theodorakis was an integral part of the Greek political and musical scene for decades. Out of Greece, Theodorakis many times is described as the «composer of the Zorba / sirtaki», but needless to say, Theodorakis is a thousand times more than that… 
In Greece, Theodorakis is often mentioned together with the other known composer, Manos Hatzidakis. They are born in the same year, but Hatzidakis unfortunately already died in 1994, and unlike Theodorakis, was not involved in politics but mostly with his musical career. Both composers are equally known in Greece and were the examples and inspiration for many. The collaboration between the two composers, as well as their international career and living abroad,  played a pivotal role in the evolution of Greek music and its popularity abroad in the second half of the 20th century.
Do you want to learn more about Mikis Theodorakis and Manos Hadzidakis, and their beautiful songs in the "entechno music genre"?
With the Omilo eBook, you will be introduced to the two well-known Greek composers.
An eBook (PDF file, which you can download and print as well) in English and Greek, full of useful information, lyrics of the songs, links to the songs, and extra exercises to improve your Greek.
With the video below you will get a better idea
++++++++++++++++++++++++++++++++++++++++++++++++++++++++++++
Do you need more videos, songs, blog articles, photos, to keep you in a good mood, and dream of your next holiday in Greece?
Then follow our social media channels. You can find the links in the footer of this website
If you are in need, we do our best to keep your spirits up!
You are not in the right mood at the moment to learn Greek, but maybe it is a nice idea for your partner or friend to be challenged with something new during this period? Feel free to share this information, and share your passion for Greece 🙂
We wish you a safe autumn season, from Greece with love.
Marina, Konstantinos, Dimitris, Maya, Myrto, Eva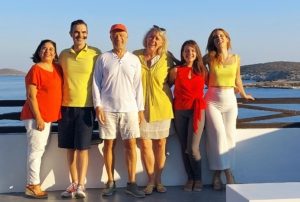 https://omilo.com/wp-content/uploads/2021/10/kalo-mina.jpg
315
560
Omilo
https://omilo.com/wp-content/uploads/2018/07/omilo-logo-new-300x138.png
Omilo
2021-10-31 12:15:32
2021-11-01 21:52:49
(Corona) update #7 from Athens ; Greek Language Tips, Videos and News