The town of Nafplion is  a beautiful Venetian town with ancient Greek roots and a lot of history.
It is located in the Peloponnese, at 2 hours driving from Athens.
Some History
Nafplion was already inhabited in the Mycenaean period (1600-1100 BC) and up till the present day, although there have been times that the city was largely deserted. Known in Venetian times as "Napoli di Romania", the modern Nafplion is largely an Italian-looking town. It was also the first capital of modern Greece after the war of independence against the Turks. The first president of Greece, Johannis Kapodístrias, was murdered in Nafplion in 1831.
In the early Middle Ages (500-600 AD) the city had shrunken to a castle and a small settlement, but in the 11th century AD the lower city was again completely fortified by the Byzantines, largely on ancient Greek and Hellenistic foundations. Around 1200 a local ruler, called Leon Sgouros, successfully defended the city against western Crusaders ('Franks') for a long time.
The Venetians (who had taken the city as a gift from the Franks), were ruling Nafplio in 1389-1540 and once again in 1686-1715. They completely transformed the city (Napoli means 'New Town'). During their second reign the Palamidi hill was provided with extensive fortifications, which turned the city into the most powerful fortress of Greece, if not of Europe.
The castle of Bourtzi is located in the middle of the sea and harbour of Nafplion. The Venetians completed its fortification in 1473 to protect the city from pirates and invaders from the sea. In 1822 (during the Greek war of independence) it was captured by Greek troops and served as a fortress until 1865. It was then transformed into residence of the executioners of convicts from the castle of Palamidi. From 1930 to 1970, it served as a hotel. Since then, it is mainly a tourist attraction, which you can go and visit, by taking a 10 minute boat trip.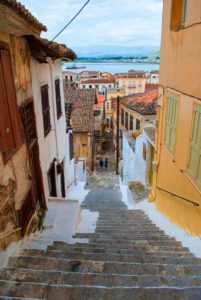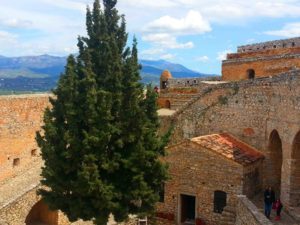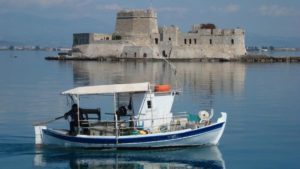 The Archaeological Museum of Nafplio
The Nafplio Museum (at Syntagma Square), located an ancient building of the Venetian fortress, belongs to the finest museums in Greece. It has a nice collection and offers a good overview of the Mycenaean centers in and around Nafplio, in particular Tiryns and Lerna. One of the most famous items shown, is the Mycenean armor of Dendra, a bronze armor worn by a Mycenaean aristocrat around 1200 BC.
For visits, opening hours and activities in and around Nafplio see: http://discovernafplio.gr/
Learning Greek in Nafplion
Since 2000 Omilo organizes intensive Greek Language and Culture courses in Nafplion, during the Greek Easter Holidays. This idyllic city  is the perfect setting to combine Greek language lessons with a holiday in Greece, while experiencing the Greek Easter celebrations. With its interesting traditions and warm family atmosphere, Greek Orthodox Easter is one of the most celebrated events of the year in Greece.
Click here for all the information about the intensive Greek Easter course in Nafplion, as well as info on how to travel to Nafplion.
Or click below to see a video and get a better idea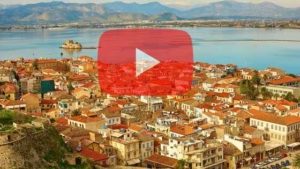 Pausanias-footsteps.nl
For anyone interested in Nafplio (and surroundings) in antiquity, we would refer to the website www.pausanias-footsteps.nl, a site with 2500 photos and maps with descriptions of ancient Greece. The website is in English and Dutch, and originally designed to illustrate a Dutch translation of the ancient book by Pausanias, 'A tour throughout Greece', written around 150-180 AD. The site contains a lot of information about the Peloponnese, and gives an overall picture of Greece after Pausanias, as well as introducing many Greek museums.
Pausanias was a Greek-speaking "travel writer" from the second century AD. He describes a journey in ten chapters along the known and lesser-known places on the Greek mainland in Roman times, taking his audience from the Acropolis in Athens and its rich art treasures by way of Corinth, Sparta and Messenia, to ancient Olympia, with its magnificent temples and thousands of treasures of art (many of which he describes in detail). From Olympia, his literary journey goes on to Achaia, Arcadia, Boiotia and finally to Delphi. Central to his work is the description of temples and their art treasures, interspersed with hundreds of anecdotes about artists, the winners in festivals such as the Olympic Games or the games in Delphi, but also relating episodes from Greek history.
Ready to visit Nafplion and surroundings?

Click on the video/picture  below and join us for a beautiful walk around Nafplion,
from the old town till Karathonah Beach (45 minutes one way)

While staying in Nafplion, it is a good idea to also make some day excursions and visit ;
The Epidaurus Amphi Theatre ; Read more here; https://omilo.com/the-epidaurus-amphitheatre-in-greece/
Nemea ; Read more here; https://masaresi.com/nemea-greek-history-mythology-games-and-wine/
1-day-excursion from Athens to Napflion-Mycene and Nafplion
Are you in Athens and in the mood to book an organized  1-day-excursion to Epidaurus, Nafplion and Mycene?
Then click here  for some options
Looking for accommodation in Napflion?
There are many options available, for every taste and budget. We suggest to book something in the old town of Nafplion,
but make sure you have good walking shoes, and get ready to climb many steps as well.
https://omilo.com/wp-content/uploads/2018/03/omilo-blog-nafplion-001.jpg
400
1500
Omilo
https://omilo.com/wp-content/uploads/2018/07/omilo-logo-new-300x138.png
Omilo
2022-03-01 16:37:13
2023-08-19 14:00:31
The Town Of Nafplion And Its History | Omilo