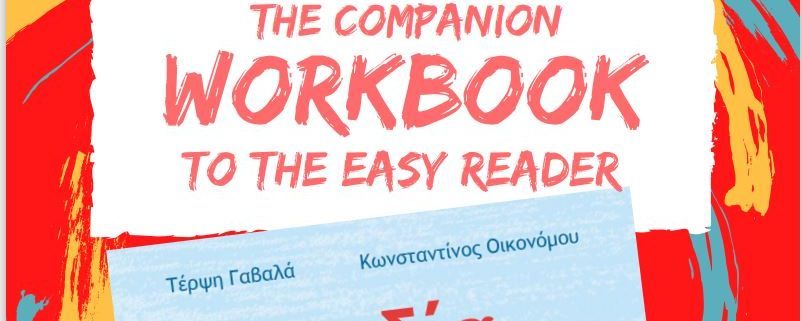 Good news!  Καλά νέα!  Omilo teachers Konstantinos and Terpsi  completed the useful workbook for Beginners Levels in Greek.
This eBook is the companion workbook to the easy reader 'Λυδία: Ένα καλοκαίρι στην Ελλάδα!' (Lydia: A summer in Greece!).
If you do not possess this Easy Reader + Audiobook yet, or would like to get more info, then Click Here.
The workbook is intended for those who have already purchased the easy reader and wish to get the most out of it, going beyond a simple reading (and listening) of the story!
It consists of 12 units, exactly like the easy reader 'Λυδία: Ένα καλοκαίρι στην Ελλάδα!'
Each unit has 6 exercises:

The first exercise is based on the description of the illustrations used in the Lydia story. Balloons with vocabulary have been added to the pictures to help the student to do the exercise. Most of these words are new and not included in the Lydia story. This is the ideal way to revise old vocabulary and learn new words.
The second exercise is a reading comprehension exercise. It will help you to gain a deeper understanding of the story.
The third and fourth exercises are mostly vocabulary exercises. We do believe that learning should be fun, therefore we have included crossword puzzles, word search puzzles, etc.
The fifth exercise is a listening comprehension exercise. After listening to a whole unit, it is time to concentrate on a specific part of it, filling in the gaps of this exercise with the missing words.
In the sixth exercise, the student is asked to work with the basic nouns and verbs found in the Lydia story. They need to put the nouns into the plural and the verbs into the right person and tense, two of the most important skills that allow a beginner-student to make themselves much better understood when writing or speaking.
Working with the Companion Workbook will help you to improve your Greek skills and make you have more confidence in them
The eBook includes:
New vocabulary, not included in the Lydia story
Reading comprehension exercises
Vocabulary exercises
Listening exercises
Grammar exercises
An answer key to all exercises
Links to articles about places, cultural aspects, verbs and people mentioned in the Lydia storyIMPORTANT!
THIS COMPANION WORKBOOK IS NOT INTENDED TO BE A STANDALONE BOOK!
All exercises included in it are based on the easy reader 'Λυδία: Ένα καλοκαίρι στην Ελλάδα!'.
 Ready to improve your Greek without a teacher, any time you want, any place?
Then act now and buy your printable work(e)book here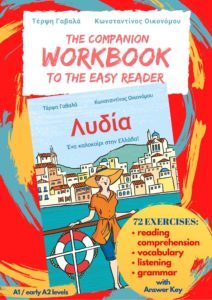 Do you want to learn even more? Then it is a perfect time to also work on your verbs in present, future and past tense
The eBook "71 Everyday Greek Verbs" will help you to communicate in Greek. All the 71 verbs are used in the Lydia Easy Reader 🙂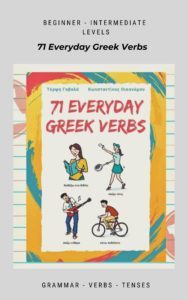 https://omilo.com/wp-content/uploads/2020/08/photo-half-workbook-blog.jpg
562
802
Omilo
https://omilo.com/wp-content/uploads/2018/07/omilo-logo-new-300x138.png
Omilo
2020-08-08 17:28:29
2021-01-20 20:26:05
The Companion Workbook To The Easy Reader "Lydia"