Yiannis Ritsos is one of the most famous and internationally acknowledged Greek poets, with many of his works having been translated and published in many languages.
He worked tirelessly and his output was enormous; he has published more than one hundred poems and poetry collections as well as some novels, plays, articles, and translations.
Today, Ritsos is considered one of the great Greek poets of the twentieth century, alongside Constantine P. Cavafy, Kostas Kariotakis, Angelos Sikelianos, Giorgos Seferis, and Odysseas Elytis. Let's have a closer look into his life and work.
His life
 Yiannis Ritsos was born in Monemvasia in 1909. Early in his life, he experienced a lot of hardship and misfortune, which influenced his writing significantly: his wealthy family faced financial ruin during his childhood, his father suffered from mental health issues and he lost his mother and his eldest brother from tuberculosis. Ritsos himself was confined in a sanatorium for tuberculosis in Athens between 1927 and 1931.
During World War II, when Greece was occupied by the Axis forces (Germany and Italy), Ritsos became a member of the EAM (National Liberation Front) and authored several poems for the Greek Resistance. Because his writing was frequently political in nature, Ritsos endured periods of persecution by the governing regime. His support of the Left in the subsequent Greek Civil War (1946-1949), resulted in him spending four years in different prison camps on the islands of Lemnos, Makronisos, and Ayios Efstratios.
Moreover, in 1967, when army colonels staged a coup and established the Greek junta (also known as the Regime of the Colonels or 4th August Regime), he was once again exiled; this time to a prison camp in Gyaros, Samos and finally Lemnos. His books were banned until 1954 and again during the dictatorship. It is worth noting that Metaxas, the prime minister during the period of the Greek junta, ordered for Epitaphios to be burned publicly at the foot of the Acropolis in Athens together with other books.
Ritsos passed away on November 11, 1990,
 His work
 Ritsos's poetry ranges from overtly political to deeply personal. Similar to Constantine P. Cavafy, he draws on ancient Greek myths for some of his poems, using well-known characters to communicate new ideas. It is also worth remembering that one of the key 'themes' that the poet keeps revisiting in his work is the notion of loneliness and isolation.
Epitaphios, published in 1936, was a turning point in his writing as it was written in a simple and unembellished language which was easy to understand for common people as well, and felt like a response to Ritsos' critics who suggested that his poetry has been « too embellished » and overly focused on form in the past. It also kicked off his exploration of surrealism, which introduced elements of dreams, surprising association, and the use of bold imagery and symbols to his poetry.
Other notable works by Ritsos include
Pyramids (1935),
Vigil (1941–1953),
Romiosini (1954) and
18 short songs of the bitter Motherland (18 λιανοτράγουδα της πικρής πατρίδας/18 Lianotragouda Tis Pikris Patridas) (1973).
In 1975 he was nominated for the Nobel Prize in Literature. When he won the Lenin Peace Prize in 1975, he was quoted as saying that "this prize is more important for me than the Nobel". He also wrote countless articles and made numerous translations of other works.
A few words about the poem Moonlight Sonata (gr. Η Σονάτα του Σεληνόφωτος)
Moonlight Sonata was written and published in 1956 and marked a new stage in Ritsos' poetry. The poem revolves around the subject of loneliness and the alienation of the individual who cannot or does not want to commit.
The scene is set in a dark, decaying mansion haunted by old memories during a spring evening. The house is full of old furniture, the plaster is coming off the walls and the floorboards are creaking; the lights are off. An old woman, dressed in black from head to toe, appears to be talking to a young man. She seems burdened by the former glory of the house and her failure to maintain it as well as the fact that her prime years are now behind her.
The English version presented here is a translation by Peter Green and Beverly Bardsley
Ἄφησέ με νἄρθω μαζί σου. Τί φεγγάρι ἀπόψε!

Εἶναι καλό τό φεγγάρι, — δέ θά φαίνεται

πού ἀσπρίσαν τά μαλλιά μου. Τό φεγγάρι

θά κάνει πάλι χρυσά τά μαλλιά μου. Δέ θά καταλάβεις.

Ἄφησέ με νἄρθω μαζί σου.

Ὅταν ἔχει φεγγάρι μεγαλώνουν οἱ σκιές μές στό σπίτι,

ἀόρατα χέρια τραβοῦν τίς κουρτίνες,

ἕνα δάχτυλο ἀχνό γράφει στή σκόνη τοῦ πιάνου

λησμονημένα λόγια — δέ θέλω νά τ' ἀκούσω. Σώπα.

Θά καθήσουμε λίγο στό πεζούλι, πάνω στό ὕψωμα,

κι ὅπως θά μᾶς φυσάει ὁ ἀνοιξιάτικος ἀέρας

μπορεῖ νά φανταστοῦμε κιόλας πώς θά πετάξουμε,

γιατί, πολλές φορές, καί τώρα ἀκόμη, ἀκούω τό θόρυβο τοῦ φουστανιοῦ μου

σάν τό θόρυβο δυό δυνατῶν φτερῶν πού ἀνοιγοκλείνουν,

κι ὅταν κλείνεσαι μέσα σ' αὐτόν τόν ἦχο τοῦ πετάγματος

νιώθεις κρουστό τό λαιμό σου, τά πλευρά σου, τή σάρκα σου,

κ' ἔτσι σφιγμένος μές στούς μυῶνες τοῦ γαλάζιου ἀγέρα,

μέσα στά ρωμαλέα νεῦρα τοῦ ὕψους,

δέν ἔχει σημασία ἄν φεύγεις ἤ ἄν γυρίζεις

κι οὔτε ἔχει σημασία πού ἀσπρίσαν τά μαλλιά μου,

(δέν εἶναι τοῦτο ἡ λύπη μου — ἡ λύπη μου

εἶναι πού δέν ἀσπρίζει κ' ἡ καρδιά μου).

Ἄφησέ με νἄρθω μαζί σου.

Τό ξέρω πώς καθένας μονάχος πορεύεται στόν ἔρωτα,

μονάχος στή δόξα καί στό θάνατο.

Τό ξέρω. Τό δοκίμασα. Δέν ὠφελεῖ.

Ἄφησέ με νἄρθω μαζί σου.

Let me come with you. What a moon there is tonight!
The moon is kind – it won't show
that my hair turned white. The moon
will turn my hair to gold again. You wouldn't understand.Let me come with you.When there's a moon the shadows in the house grow larger,
invisible hands draw the curtains,
a ghostly finger writes forgotten words in the dust
on the piano – I don't want to hear them. Hush.We'll sit for a little on the low wall, up on the hill,

and as the spring breeze blows around us

perhaps we'll even imagine that we are flying,

because, often, and now especially, I hear the sound of my own dress

like the sound of two powerful wings opening and closing,

you feel the tight mesh of your throat, your ribs, your flesh,

and when you enclose yourself within the sound of that flight

you feel the tight mesh of your throat, your birds, your flesh,

and thus constricted amid the muscles of the azure air,

amid the strong nerves of the heavens,

it makes no difference whether you go or return

and it makes no difference that my hair has turned white

(that is not my sorrow – my sorrow is

that my heart too does not turn white).

Let me come with you.

I know that each one of us travels to love alone,

alone to faith and to death.

I know it. I've tried it. It doesn't help.

Let me come with you.
 How does Yiannis Ritsos relate to 'entechno music'?
Ritsos has written countless poems, some of which have been set to music by Mikis Theodorakis.
As we can learn in the Omilo eBook about Greek entechno music, Theodorakis was one of the 'fathers' of this new genre of music in Greece, which started to develop in the early 1960s and combined orchestral music and poetry for the first time.
Entechno also carries some elements from 'Greek Laika songs'; in this way, it helped make Greek poetry accessible to people of all social classes and ages.
More composers that have set music to his poems include Thanos Mikroutsikos, Christos Leontis, Marios Tokas, Manos Loizos, Mimis Plessas, etc.
+++++++++++++++++++++++++++++++++++++++++++
Do you want to learn more about Greek poetry set to music and the "entechno music genre"?

With the Omilo eBook, you will be introduced to the two well-known Greek composers.
An eBook (PDF file, which you can download and print as well) in English and Greek,
full of useful information, lyrics of the songs, links to the songs,
and extra exercises to improve your Greek.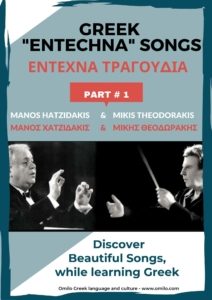 +++++++++++++++++++
Are you interested to learn more about different genres in Greek music, including;
information about the music genres; Rembetika, Laika, Entechno
Then take a look at the following eBooks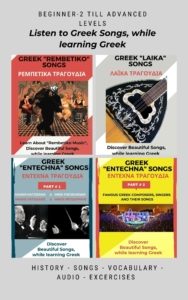 https://omilo.com/wp-content/uploads/2022/02/yiannis-ritsos-blog.jpg
472
840
Omilo
https://omilo.com/wp-content/uploads/2018/07/omilo-logo-new-300x138.png
Omilo
2022-02-18 21:30:20
2022-02-18 21:34:27
Yiannis Ritsos: The Life and Work of The Great Greek Poet