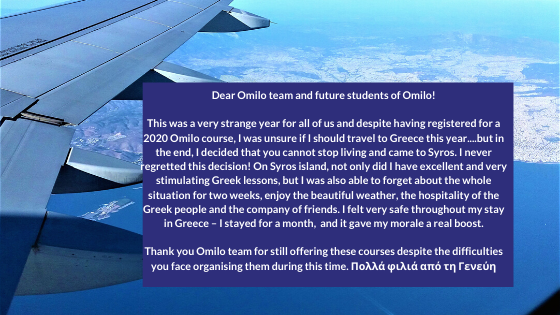 How we spent the last 4 months and managed to charge our batteries for the winter?
Some recent Omilo history from July till November 2020.
Spring 2020 was very different from other years! Not only in Greece but all over the world, due to the covid-19 pandemic.
But fortunately, the summer was a pleasant one, even in difficult circumstances. Below an update on how the Omilo was operating during the summer of 2020.
July- September 2020: The beautiful summer months on the island of Syros
When we arrived on the island of Syros by the end of June, the island was "corona-free".
Since traveling within Greece was forbidden from March till mid-June and only those having a permanent address in Syros were allowed to reside on the island,
they managed to keep their island safe.
Of course, after 3 months of strict regulations, everybody was relieved "normal life" could start again.
The blue Aegean Sea was more inviting than ever, the shops, bars and restaurants were operating again, the locals were happy to do business, to see friends, or being able to stroll around and go to the beach.
Going "back to normal" also meant that they were expecting tourists! Travelers from many European countries were allowed to visit Greece again from July.
As for Omilo, our last course in Greece took place in December 2019, and 140 registrations over 6 courses were canceled since then…
So it felt fantastic to be on our favorite island again, getting ready to welcome the brave students traveling to Greece.
What a relief to be able to work next to the sea, instead of being « stuck » in front of our computer screens.
In the village of Azolimnos, where the courses started in July,  everything looked as it always looked:
happy people chatting while sipping from their frappe,
kids playing on the beach,
clients in the mini-market discussing the weather conditions and business,
or greeting the locals on the many walks along the seaside.
Needless to say, the locals were also concerned…from a very relaxed situation, things could change rapidly,
now that tourists were arriving on a daily basis in Greece, from all over Europe.
Those depending on tourism for their businesses were happy, others were not….
Everybody knew it would not be possible anymore to keep the island "corona-free" from July onward.
So no doubt that we needed to stay very careful, respecting the « corona-rules ».
We are happy to let you know all went well during summer, and everybody, locals as well as Omilo students, teachers, and tourists, behaved responsibly.
We welcomed students for the 2-week courses on the island of Syros, between July 12 and August 7th.
Listen here to Laurent from France, and what he wanted to say about his July course
After that, we did not program any course for 4 weeks, in order to be sure that the Omilo-team and premises would be totally fine and safe by September.

The next cycle of courses took place from September 6th, as well as from September 20th.
Click below to see a small "thanking video" which was made for the participants of September courses, with some nice memories.
Autumn in Athens 
Athens is very different from a small Greek island, but a very exciting city with about 5 million Greek inhabitants (out of the +/- 11 million in entire Greece)
For obvious reasons related to covid-19, many tourists were avoiding Athens during  2020 and preferred to travel straight to smaller islands or remote areas.
This means that it was a perfect time, to visit Athens' sites, museums as well as the Acropolis, without tourists!
Below you see a video made by Maya while visiting the Acropolis in mid-September 2020.
A beautiful sunny day, few tourists but still enough for a good atmosphere, while listening to the music rehearsals in the Irodeon Theatre
(for the concert that would take place the next day)
After the last course on the island of Syros, the Omilo-team returned by the end of September to Athens and started preparing for private lessons in the Maroussi school (North Athens), as well as for the Intensive 2-week Greek language and culture course, starting on October 26th.
Normally that course was fully booked since July, but due to increasing covid-infections all over Europe, unfortunately, many students canceled their course by the beginning of October.
Nevertheless, we were allowed to organize the course with the present regulations and welcomed 7 students from The Netherlands, Switzerland, UK and France.
This was the first Athens course that could take place in 2020, and we for sure enjoyed it!
We are happy the weather was like a mild summer. It was possible to enjoy all the breaks outside, and have lessons with all windows wide open. Although concerts were not possible this time, students could listen to Greek street music, as well as enjoy Greek music presentations by the teachers.
Enjoy a small Greek street concert, on the square of Maroussi, one day before the course finished.
The Athens walks were possible as always, with fewer crowds and views of the Acropolis just for us

Take a look at the photo album.
++++++++++++++++++++++++++++++++
In the meantime it is November, and from November 7th, Greece started its 2nd corona lockdown of 2020, for  3 weeks.
The Omilo-team is well and safe, but sad we cannot welcome any students in Greece now.
However, we started working online again, it's as good as it gets…
So if you are curious how Omilo proceeds, and what will happen from now on, then click here to read our update #5 😊
We wish you all, from every corner in the world, good health, best of luck, and inspiration on how to use this period creatively.
https://omilo.com/wp-content/uploads/2020/11/omilo-testimonial-syros.png
315
560
Omilo
https://omilo.com/wp-content/uploads/2018/07/omilo-logo-new-300x138.png
Omilo
2020-11-08 13:42:34
2020-12-10 23:17:24
Learning Greek during a corona summer!