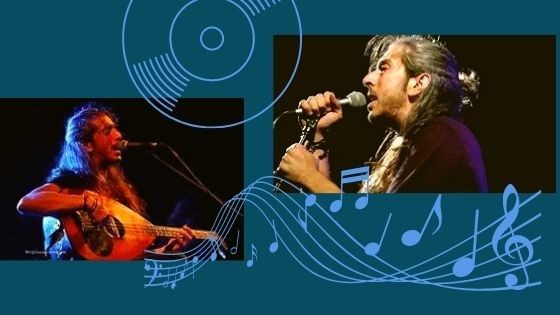 Greek Singer Yannis Charoulis is a known Greek singer, songwriter, and musician whose music brings together elements from entekhno (orchestral music with elements from folk songs and lyrics often based on the work of famous Greek poets), rock, and traditional Cretan music.
Continue reading to learn more about his career and Greek music, and listen to one of his songs. It is accompanied by a transcript of the lyrics as well the English translation for easier comprehension.
His story 
Yannis Charoulis was born and raised in Crete. His first encounter with music was at the tender age of 6, when his father taught him to play the mandolin. A bit later he got his first laouto (gr. λαούτο), which is a long-neck fretted instrument of the lute family, most commonly encountered in Greece and Cyprus and bearing similarities to the oud. Starting at 15, he was playing professionally at local fests and celebrations and studying traditional Cretan music more closely.
Arriving in Athens
Charoulis appears on stage in Athens for the very first time in 2002 thanks to the Greek artist Christos Thivaios at a concert organized in honor of an iconic figure of Cretan music, Nikos Xylouris. His songs and music captured the Greek psyche and demeanor, earning Xylouris the title 'Archangel of Crete'. The common ground between the two artists is that the music of both Xylouris and Charoulis is deeply influenced by the musical tradition of Crete – they are often the first examples that come to mind when someone tries to describe the island's songs and sounds!
Discography
In 2003, his first solo album comes out with the title «Γύρω μου και εντός» (en. Around me and within), whereas the second followed in 2006 and was called «Χειμωνανθός» (en. Winter flower). In 2010, he recorded two songs for the soundtrack of the Greek TV series «Το Νησί»: you can read more about these series which were based on the bestselling book The Island by Victoria Hislop on our blog here. The songs are called «Μαύρη Πεταλούδα» (en. Black Butterfly) and «Σε Ψηλό Βουνό (Αετός)» (en. On a High Mountain – Eagle).
Three more albums have come out since: «Μαγγανείες» (en. Witchcraft) in 2010, «Χίλια καλώς εσμίξαμε – Live» (en. A thousand times welcome) in 2015, and «O Δωδεκάλογος του Γύφτου» (en. Twelve Lays of a Gypsy) in 2016. The second album includes the recordings from two sold-out concerts he gave in Athens in 2013 and stayed at the top of Greek music charts for a long time that year.
The third album includes 12 abstracts from the poem "Twelve Lays of a Gypsy" set against music. The poem was written by the Greek poet Kostis Palamas. If his name sounds familiar is because he's also the person who wrote the Olympic Hymn.
He has worked together with a plethora of Greek songwriters and singers, whether for a studio album or a concern: Thanassis Papakonstantinou, Mikis Theodorakis, Manos Eleftheriou, Stavros Xarchakos, Alkistis Protopsalti, Melina Kana, Sokratis Malamas, Miltos Paschalidis, Nikos Portokaloglou, Dionisis Tsaknis, Alkinoos Ioannidis, Nana Mouschouri, Natassa Bofiliou – and the list goes on.
Let's listen to a song!
Here we're kicking off the journey in his musical universe with the song "Σου μιλώ και κοκκινίζεις" (en. I talk to you and you blush). This song was originally written and performed in 1999 by another Greek artist, Dionysis Savvopoulos, but this cover remains one of the most popular videos by Charoulis on YouTube. Charoulis is singing along to the lyrics while playing the laouto, adding a Cretan 'twist' to the song. Enjoy!
Click here to see the video and listen to the song.
Σου μιλώ και κοκκινίζεις τι να φανταστώ;
Όσο θάβεις το σποράκι, τόσο βγάνει ανθό
I talk to you and you blush what should I think?

The more you bury the seed, the more it blooms

Στο μικρόφωνο ανεβαίνω το θεριό γλεντάει
Μόνος μου είμαι στην ορχήστρα μ' έναν ίσκιο πλάι
I step up to the microphone and the beast paints the town red

I'm by myself at the orchestra with a shadow next to me

Έλα στο χορό
Μόνο να σε βλέπω, μόνο αυτό μπορώ
Νύχτα ξαστεριά
Άναψαν φωτάκια σ' όλα τα χωριά
Come to dance (i.e. join the dance circle)

Only to look at you, that's the only thing I'm able to do

Starry night

Little lights have been lit across the entire village

Της Αγία Τριάδας* ήρθαν μέρες φτερωτές
Το χωριό** το Μούρεσι χορεύει από προχτές
In Aya Triada, days with wings have arrived

In the village Mouresi (people) are dancing since yesterday

Ήρθαν ξένοι ηλιοκαμένοι, ήρθαν κι αδερφοί
Σε κοιτώ και κοκκινίζεις κι έχεις προδοθεί
Sunburnt foreigners have arrived, brothers arrived too

I look at you and you blush, and you give yourself away

Έλα στο χορό
Πάρε με και εμένα λίγο να χαρώ
Έλα στο χορό
Θέλω να κατέβω θέλω να ενωθώ***
Come to dance

Take me (by the hand) too so that I can find a little joy

Come to dance

I want to step down and become one

Κι ο συρτός**** σιγά μας πάει πίσω από το ιερό
Κι αρχινάς να κοκκινίζεις πιο πολύ θαρρώ
And the syrtos slowly leads us behind the chapel

And you start to blush even more

Μα εδώ δεν είναι ξένο βλέμμα κανενός
Μήπως είμαι εγώ ο ξένος και ο μακρινός;
But there are no eyes of a stranger

Or maybe I'm the strange and distant one?

Έλα στο χορό
Άσπρο φουστανάκι, πάτημα ελαφρό
Νύχτα ξαστεριά
Τρέμουν οι φλογίτσες πάνω απ' τα χωριά
Come to dance

White dress, light steps

Starry night

Little fires glimmer over the villages
A few notes to help you better understand some of the lyrics:
*Aya Triada is a common name for a Greek village, so there are plenty of villages (or small towns) in Greece with this name.
**The Greek lyric used the word village as the subject of the verb "to dance"; a village, i.e. the location cannot dance, but here it's used to suggest that all its residents are dancing and celebrating.
***The singer is on stage (on the microphone) as he suggests earlier in the song. Here he wants to step down and join the circle of the dancers, becoming one with them.
****Syrtos is a very common Greek dance; its steps are quite easy and there are plenty of variations across Greece.
During our Omilo summer courses, we regularly teach our students Greek songs. It's a fun way to unwind after a day of lessons while they continue to practice their listening and comprehension skills.
Click here to see a video taken on Syros island, when Omilo students are learning Greek songs during a warm afternoon, with sea view 🙂
+++++++++++++++++++++++++
In the mood to learn more about Entechna Songs, while improving your Greek?
Learn more about Entechno music with those 2 eBooks, teaching you more about the founders of this genre, how the songs developed over the years.  Included is a selection of songs for several very known composers, with corresponding English translations and YouTube links, as well as companion exercises to improve your Greek.
With those eBooks, you will get a very good insight and understanding of what is Greek Entechno music, and learn about its history from the 60'ties till of today, with the most known composers in Greece. A selection of known performers/singers is mentioned, but the list is endless. Therefore, the emphasis of the eBooks is more on the composers, and the lyricists, since without composer or written words, there are no songs 😉
https://omilo.com/wp-content/uploads/2021/07/blog-xaroulis.jpg
315
560
Omilo
https://omilo.com/wp-content/uploads/2018/07/omilo-logo-new-300x138.png
Omilo
2021-07-16 14:31:41
2023-04-05 15:51:14
Greek Singer Yannis Charoulis and his music