Greek Rembetika music is closely connected to the name of Markos Vamvakaris, whose great significance for this genre is also reflected in his nickname: "the patriarch of the rebetiko."
Characterized by the sounds of the bouzouki and baglamas, the rembetika are simple songs that express the daily concerns of ordinary people experiencing difficult and often unconventional situations. Most are about such things as love; heartbreak; the struggles involved in living and working in foreign lands; poverty; hashish; etc…
Vamvakaris was born in 1905 on the Cycladic island of Syros in the locality known as Ano Syros. At the age of 12, he went to Piraeus, where he learned how to play the bouzouki. In Piraeus, he founded the first rebetika band in Greece.
At the start of WWII, Vamvakaris wrote the most famous of his songs, an example being the classic love song "I Fragkosyriani" about a young Roman Catholic woman from Ano Syros ("fragkos" is a way of referring to Greek Catholics on Syros). Below you can read the lyrics of the song and listen to it.
In 1954, Vamvakaris returned to Ano Syros, where he stayed for a year, playing at the Lili Tavern (the same tavern still exists and is situated near the Markos Vambakaris Museum.)
In fact, when you attend an Omilo course on the island of Syros, you can always visit the neighborhood where Vamvakaris grew up.
Vamvakaris went back to Piraeus in 1955 and in 1960, his record was released. Well-known Greek singers have been singing his rembetika songs, old and new, to this day.
Markos Vamvakaris died in 1972. His songs are still very popular, with many singers, including Giorgos Dalaras, releasing new versions of Vamvakaris' songs over the years.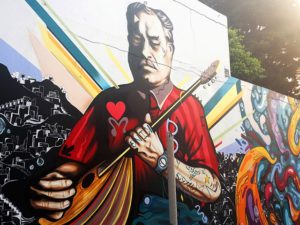 The song « Fragkosiriani »
One day, so the story goes, when Vamvakaris was playing the bouzouki on the beach, he saw a young woman that he would later sing about in "Fragkosiriani," a song he composed upon his return to Athens. Interestingly, he was not absolutely certain that the young woman was actually a Roman Catholic; she, in turn, never found out that this famous song had been written about and for her.
Φραγκοσυριανή
Fragkosiriani
Μία φούντωση, μια φλόγα έχω μέσα στην καρδιά

λες και μάγια μου 'χεις κάνει

Φραγκοσυριανή γλυκιά

Θα 'ρθω να σε ανταμώσω κάτω στην ακρογιαλιά

Θα ήθελα να με χορτάσεις από χάδια και φιλιά

Θα σε πάρω να γυρίσω Φοίνικα, Παρακοπή Γαλησσά και Nτελαγκράτσια

και ας μου 'ρθει συγκοπή

το Πατέλι, στο Nυχώρι φίνα στην Αληθινή και στο Πισκοπιό ρομάντζα

γλυκιά μου Φραγκοσυριανή

There's a flame burning in my heart

As if you have put the spell on me

My sweet Fragosiriani

I will come to meet you down at the seashore

I would love you to fill me up with caresses and kisses

I will come to take you around Finika, Parakopi,Galissa and Delagracia.

Even if the strike hits me,

We will have a great romantic time at Pateli and Nichori At Alithini and Piskopio

My sweet Fragosiriani
Or watch the video, where teacher Eva sings the songs together with Omilo students
Till of today, the island of Syros is known for rebetiko music. Many people visit the island to enjoy this music in a lovely setting.
Do you want to learn even more about rebetiko music, history, composers and songs?
Click below for more info about the digital eBook
PS
Omilo offers Greek language and culture courses on the island of Syros during the summer months (June till September). There, the participants do not only learn Greek but are also introduced to Greek culture and Greek music, which makes learning Greek even more enjoyable and interesting.
Click below for more information about our courses.
https://omilo.com/wp-content/uploads/2018/02/omilo-blog-vamvakaris-001.jpg
500
1500
Omilo
https://omilo.com/wp-content/uploads/2018/07/omilo-logo-new-300x138.png
Omilo
2021-09-21 10:41:38
2021-09-22 00:24:32
Vamvakaris and Greek Rebetika Music