Advanced Workbook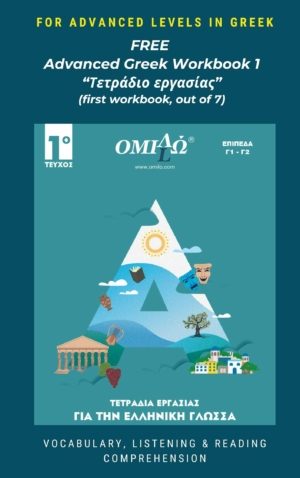 The Advanced workbooks, in total 7, are created by teachers and authors Marina Braila and Konstantinos Oikonomou.
These workbooks are printable eBooks with Audio file, and created for those who would like to improve their Greek at an advanced level, while learning more about Greece, Greek history, mythology, and not only…
Here you will find the 1st Workbook, which you can try for free.
(This is a printable PDF document, so you can print it and make exercises on paper)
Each Advanced Workbook, "Τετράδιο εργασίας", consists of the following:
A workbook of 13-15 pages
A reading text to build your vocabulary in Greek
Audio link to the text
Grammar and vocabulary exercises – advanced level
An exercise to practice the "stress/accent" on every word in Greek (by using the audio)
A crossword
A text, which guides you to find the words in the crossword
Answer key to all exercises
Is this really free? Absolutely!
We love to share with you free materials, that we hope you'll find useful and that give you the motivation to improve your Greek Language Skills.
We hope you will enjoy this free eBook, and keep us in mind next time you need more Greek language learning support!
PS. Is this level still too difficult for you?
Do not worry!
The same authors also wrote the known  " "Φύγαμε για Ελληνικά" Language book, for the Intermediate levels.
Are you at an Advanced level in Greek, and ready to improve your Greek, by reading interesting texts about Greece, as well as listening to them, and building your vocabulary with fun exercises? Then this eBook, "Τετράδιo εργασίας 1" is perfect for you.
(Please do not download this eBook when you are still at the Beginners or Intermediate level. There are better eBooks for your level. Take a look 
By asking for the free ebook, you also agree that you will be regularly receiving valuable tips & tricks related to learning Greek. You can unsubscribe anytime you wish, with a simple unsubscribe link.