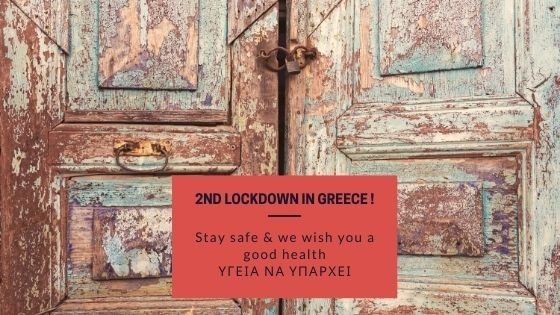 Τι κάνετε; 'Oλα καλά;
We hope you are fine, healthy, and safe, after the last 8 "corona months", or how should we call them?
Our last "general corona update #4" was sent in June 2020, with the happy announcement that we would start our first 2020 courses in Greece, from July onward.
And indeed, that is what happened…Omilo students were welcomed on the island of Syros during the months of July and September as well as in Athens at the end of October.
We would like to thank all our students that traveled to Greece this period and joined an Omilo language course.  We could not have done it without you.
At the same time, we also thank all the students taking online lessons with the Omilo teachers this school year, or buying one of the Omilo publications.
Your support is necessary for the existence of Omilo, and we really appreciate it. ευχαριστούμε πολύ!
In the meantime it is November, and from this weekend onward, Greece started its 2nd corona lockdown of 2020, for the coming 3 weeks. 
The Omilo-team is well and safe, but sad we cannot welcome any students in Greece now.
It is so much nicer to teach "live" and being able to show the beauties of Greece.
However,  we started working online again, it's as good as it gets…Τι να κάνούμε!
++++++++++++++++++++++++++++++++++++++++++++++++++++++++++++

So let's start with the most recent news,
just in case you are in Greece at the moment, or if you had planned a trip during the following weeks:
 2nd Lockdown as of November 7th, 2020
Although the summer went well and everybody was hoping it could be avoided,
Greek Prime Minister Kyriakos Mitsotakis announced that Greece will enter a second national lockdown on November 7 for three weeks.
"In the last 5 days, we have seen an exponential increase in cases," said the Prime Minister while addressing the Greek people in a national broadcast.
Because of the rise in hospitalizations, incubations, and the number of patients in Intensive Care Units. doctors and the Greek government are asking people to stay at home and to remember that the situation is critical.  (as of today, 715 people died of corona in Greece, which is of course much less than other European countries, but a significant rise compared to the summer)
Individuals who plan to go out of the house or hotel, are required to carry an ID or passport with them,
and inform the authorities by SMS or with a printed form, with the reason for leaving their house.
But do not worry, you can still have a "normal life" 🙂 It sounds more difficult than it is…
All the info and regulations can be found at the government website gov.gr. (in Greek).
If you prefer to read more in English, as well as how to send the SMS,  then click here
++++++++++++++++++++++++++++++++++++++++++++++++++++++++++++
How did we spent the last 4 months and managed to charge our batteries?
Some recent Omilo history from July till November 2020.
From July onward, we finally were allowed again to organize our 1- and 2-week Greek Language and Culture courses, and welcome our beloved students!
The summer courses took place on the island of Syros between July and September, and the October course took place in Athens.
We thank Andrea for her nice comment, which was addressed to Omilo, but also to all Omilo students 🙂 See below
Dear Omilo team and future students of Omilo!
This was a very strange year for all of us and despite having registered for the Syros September course many months ago, I was unsure if I should travel to Greece this year. During summer, cases in Greece as everywhere else were on the rise…but in the end, I decided that you cannot stop living and came to Syros. I never regretted this decision! On Syros island, not only did I have excellent and very stimulating Greek lessons, but I was also able to forget about the whole situation for two weeks, enjoy the beautiful weather, the hospitality of the Greek people and the company of friends which I had sorely missed during the period of confinement.
I felt very safe throughout my stay in Greece – I stayed for a month, traveling to Tinos and Athens after the course- and it gave my morale a real boost.
Thank you Omilo team for still offering these courses despite the difficulties you face organizing them during this time, I hope to see you again very soon!
Πολλά φιλιά από τη Γενεύη
Αndrea
++++++++++++++++++++++++++++++++++++++++++++++++++++++++++++
Life is too beautiful, even in those days…stay positive!

We truly hope you, or any of your friends/family, did not experience something very traumatic during the last months…
for all of you and us, things are difficult, but in our updates, we try to focus on the positive side.
Now the month of November has started and…
we enjoy the beautiful sunny Autumn weather,
we go for our daily walks (writing number 6 in the SMS!) and discover small little things in our neighborhoods we had never observed before,
we observe the olive trees and the olives getting bigger every day,
we cannot buy melons or figs anymore, but now taste the Autumn fruits such as grapes, pomegranates, oranges, lemons, apples, lotus, mandarins…
we are happy we have peace around us, and no war…
we are getting ready, "siga-siga", for the Christmas decorations, and the so many typical Christmas sweets… already showing up in the thousands of bakeries and pastry shops (all staying open till late evening hours)
we listen to Greek music at home, read a book we otherwise never have time for…
Or watch some YouYube videos to fix our mood 🙂
For example, here a video of a Greek street concert, on the square of Maroussi, one day before the lockdown.
The students of the Athens course could enjoy this little concert while taking out their concert during the breaks of their Greek Language Lessons.
Note: This song is Τα βεγγαλικά σου μάτια, which you can also find on YouTube, performed by many other Greek singers.

Or if you prefer to learn more Greek with Greek Language videos, then here is such an example:)
After watching this video, maybe you can now use this Greek expression during your next lockdown:
Δεν χάλασε ο κόσμος! = It is not the end of the world!
Do you need more videos, songs, blog articles, photos, to keep you in a good mood, and dream of your next holiday in Greece?
Then follow our social media channels. You can find the links in the footer of this website
If you are in need, we do our best to keep your and our spirits up!
++++++++++++++++++++++++++++++++++++++++++++++++++++++++++++
How Omilo proceeds from today till April 2021?
a. Because of this lockdown, Omilo cannot organize courses in the Athens school the following weeks.
Therefore the intensive November 30th course, as well as private lessons taking place in Athens at the moment, have to be canceled.
Just in case you are impatient and want to plan your next trip already,
the 2021 courses between April till June are already mentioned on the website, and registrations are possible from January.

b. We are more or less back to the times the pandemic started and we experienced the first lockdown in March 2020!
The difference is that we are now more experienced, and it does not come anymore as a total surprise. We guess this is the same for many of you.
One day this pandemic will end, as they always do, and we hope from April 2021 it will be easier to travel again, attending a Greek language course in Greece, while enjoying Greek culture.
If you'd like to turn off the news from time to time and do something more creative for some hours/day…
Here Are Some Omilo Materials To Keep You Motivated And
Continue Your "Greek Language Journey" From Your Home :

New Omilo publications, for various language levels,  were made over the last 8 months.
We will continue adding more online materials during the following months, which can be bought through the e-Shop masaresi.com.
++++++++++++++++++++++++++++++++++++++++++++++++++++++++++++


Good news for the "Beginners 1 & 2":
Companion Workbook for Lydia
The Lydia Easy Reader was published a year ago.
The Authors are teachers Konstantinos and Terpsi, and in the Audio-Book the main roles are performed by teacher Konstantinos and teacher Eva.
Since August 2020, we are proud to announce that now also the companion Workbook is available.
++++++++++++++++++++++++++++++++++++++++++++++++++++++++++++


Good news for the "Intermediate  Learners":
Off we go to learn Greek! – "Φύγαμε για ελληνικά!"
Just in case you are not aware of this nice language book yet, we are proud to announce that the Fygame book was published again, now at its 3rd edition.
Audio files included, and available in eBook or Hard Copy
+++++++++++++++++++++++++++++++++++++++++++++
Good news for the "Intermediate 2 Level/Advanced":
Greece: The Ultimate Listening Comprehension eBook
With this eBook, you will be able to listen to, as well as read, various texts about different subjects related to Greece and Greek culture.
You may use this eBook for:
• Reading comprehension
• Listening comprehension
• Learning more about Greece  and Greek culture  (Ancient Greece, Mythology, Greek Music, Greek Nature and Greek Culture)
+++++++++++++++++++++++++++++++++++++++++++++


Good news for the "Advanced Learners":
Advanced Greek Workbooks – "Τετράδια εργασίας"
When you are already at the advanced level, of course, you can listen to Greek radio, TV, read Greek Newsletters, etc…Materials enough online to keep you busy 🙂
However, it is not always easy to practice your grammar and build your vocabulary, without guidance and corrections.
Therefore Marina and Konstantinos, also the authors of the "Φύγαμε για ελληνικά! Language Book" (see above),
created the Greek Advanced Greek Workbooks. (with answer key)
Since June 2020, there are now 7 Advanced Workbooks available, for only 7,5 euro each!

++++++++++++++++++++++++++++++++++++++++++++++++++++++++++++
Good news for "Every Language Level":
 Online private lessons by Skype or Zoom
As mentioned many times in the last months, you can continue learning Greek with our teachers, online, and get help with your Greek Language Journey, on every language level. Click here to read how it works.
Not yet used to online teaching? Then ask for the 30-minute free trial lesson and try it out.
Monthly Dose Of Sunshine!Free!
Once per month Omilo writes a News Flash in English and Greek, with positive news from Greece. Updates, tips, and facts  +  3 articles to help you learn Greek.
If you did not subscribe to our newsletter yet, do so today. Use this monthly dose of sunshine, to build your Greek vocabulary, reading comprehension, as well as your listening skills with an Audio file.
Click here to subscribe
++++++++++++++++++++++++++++++++++++++++++++++++++++++++++++
Of course,
the most important is to stay healthy and support all those that need to continue working in the health sector, public transportation, supermarkets, etc…
You are not in the right mood at the moment to learn Greek, but maybe it is a nice idea for your partner or friend to be challenged with something new during this period?
Feel free to share this information, and share your passion for Greece 🙂
We wish you a safe autumn season, from Greece with love.
Dimitris and Maya Andreadis and the Omilo team
++++++++++++++++++++++++++++++++++++++++++++++++++++++++++++
Stay safe,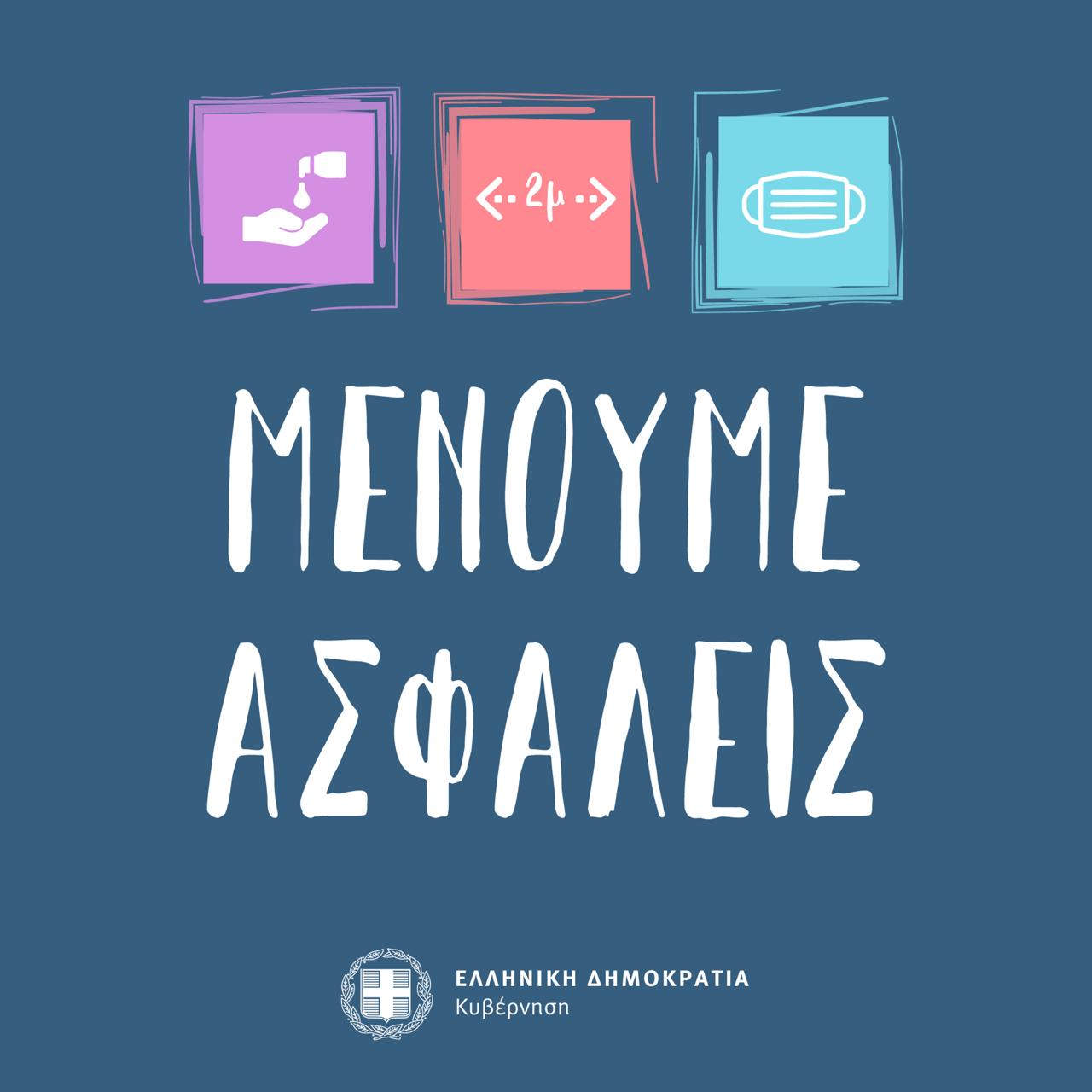 https://omilo.com/wp-content/uploads/2020/11/lockdown.jpg
315
560
Omilo
https://omilo.com/wp-content/uploads/2018/07/omilo-logo-new-300x138.png
Omilo
2020-11-08 18:41:22
2021-01-15 16:23:45
Update #5 from Greece ; after a great summer, ready for 2nd lockdown of 2020