Podcasts Easy Greek Stories; Combined Notebook for stories 5-6-7-8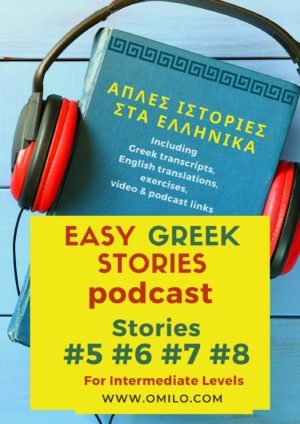 The Easy Greek Stories Podcast Companion Notebook, for the Intermediate Language level in Greek
Make the next step and improve your Greek with the special Omilo Podcast notebook.
This Notebook combines 4 Podcast stories
Story 5 : Ένα περίεργο γαμήλιο ταξίδι
An unusual (strange) honeymoon
In this episode, Eva reads a story about Leonidas and Matina, who travel to Crete for their honeymoon, and want to walk the Samaria gorge.
Story 6 : Θα γίνει το πάρτι;
Will the party take place?
In this episode, Myrto reads a story about Vassiliki and Manos who moved to a new house in Athens and will organize a party.
Story 7 ; 

Μαγικά Χριστούγεννα: 

Από τη Σουηδία στο Ναύπλιο.
A Magical Christmas: 
From Sweden to Nafplion
In this episode, 
Eva reads for you the story about the magical Christmas of her friend Amalia in the beautiful city of Nafplion.
Story 8 ; Ημέρα Check-up – Check-up day.
In this episode, Myrto reads for you the story about the check-up day and the doctor's visit of  Sophia.
Every podcast story has a companion notebook, which means a digital eBook (PDF file), which you can also print yourself.
It includes;
* the Greek transcript,
* English translation,
* vocabulary list
* exercise to practice grammar + answer key
* the video link + Greek subtitles, video without advertisements.
* the podcast links on various channels, as well as the recording MP3 file, which you can download to your computer, and listen to without needing the internet.
the podcast is read at a slow pace first, followed by a normal Greek-speaking pace.
Enjoy listening to Greek stories from any place, any time…
This is a printable Notebook, PDF file
A4 format, 56 pages
Every month, one new podcast.
Listen to the Omilo "Easy Greek Stories Podcast" for Intermediate Learners in Greek, and improve your Greek even more with the accompanying digital and printable notebooks, including Greek transcript, English translation, video link + Greek subtitles, vocabulary list, and exercise to practice some grammar. Every month one new podcast story and notebook, for Intermediate levels in Greek.