For Beginners : The Greek Speaking Starter Kit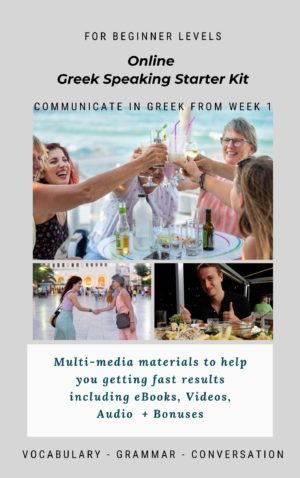 Start your Greek Language Journey with the online Greek Speaking Starter Kit!
Get ready to communicate in Greek, from week 1. For Beginners
Click here to take a look at the "video trailer"
Over the years, we have asked our students, which vocabulary and conversations they need the most, while on holidays in Greece. Following the feedback, we learned that most of our students want to connect with Greeks, learn more about Greek culture, and really immerse themselves in the country. It is, therefore, necessary to speak everyday Greek, but also learn more about Greek culture, food, drinks, and certain traditions.
So why waiting longer? Let's start now!
By completing the lessons in this Starter Kit,
you will be able to enjoy your first "small talk", "greetings", "shopping", "ordering food and drinks" and "socializing" in Greek.
Your stay in Greece will be so much more fun.
Read here what students say about the online course
 "In March 2020, when UK schools and workplaces were closed down due to Covid 19, my parents introduced me to Omilo's "Everyday Greek Language" starter kit.  I began with the stand-alone Bakery chapter, and was very impressed by how well constructed and enjoyable the lessons were.  Each piece of learning is supported by appropriate text and video resources, which guided me through the new vocabulary at an easy and manageable pace, and I quickly decided to purchase the full seven-lesson course.  Omilo has thought very carefully about how to balance the learning of vocabulary with basic grammar, and the wide range of videos they provide do an excellent job of putting the new learning into a cultural context.  I am very pleased to have been introduced to the Omilo course, which I enjoyed greatly, and I am looking forward to using my new Greek language on holiday in Greece next summer."
William Abell, UK
The "Everyday Greek Language starter kit" includes the following 7 modules:
1. How to Greet in Greek | Καλημέρα, καλησπέρα
2. Bakery, Pastry Shop & Sandwich Bar | Ο φούρνος, το ζαχαροπλαστείο, το σαντουιτσάδικο
3. The Greek Kiosk and Mini-Market | Το περίπτερο και το μίνι-μάρκετ
4. Ordering a Souvlaki in Greek | Σουβλάκι ή γύρος;
5. Eating Out in Greece | Η ελληνική ταβέρνα
6. Ordering Drinks in Greek | Γεια μας!
7. Making Small Talk in Greek, Your First Greek Conversations | Μιλάμε ελληνικά
Every lesson consists of:
• An introduction video, showing you everything in Greece
• A handout / eBook per lesson. (13-15 pages per eBook) Everything you learn is also written down for you.
• A video lesson. (25-40 minutes per lesson). Everything is explained to you by the Omilo-team
• Extra videos with grammar, vocabulary and dialogues – you can watch them over and over again
• A vocabulary list per lesson, with Audio, for the correct pronunciation
Would you like to boost your Greek and start speaking Greek, at your own pace and from home? Lose your fear to speak Greek and learn the Everyday Greek Language. After using this "shortcut", you will be ready to communicate in Greek for the daily conversations during your stay in Greece.
Click below and start learning from today, with useful vocabulary and easy grammar,