Learn 71 Everyday Greek Verbs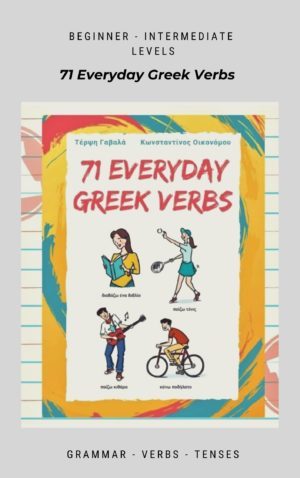 Learn useful Greek Verbs with the eBook: "71 Everyday Greek Verbs"
Learning the Greek verbs can be very challenging, but this eBook will help you to deal effectively with them.
In this printable eBook, you will find 71 basic everyday verbs, conjugated in Present, Future and Past tenses. For each verb, you are given its basic meaning(s) in English and you are presented with the most commonly used types in oral/written speech.
Of course, there are more verb books on the market, but most of them are very overwhelming, teaching you many verbs and tenses, you mostly only use at an "advanced level"
Therefore Omilo teachers Konstantinos and Terpsi, decided to make an easier to use Verb-book, especially if you are at the first steps of learning Greek or at the Intermediate level!
The Verb eBook can be used as a handy reference book of some of the 71 most common Greek verbs, with the three tenses you will hear and need the most in everyday language.
It is way enough to start with 🙂
For your info: you can use this verb book to learn and rehearse Greek verbs, but you can also use it in combination with the Easy Reader 'Lydia – A summer in Greece!', a story written for A1 – A2 level learners in Greek.
These 71 everyday Greek verbs are all used in the Lydia Easy Reader.
Are you ready to learn more Greek Verbs and learn how to conjugate them in the present, future and past tenses?
71 everyday Greek verbs, which are very useful to start communicating in Greek.
Click on the button below and order your eBook