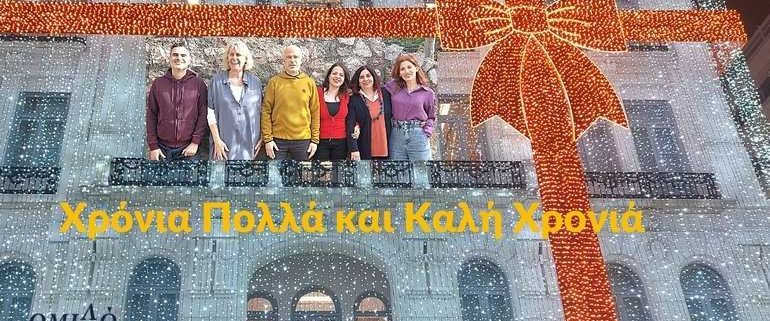 The Winter started ,  so a good time to relax or have some "Christmas Holiday" fun…
We wish you a very nice Christmas and Happy New Year
Ο χειμώνας άρχισε . Ώρα να ξεκουραστείς και να περάσεις καλά…
Σας ευχόμαστε Καλά Χριστούγεννα &
Ευτυχισμένος ο Καινούργιος Χρόνος
This period goes together with lights, many lights, as well as presents and happy music!  Also, the orange and neratzi trees all over Greece, look like happy creative Christmas trees. We are all bombarded with negative and worrying news, as well as unpleasant monthly bills, so those lights, Christmas carols, and gift-shopping,  are perfect to give you some  'FG – Feel Good' -vitamins!
Αυτή η περίοδος συνδυάζεται με φώτα- πολλά φώτα! Και επίσης με δώρα και χαρούμενη μουσική! Επίσης, οι πορτοκαλί νεραντζιές παντού στην Ελλάδα μοιάζουν με χαρούμενα δημιουργικά χριστουγεννιάτικα δέντρα.
Βομβαρδιζόμαστε με αρνητικές και ανησυχητικές ειδήσεις, καθώς επίσης και με δυσάρεστους μηνιαίους λογαριασμούς, κι έτσι αυτά τα φώτα, τα κάλαντα και οι αγορές δώρων είναι τέλεια και μας δίνουν… βιταμίνες καλής διάθεσης!
Enjoy the Athens Christmas Atmosphere, while listening to a Greek Carol, from the island of Ikaria
So, now it is time for your Christmas and New Year preparations, singing  carols, and … dreaming about your next holiday in Greece!
Έτσι, τώρα είναι η στιγμή για τις χριστουγεννιάτικες προετοιμασίες, ώρα να φας τα τυπικά ελληνικά χριστουγεννιάτικα γλυκά, να τραγουδήσεις τα χριστουγεννιάτικα κάλαντα και να ονειρευτείς τις επόμενες διακοπές σου στην Ελλάδα!
This Christmas holiday might also be a nice period to enjoy your home, read a book, or listen to a a Greek Podcast…
Therefore at Omilo, we wrote a Greek Christmas story for you, which you can listen to on various podcast channels, or watch on YouTube. Scroll down and download your Christmas gift.
Οι διακοπές των Χριστουγέννων είναι επίσης μια ωραία περίοδος να απολαύσεις το σπίτι σου, να διαβάσεις ένα βιβλίο ή να ακούσεις ένα podcast στα Ελληνικά. Γι' αυτό, στο Ομιλώ, γράψαμε μια ελληνική χριστουγεννιάτικη ιστορία για εσένα, την οποία μπορείς να ακούσεις στα διάφορα κανάλια για podcast ή να τη δεις στο Youtube.  Κάνε σκρολ και κατέβασε το χριστουγεννιάτικο δώρο σου!
Are you searching for something to look forward to in 2023?

Then you might want to treat yourself or your partner/friend with the best present;
A Greek Language and Culture course,  where you will not only learn Greek but also acquire a deeper knowledge about contemporary Greek society through cultural activities, while making many friends from all over the world!
Ψάχνεις κάτι ευχάριστο για το οποίο θα ανυπομονείς το 2023;
Τότε ίσως θέλεις να κάνεις στον εαυτό σου ή στον/στην σύντροφο ή φίλο/φίλη σου το καλύτερο δώρο:
Ένα μάθημα Ελληνικής Γλώσσας και Ελληνικού Πολιτισμού, στο οποίο όχι μόνο θα μάθεις Ελληνικά, αλλά θα αποκτήσεις και μια πιο βαθιά γνώση για τη σύγχρονη ελληνική κοινωνία, μέσω πολιτιστικών δραστηριοτήτων, ενώ παράλληλα θα κάνεις πολλούς φίλους από όλο τον κόσμο!
"Omilo is not just a Greek course, but a holistic experience", as a student described it recently 🙂
"Μια ολιστική εμπειρία", όπως περιέγραψε μια μαθήτριά μας πρόσφατα. 🙂
(if you would you like to listen to what several students from different countries say about their Omilo Course,
then click here
.)
The 2023 course dates for the 1- and 2-week Greek Language and Culture courses in Greece, are online.

Οι ημερομηνίες για τα προγράμματα μιας για το 2023 , είναι τώρα online.
+++++++++++++++++++++++++
YOUR CHRISTMAS PRESENT;
The Christmas Podcast Story, and companion Notebook.
You will learn about Greek Christmas  traditions while building your vocabulary, as well as improving your reading and listening skills in Greek.
If you are at the beginner's level in Greek, then you are welcome to read the English translations.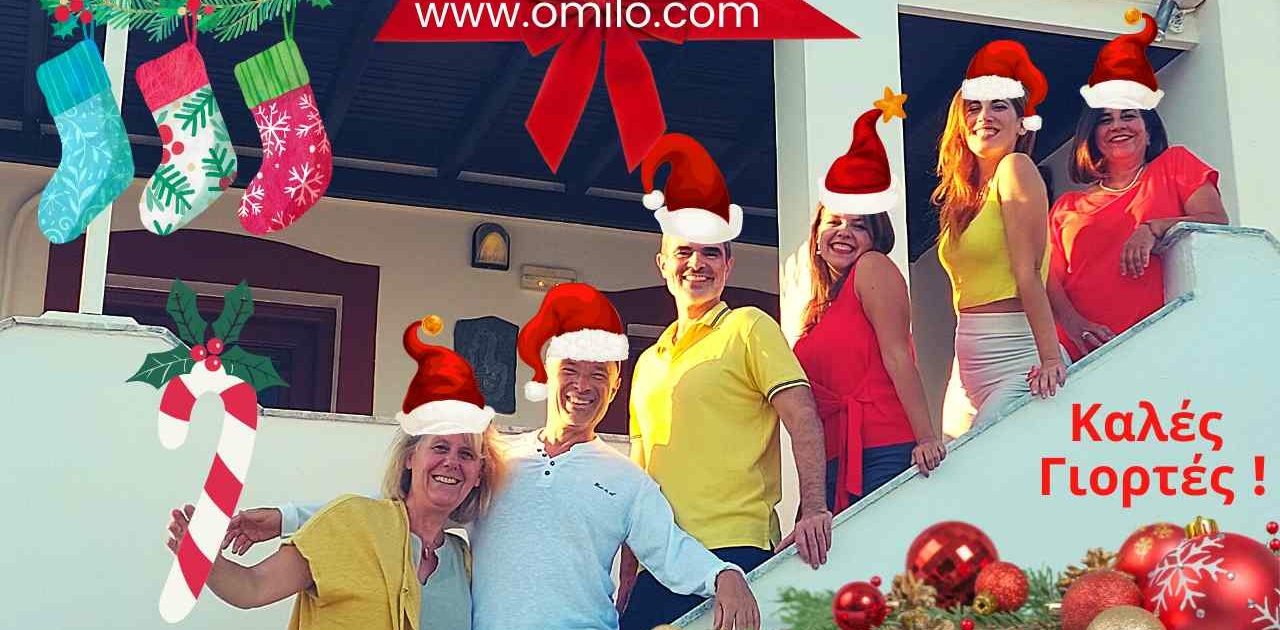 The Omilo team- Maya, Dimitris, Konstantinos, Myrto, Eva, Marina
https://omilo.com/wp-content/uploads/2022/12/omilo-team-christmas-1.jpg
433
770
Omilo
https://omilo.com/wp-content/uploads/2018/07/omilo-logo-new-300x138.png
Omilo
2022-12-22 17:14:37
2022-12-22 19:37:27
From Athens, Happy 2023 and your Omilo gift