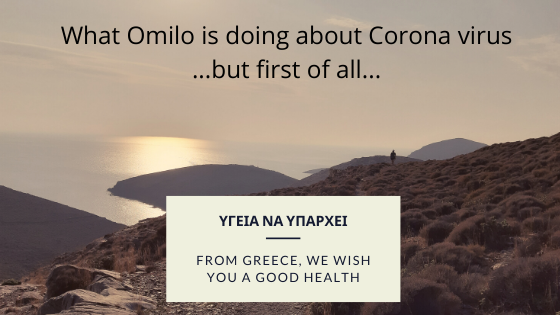 March 17, 2020
Χαίρετε!
First of all, and most importantly, we wish you very good health! Υγεία να υπάρχει!
We have gotten many emails over the past few weeks asking us what we are doing about the whole Coronavirus crisis, and how we deal with it, so we thought to write an article about it.

Since Omilo was founded in 1996, we have been through some major dramatic events, the first one was 9-11 in the USA (2001), another was the SARS-associated coronavirus in 2003, the bank-sector crash of 2008, the Greek (financial) crisis, terrorist attacks all over the world,…
And now the Coronavirus, which to us seems like a more serious crisis than the ones mentioned above, but of course, we don't know…many others or also the refugees stuck in Greece might think differently about it…
But what we see is also what you see: borders being closed, flights being canceled, schools being closed, stock markets dropping, a record amount of debts …….a world gripped in fear.
So what is Omilo doing at the moment?
Basically, we follow the health regulations of the Greek government,  we had to cancel our Intensive 2-week March 2020 course (the first time ever we cancel a course in 23 years), we stay in touch with our students that have booked courses within the next months, we answer our emails every day with all kinds of questions, we feed our social media channels with materials and articles to keep you informed about Greek Language and Culture, etc…
In a few days, we will send our 2nd update to our students of the Easter Course in Nafplion, starting on April 12th.
For all the other planned courses, later on,  we hope for the best, and personal updates will follow when we will know more about the months of May and June..
But most of it, we are brainstorming how to continue our work during the next months, making more online materials to learn Greek, teaching Greek lessons through Skype, making plans for our summer courses in Syros, etc…
We will be working on our YouTube Channel, we make new materials for our Instagram and Facebook pages, and we are constantly working to provide you with our services for the difficult months to come.
The most important is to stay healthy of course and support all those that need to continue working in the health sector, supermarkets, transport, etc…
In the meantime, Omilo also continues working from home. Why?
Because …
A: We hope in a few months things will get back to normal, and we will be able to welcome our students in a virus-safe Greece again.
B: If things get worse and the world falls into a global economic collapse, we will stay in contact with online lessons, or online materials through our e-Shop masaresi.com and look for new ways to teach you Greek.
When you have some free time because you need to stay at home, then it might be a good time to focus on learning Greek, so you will be more fluent by the time you can visit Greece again.
If you'd like to turn off the news from time to time and do something else for some hours/day…
Here Are Three Ways We Can Help You With Today…
1. You can work together with our teachers, online and through Skype, and get help with your Greek Language Journey, on every level. Click here to see how Skype-lessons work
2. We will send 2-weekly FREE Newsletters (instead of monthly), with more updates, ideas, and news, in English and Greek, to keep you busy, and give you the opportunity to learn more Greek or learn about Greece.
If you are not yet subscribed to our Newsletter, then do not wait, and subscribe here. Most of the updates will be communicated through the Newsletters
3. We are constantly adding more online materials to our e-Shop masaresi.com, to help you learn Greek.
All materials are made by the Omilo-team. Check it out at https://masaresi.com/shop/
We wish you all, from every corner in the world, good health, best of luck and inspiration on how to use this period creatively.
Maya and Dimitris Andreadis
https://omilo.com/wp-content/uploads/2020/03/corona-blog-e1584726352605.png
315
560
Terpsi Gavala
https://omilo.com/wp-content/uploads/2018/07/omilo-logo-new-300x138.png
Terpsi Gavala
2020-03-17 15:19:34
2021-01-15 16:23:52
What Omilo Is Doing About Coronavirus…