For Beginners – How To Greet in Greek – Greek Speaking Starter Kit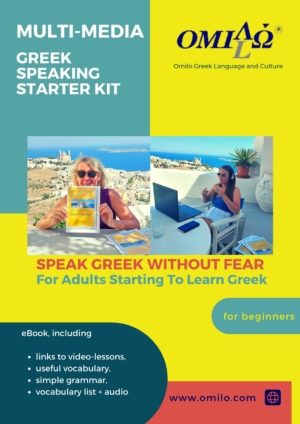 Start your Greek Language Journey with the online Greek Speaking Starter Kit!
Omilo is all about inspiring and motivating people to learn Greek.
We believe it is important not only to learn vocabulary and grammar but to actually start putting the theory into practice from the very beginning.
Learn To Greek In Greek, in every situation.
Get ready to communicate in Greek, from week 1. For Beginners 1 and 2 levels
By greeting in Greek, you will get many opportunities to start communicating with the locals.
In Greece, people really enjoy when non-Greeks try to speak Greek and respect their language and culture.  You will get easier contact with the locals, and your stay in Greece will be so much more fun.
What will you learn?
When you learn Greek, it might be difficult in the beginning, and many are de-motivated, since they never get to speak Greek or are afraid to speak Greek and make mistakes.  With this eBook you will learn simple grammar, words, and together with the videos, you will learn how you can start speaking Greek and bring everything to practice from the very beginning.
You will learn how to greet somebody in all kind of situation, how to introduce yourself, and you will start learning simple grammar as well as the verbs "to be" and "to do/make", which you need on a daily basis in Greece.
Also included are the English translation as well as audio-files, to learn the correct pronunciation in Greek.
Designed for the Beginners 1 and 2 levels in Greek

This lesson might be difficult for Absolute beginners and easy for intermediate learners. It is best for the Beginners 1 and Beginners 2 levels, to learn speaking Greek, and without fear.
This eBook and lesson only requires you to know to read the Greek Alphabet.
If you are not yet familiar with the Greek Alphabet, then we suggest to start with this multi-media eBook.
(note; just in case you are interested in purchasing the entire Greek Speaking Starter Kit, (7 lessons in total) ,then the Alphabet eBook is also included as a BONUS)
Good luck with your Greek Language Journey!
Is this really free? Absolutely!
We love to share with you knowledge that we hope you'll find useful and that gives you the motivation to start speaking Greek.
We hope you will enjoy this free eBook, and keep us in mind next time you need more Greek language learning support!
By asking for the free eBook, you also agree that you will be regularly receiving valuable tips & tricks related to learning Greek. You can unsubscribe anytime you wish.