Free unit of the Language Book 'Φύγαμε για ελληνικά!' (Off we go to learn Greek!), + Audio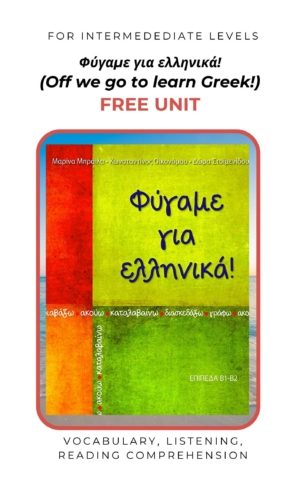 The book 'Φύγαμε για ελληνικά!' (Off we go to learn Greek)  is a Greek language book intended for Intermediate learners of Modern Greek.
(B1 – early stages of B2 level, as defined by the Common European Framework of Reference for Languages, CEFR).
Are you at the intermediate level of learning Greek and would you like to brush up on your colloquial Greek?
The main purpose of this book is to give you the opportunity to improve your Greek reading and listening comprehension skills as well as to enrich significantly your vocabulary.
This book covers a wide range of everyday life topics and it also provides information on various social and cultural aspects of life in Greece.
The main body of the book consists of 12 increasingly difficult thematic units. Each unit is divided into two parts.
The first part includes a text or a dialogue written in simple, contemporary language followed by reading comprehension and a vocabulary exercise. Two more exercises aim to further expand and consolidate your knowledge.
The second part aims to help you to practice and improve your aural comprehension skills by listening to dialogue or an oral text based on the theme of the unit followed by three listening comprehension exercises.
Additionally, at the end of each unit, you are provided with background information on different aspects of life in Greece and Greek culture.
Finally, Greek songs related to each chapter are suggested which will provide a pleasurable way of broadening your knowledge of the Greek language and culture through the wide range of music to be found on the internet.At the end of the book, transcripts of the listening comprehension exercises can be found as well as the keys to the book's exercises and a selected vocabulary from each unit translated into 4 languages: English, French, German and Spanish.Φύγαμε για ελληνικά , is available ineBook format, (non-printable PDF file)

as well as in Hard Copy

You are also welcome to download a Free Unit, in order to get a better idea.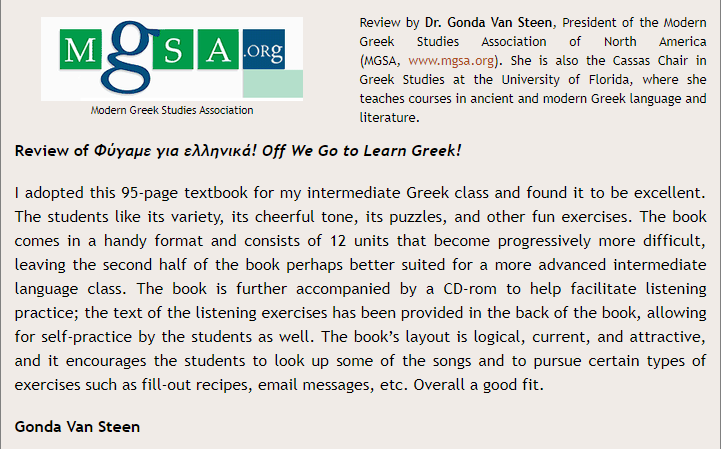 Improve your Greek with the language book 'Φύγαμε για ελληνικά!' (Off we go to learn Greek!), + Audio.
For Intermediate levels in Greek
Click below to download a unit of this language book, and check it out.
By downloading the free unit of this language book, you also agree that from time to time you will receive valuable tips & tricks related to learning Greek. You can unsubscribe anytime.