All levels – Free eBook + Audio "Greek Wishes For Every Occasion"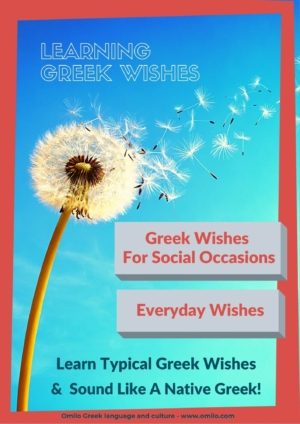 Omilo is all about inspiring and motivating people to learn Greek.
We believe it is important not only to learn vocabulary and grammar but to actually start putting the theory into practice from the very beginning.
Greek Wishes in everyday life
By using everyday Greek wishes, you will get many opportunities to start communicating with the locals.
In Greece, people will express a particular "wish" to others on a great variety of occasions.
What will you learn?
When you learn Greek, it is useful to know exactly when and where it is appropriate to wish someone a "happy this" or a "happy that." In doing so, you will not only get a better feeling for Greek culture, but you will also experience a more authentic way of communicating with Greeks. And this is exactly what you want, isn't it?
In this eBook you will learn typical Greek wishes for any occasion, written in both Greek and in "Greeklish" (Greek written in the Latin alphabet).
Also included are the English translation as well as audio-files, to learn the correct pronunciation in Greek.
For all language levels in Greek

This lesson might be difficult for beginners and easy for advanced learners, but we believe the vocabulary is useful for every language level.
Every day Greek Wishes, as well as Greek Wishes for Social Occasions (Weddings, Baptisms, Funerals, Birthdays, Religious Celebration…) are often not included in traditional Language Books
Is this really free? Absolutely!
We love to share with you knowledge that we hope you'll find useful and that gives you the motivation to start speaking Greek.
We hope you will enjoy this free eBook, and keep us in mind next time you need more Greek language learning support!
By downloading this free ebook, you also agree to receive regularly valuable tips & tricks related to learning Greek. You can unsubscribe anytime you wish.