For Intermediate Levels – Easy Greek Stories Podcast – Notebook #1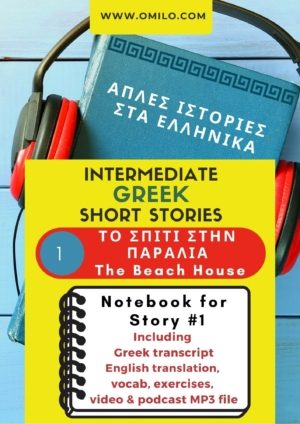 Podcast: Easy Greek Stories

If you are at an intermediate level in Greek, then boost your Greek listening skills with the Omilo Podcast.  It also helps you learn common everyday Greek vocabulary and life situations in Greece.
In this podcast you can listen to every story first at a slow reading pace, followed by the same story read at a normal Greek native speaking pace, as well as an extra vocabulary list at the end.
The stories are narrated by native Greek speakers and teachers at Omilo.
Every month one new Greek story. Join us, it is free!
(Notice that this podcast is not a Greek course and the episodes don't follow a step-by-step grammar or difficulty sequence.)
Free digital (and printable) Notebook 
In this episode, Eva reads a story about Eleni and her summer house on the island of Naxos.
If you like to improve your Greek even more, then every podcast has a notebook, a digital eBook, which you can also print yourself.
It includes the Greek transcript, English translation,  vocabulary list, exercises to practice grammar (with answer key), and extra info related to the story and Greece.
Also, the video link + Greek subtitles is included, as well as the podcast links
Fill out your email address in the form below, and you can download the notebook of Story 1,  for free.
Where can I listen to the Greek Podcast?
Download the free eBook for Story 1, and you will find the links to the Podcast channels at
Soundcloud,
Spotify,
Apple Podcast,
Google Podcast,
YouTube
For  the Intermediate Language Level in Greek
The podcast is aimed at the Intermediate Greek Language Level. So the text and audio might be difficult for beginners and easy for advanced learners, but it is still useful to practice your listening skills.
Is this really free? Absolutely!
We love to share with you free materials, that we hope you'll find useful and that give you the motivation to improve your Greek Language Skills.
We hope you will enjoy this free eBook, and keep us in mind next time you need more Greek language learning support!
Ready to improve your Greek, while listening to a Greek Podcast episode?
What are you waiting for? Click on the link below to download your printable notebook, including all podcast and video links.
Happy listening and all the best with your Greek Language Journey!
By asking for the free ebook, you also agree to regularly receive valuable tips & tricks related to learning Greek. You can unsubscribe anytime you wish.