Τι κάνετε;  Καλό μήνα! We wish you a nice, as well as healthy, month of May.
Six "corona weeks" have passed…and even in corona-times, time flies!
The Omilo-team is well and continues working as before.
The teachers are teaching online Skype or Zoom lessons to several students and making more online materials, Maya is taking care of answering emails, dealing with all the cancellations, social media posts, newsletters, updating the websites (omilo.com as well as masaresi.com), and Dimitris is busy with managing and organizing the new online group courses,  as well as making the financial plans of "saving" the business! Omilo always operated as a  "team", and remains a"team" 🙂
In the meantime, unfortunately, also the students of the Lefkada course are not able to travel to or within Greece or stay in a hotel on the island,  so our 4th intensive 2020 course, can not take place in Greece. We are heartbroken, but we stay optimistic and adapt; we are proud that we are now also ready to offer the "Online Greek Language and Culture course", online! It will be different, but fun, and as educational as ever.

Life is too beautiful, even in those days…

We truly hope you did not experience something very traumatic in the last weeks…for all of you and us, things are difficult, but in this update, we try to focus on the positive side.
Now the month of May has started, we smell and see flowers everywhere, there is less pollution, less traffic-jams, Greeks started walking every day, etc… May 1st was a sunny National Holiday. As the annual tradition, also this year Greeks were picking wildflowers along the streets,  in some fields (the parks are still closed for the public), and make flower wreaths to hang on their doors.
Here above (on the photo) some flowers and a flower wreath from Greece, especially for you 🙂
Greece did amazingly well in containing the corona-virus and has far lower people who lost their lives compared to other countries.  At least, it is nice to hear that this year Greece is mentioned in a positive way in foreign media…
Because governmental financial support is nearly non-existent in Greece,  it seems Greeks got used to "survive" for many years with limited income. Of course, they also realize they are still far better off than the thousands of refugees in the country, so try not to complain but make the best of it. In general, most Greeks might hope for ( but do not expect) financial support from the government, they stay calm, obey the rules, are happy to be healthy, and try to make things work within an entire family.
On April 28th, the prime minister announced further regulations for the next two months, many similar to other European countries.
If you want to read more, you can find many articles on the internet. In English, click here for an update
So from Monday, May 4th, we will enjoy more freedom again; no need to send an SMS anymore to the Greek government, declaring why we leave our house! It is funny how fast we got used to this daily SMS to the Greek state, who always answered and "approved" :).  Now, we are allowed to move (outside) again without SMS, given we are cautious, keep our distance, wear masks in public transportation, and only move around in our "province"! So yes, wherever you live in Greece, every Greek province has roads leading to mountains and sea …hooray 🙂
Taverns, bars, seasonal hotels remain closed but the Greek tourism minister recently said that Greece is preparing to gradually open its doors to travelers in July after health experts give the go-ahead and relevant Covid-19 safety protocols are in place.  We are waiting for further announcements related to tourism, and hope we will soon know if we can start welcoming our students for the summer courses in Syros.
If you want to travel with us from Athens to Syros, then enjoy part of your boattrip…for the time being online!
In the meantime, let's stay positive during the following weeks, keep some humor, sing and dance…
It is all possible in your living room while learning Greek 🙂

If you need more videos, songs, blog articles, photos, to keep you in a good mood, and dream of a holiday in Greece, then follow our social media channels. We do our best to keep your and our spirits up!
The Omilo "work in progress" update!
Good news for "Every Language Level in Greek"
All levels in Greek:
You do not like to learn by yourself, but prefer to learn with realtime teaching, in person, with a native Greek teacher living in Greece?
No problem, this is possible and continues at Omilo, with Skype or Zoom lessons. 
You choose what you would like to do during your lessons (grammar, conversation, specific vocabulary…) or our teachers will help you how to best proceed, depending on your level.
++++++++++++++++++++++++++++
Beginners 1+ 2 levels in Greek
Now it is the perfect time to use your extra time at home creatively, by studying Greek at home, at your own pace, while having the impression you are on holiday in Greece.
The online course helps you with your first conversations in Greek, losing your fear to speak, and everyday vocabulary you will not find easily in other textbooks.
This online course is for you, if you…
… want to learn and speak Greek, Beginners levels. (you only need to know to read the Greek Alphabet)
… have been unsuccessfully searching for a practical online course, backed by Greek native teachers with 20 years' experience in teaching foreigners.
… want to learn at your own pace, wherever you are and whenever you have time.
… want to learn with authentic and compelling content.
… need help on how to stick to the basics, before learning more vocabulary and extended grammar
… want to know more about Greek culture.
Motivated or unmotivated, shy or outgoing, rational or emotional, calm or stressed, this course is for all types of students! After completing this online course, you will be able to enjoy your first "small talk", "greetings", "shopping", "ordering food" and "socializing" in Greek.
On top of that, 7 eBooks are included, so whatever you learn, is also written down for you and can be printed. So ready to take with you on the beach, after the corona crisis!
++++++++++++++++++++++++++++
The Language Book for Intermediate levels, ""Φύγαμε για ελληνικά!, as well as the easy Reader Lydia, for beginners levels, was only available in the eBook format, during March and April.
Now that the post offices start working with normal schedules again, we will be able to send hard copies by postal mail from May 11th.
If you want to order you book, then go to the following links
Beginners 2  + Intermediate 1 level in Greek
Lydia, Easy Reader in Greek, + Audiobook
For the eBook version, click here
Intermediate  1 + 2 levels in Greek
"Φύγαμε για ελληνικά! , + Audio files
For the eBook version, click here
++++++++++++++++++++++++++++
Advanced levels in Greek
A month ago we updated you about the new available Workbooks for Advanced Learners.  This week, one more workbook, the 5th one, was added to the series.
These workbooks (with Audio and answer key) are created by Marina and Konstantinos, also the authors of the ""Φύγαμε για ελληνικά! Language Book" created the Greek Advanced Greek Workbooks. (with answer key)
++++++++++++++++++++++++++++
Online Greek Cultural Week – In English and Greek
No language without culture, so, "Greek Culture" is something Omilo also loves to share with you.
If you can not travel to Greece yourself, we decided to bring Greece to your living room!
The first online course took place 3 weeks ago, and the feedback of 18 Omilo students, from all over Europe was very positive.
An event to connect, to learn, to interact, and to have fun. Something we treasure in every course, online or offline!
The next course will come up soon.
Since places are limited, for the time being, we send separate invitations, group by group…
++++++++++++++++++++++++++++++++++++++++++++++++++++++++++++++++++++++++++++++
This being said, we are proud we managed to also adapt to the "online teaching", as most educational institutions now do all over the world…
But of course, we hope we will soon be able to welcome you in Greece again. We keep our fingers crossed.
We are already dreaming to teach next to the Aegean sea, but first of all, let's try to enjoy this beautiful month of May and stay safe.
Καλό μήνα! και μένουμε ασφαλείς!
Maya and Dimitris Andreadis & the Omilo-team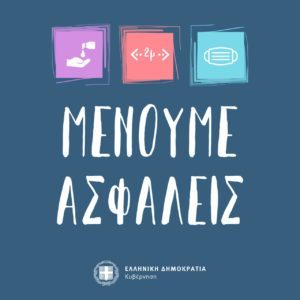 https://omilo.com/wp-content/uploads/2020/05/kalo-mina-blog.png
1094
1920
Omilo
https://omilo.com/wp-content/uploads/2018/07/omilo-logo-new-300x138.png
Omilo
2020-05-03 13:52:07
2021-01-15 16:23:50
Corona update #3 from Greece – We wish you a beautiful and healthy month of May!